Dear Pauline Bloor,
Your Local Authority has nominated you for a Modeshift National Award. Their application details are as follows:
Behaviour change
By promoting and teaching road safety to the children at St John's CE Primary School the Headteacher and staff have created a much calmer environment as pupils arrive and leave at the start and the end of the school day. As a result, the school have seen a significant reduction in car use for the journey to school. The children know why it is important to walk and cycle safely and parents know why they should park responsibly and drive slowly and it is a very different environment to the chaos of the school gate a few years ago. The children are leading the learning through initiatives such as WoW and working with Living Streets to carry out School Route Audits and the school has had to increase its scooter storage to keep up with demand. The school even took the concept of Hi-Vis to France on a trip! In 2011/12, 43.1% of pupils travelled to school by either car or car share. In 2014/15, this had fallen by 21.3% with just 30.3% of pupils travelling by car and 3.6% car sharing.
Top 3 Achievements
A 21.3% reduction in car use on the journey to school between 2011/12 and 2014/15
The school has had no accidents or near misses in the last 3 years due to raised awareness of road safety and constant reinforcement of messages.
Scooter training has led to the school buying scooters that are used for a scooter club and the LA gave the school some scooters which the school loan to families to travel to school.
Why your LA has submitted you
The school understand the importance of road safety and promote it to the whole school community. They require little (and often no) input from the School Travel Adviser at the LA and don't just see it as an add on that gets done once and is never repeated. The Headteacher is passionate about active travel and ensures that Road Safety sits at the heart of everything they do. She discusses it in her Friday assembly each week as it forms part of their Healthy Schools agenda. Parents are constantly reminded, through newsletters, about speed limits and parking and the school has banners and signs up reminding parents and pupils about parking responsibly. The school take part in Bikeability and scooter training and have a scooter club and scooter loan scheme. They have had no accidents or near misses in the last 3 years because road safety is not just a one off!
Thank you,
Modeshift Management Board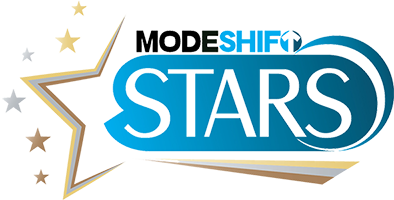 A presentation made by Holly and Jack.