Our Art Week in January was a great success with children and staff throughout the school trying out some new techniques and producing some wonderful work. Our topic was Printing. Each year group was given a different printing method to explore and used a variety of inspirations and themes.
In the Early Years, children used body parts for printing as well as exploring fruit prints and mono-printing. To create mono-prints, the children made an image in paint on a table, using their fingers and other objects to make marks in the painted surface. They then pressed a sheet of paper on top of the paint, lifting it off to reveal a reverse image print on the paper.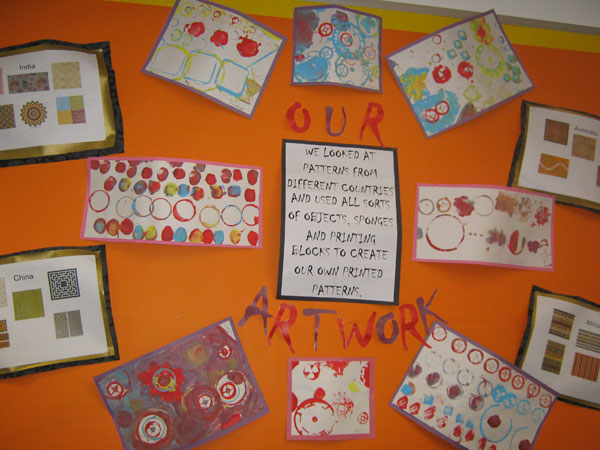 Year 1 used a variety of objects and printing blocks to create repeating patterns. Y1B created wallpaper for their role play area whilst Y1S looked at patterns from other countries and tried to create a repeating pattern inspired by what they had seen and talked about.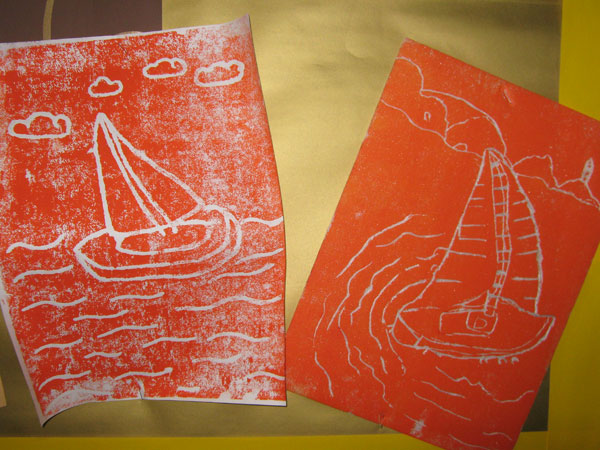 Year 2 focused on rubbings and leaf printing. They explored different textures and made detailed observations of shapes and patterns. The children made good use of our outdoor space around the school.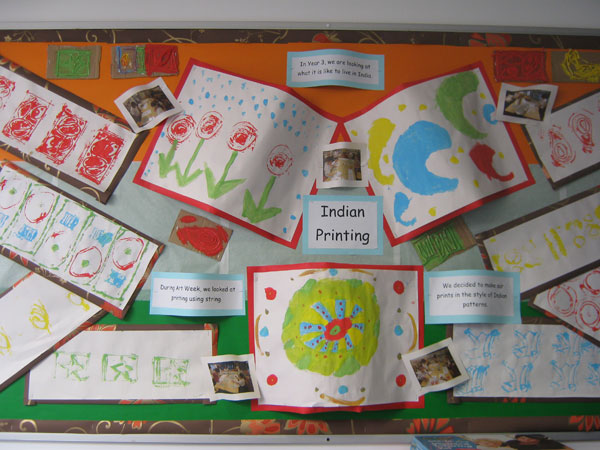 Years 3 & 4 created their own printing blocks. For inspiration, these classes linked their art in with their topic on India, looking at Indian textile prints. The children designed and then made their printing blocks by sticking string onto hard cardboard in the desired arrangement. They then printed using their blocks to make a repeating pattern.
Years 5 & 6 made polystyrene printing blocks. These classes linked their art work in with their current topic on Kensuke's Kingdom. Their designs were inspired by seascapes and seaside objects. The children designed their image and created their printing blocks by indenting their design into a polystyrene block. These were then rolled with ink for printing.
Art work from all year groups is now on display in our Library and shows very clearly the progression of skills and techniques across the school.