Our art focus weeks in the autumn term were a huge success, with the whole school taking part in making some fantastic artwork to go up around the school grounds. The topic for the art weeks was mosaic and collages and a mosaic artist, David Bowers, came into the school to work with the children.
Both Key Stages and Early Years had the challenge of creating large mosaics that represented our school, thinking about our ethos, mission statement and our values.
KS1 and Early Years focused on the Christian ethos of the school and produced mosaics around the school and various Bible stories and themes.
KS2 produced a mosaic based on the seven values the school celebrates. Each child in the school came up with a design for the final piece of artwork, and all the final pieces of artwork chosen to be put on the mosaics were also selected by the children.
After all the designs were chosen the outline was drawn, incorporating all the chosen sketches into the design. Then the children all took part in putting down mosaic tiles and creating the final pieces.
Altogether this was a lengthy task, and it took each Key Stage a week to get from initial designs to a completed final piece! All the children worked very hard and produced some lovely work with is now displayed outside around the school grounds for everyone to see.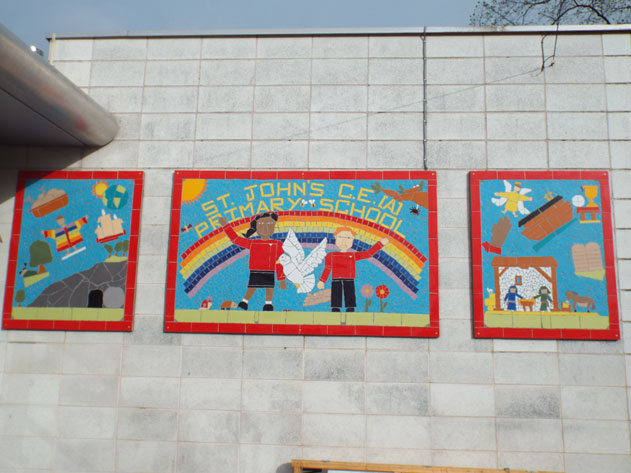 As well as this, each class produced some collage or mosaic work based on their topic at the time, using some of the ideas and skills they had learned during their large mosaic work with the artist.