Newsletter Autumn Term No 13
Dear Parents/Carers
As the weeks gallop towards Christmas we are very busy perfecting our concerts/nativity which we are proud to note includes every single pupil in the school. We are also delivering lessons alongside this, as we cannot afford to let our learning focus slip in order for all our pupils to catch up and achieve.
1. Christmas Activities
Pantomime (Friday 6th December) – Tomorrow we are providing a pantomime produced by a touring theatre company for all the children. Y3 will be busy doing archery and climbing at Stanley head. We always try to make Christmas a magical time for all our children. Please help us by making sure your child gets enough sleep at this very busy time so they are all in happy moods.
School Strictly Disco (Wednesday 11th December) – 3.00pm to 4.00 Foundation Stage & KS1 & 4.15pm to 5.15pm KS2 – entrance is £2 each and all children will receive a drink and packet of crisps – other refreshments are available priced from 20p to 50p. Already 5 children who have received red cards are not invited to join in this as staff give up their own free time to run this lovely event for the children and therefore do not want any bad behaviour to ruin this for the other children.
Christmas Concerts (Thursday 12th December) – Our KS2 (Y3-Y6) concert is at St John's Church at 9:30am, parents/carers are warmly encouraged to attend. Our KS1 (Y1 & Y2) concert is at Church at 2:00pm, children can be collected from church if it is easier for you, or can walk back to school with the staff if that is more convenient. Again we warmly invite parents/carers, family and friends to celebrate this very special time of year with your children. As a school we get fantastic support from St John's Church and have many Church Governors who give up their time so freely; please could parents/carers donate to the Church Plate Collection.
Foundation Stage Nativity (Friday 13th December) – Our youngest children will be taking part in a traditional Nativity held at school at 9:10am. Please arrive early as we won't be letting any latecomers in as the office staff will be watching this wonderful performance. Parents/Carers will be reminded that under our photo image policy they are required to be responsible for their own personal use of any images they take. Any images are to be used for your own personal use and must not be put onto any social networking site. We also want our children to be the main focus of these productions into which, as I'm sure you would recognise has been a lot of hard work, so please if you can leave any babies/toddlers with relatives or failing that we will be having staff available that love babies and toddlers and are able to help out.
2. Stanley Head
This week all of our KS2 classes have attended a day's adventurous PE activity day at Stanley Head. The children have challenged themselves both physically and mentally competing in archery, the climbing wall and high ropes. This has been thoroughly enjoyed by all the pupils and was provided free on this occasion. Thanks to our governors who have accompanied classes and monitored this provision; Mrs Sue Cotton, Rev Chris Rushton, Heather Ruston and Mrs Groves.
3. Dark nights
We try to dismiss our pupils punctually on these dark, cold nights but there are a group of children who are regularly picked up late, which is not only distressing for them but means I have to pay a member of staff extra to supervise. From January 2014 I am going to ask regular late families to contribute financially. Our after school provider Small Steps pick up children each day and families will also be directed to them.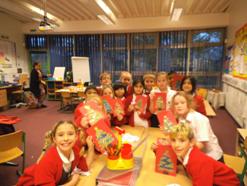 4. Art Club
Chloe Barlow, Lily Groves, Yash Bhullar and Freyah Sheppard had a super time making sparkly Christmas cards and snowflakes with Miss Khan and Miss Guest in Art Club.
5. Values Champions
Our first value champions have been selected by class teachers. These are children who have been spotted demonstrating one of our key values. The selected children in Key stage 1 and Key stage 2 are going to the Regent Theatre to see Snow White and the Seven Dwarfs organised by Mrs Ramsden, which is a wonderful prize for an excellent group of children – to encourage personal responsibility, one of our core values, only one letter will be given out to each pupil (so check your child's bag!) and if not received back then another pupil will be selected to take that place. The winners in reception and nursery will get other special prizes.
6. Attendance
We regularly give out awards for good attendance and are planning another WOW visit in the Spring. Please help us to improve by sending your child to school regularly and making appointments after school, unless of course in an emergency. The government have tightened the rules as there is a link with attainment and attendance, but this term we have had children take a day off for a birthday, to go to Grandads on a Friday, and for holidays (children always tell us!!). None of these are approved and these children will not be considered for our next good attendance visit.
7. Fossils and bones workshop
Next Monday and Wednesday we have another WOW activity for the children and a science expert will be working with the KS1 and KS2 classes to look at identifying and classifying fossils. The children will be completing activities around the topic of dinosaurs and fossils, which the children will love – they can buy a fossil for 50p.
8. Maths Calculation Policy
With our newsletter this week is a copy of our calculation policy for addition. Parent/Carers often say they no longer know how maths is taught so you will be able to see what your child should be able to do in both. We did give this out about 18 months ago and I hope you do find it useful again now. After Christmas we will send out others.
9. Home School Link Worker Information
» Just a reminder if your child brings a packed lunch please avoid fizzy drinks, chocolate bars & sweets. These will be taken away until the end of the school day if they are in their sandwich boxes. We prefer to see fruit, vegetables and yogurts.
» The bag/pack your child has bought home is from 'Active Travel' and is given out to encourage you to walk to school.
10. Reminders
This is the last week for after school clubs – no more clubs will take place this term.
School is closing at 2.00pm on the last day of term.
11. Attachments
» Addition Maths Calculation Policies
12. Local Activities
• Message from the Potteries Museum & Art Gallery, Anglo-Saxon Yule, Saturday 7 December:
The Christian festival of Christmas takes place during the midwinter solstice, the time of the year when the daylight hours are shorter than the nights. Pagans, including the Anglo-Saxons, also celebrated at this time of year with feasting and entertainment. The months of December and January were called Yuletide by the Anglo-Saxons and they celebrated the beginning of the year on December 25th, which they called Modranect— that is, Mothers' Night. This celebration was linked to the rebirth of 'Mother' Earth and the whole idea of ceremonies conducted at the time was to ensure fertility in the coming spring season. Join us in the new Anglo-Saxon gallery as we recreate this ancient festival with an informal feast held by the Lord for his family, close friends and retainers. Discover the traditions and customs of the mead hall including festive foods, music and storytelling. Children will also be able to make their own Staffordshire Hoard inspired Christmas card to take home, small charge applies. Performance times 11.30am and 2.30pm.
13. Celebration Assembly
Our children/classes who received awards on 29/11/13 were:
Charlie Hambleton, Alexis Lovatt, Harvey Whelan, Elizabeth Soloman, McKenzie Gallagher, Amber-Louise Gregory, Faris Elabd, Dylan Colclough, Kyle Myatt, All of Year 3, Oliver Williams, Alfie Latham and
Conner Tatler.
Mrs Bloor's Award: Alfie Latham
Mr Wilcox's Sports Award: Amber-Lousie Gregory
Lunchtime Supervisor's Award: Joel Sheldon & Y5
Smart School Uniform: Emma Brennan
Dusty Bin: Nursery
Good to be Green: KS1 – Ian Qui & KS2 – Evie Beech-Daly
Walk to School: Y1S – George Beech-Daly & Jayden Shepherd-Moss
Lunchtime Trophy: Y5
Awards for w/b 18/11/13:
Class Attendance: Y6 – 97.1%
Whole School Attendance: 96.2% (Government target is 95%)
Pupil Attendance Awards: Alfie Barnett & Anthony Evans
14. Dates for your Diary
• Friday 6th December – Y3 Visit to Stanley Head (leave school at 9.00am/return at 3.15pm)
• Friday 6th December – Panto for whole school
• Monday 9th December – Science Day (Fossil Work)
• Wednesday 11th December – Science Day (Fossil Work)
• Wednesday 11th December – 3.00pm-4.00pm F/S & KS1 Strictly Disco
• Wednesday 11th December – 4.15pm-5.15pm KS2 Strictly Disco
• Thursday 12th December – 9.30am KS2 Christmas Carol Concert at St John's Church
• Thursday 12th December – 11.30am-1.00pm Grandparent's Christmas Dinner
• Thursday 12th December – 2.00pm KS1 Christmas Carol Concert at St John's Church
• Friday 13th December – 9.10am Foundation Stage Christmas Nativity at school
• Friday 13th December – 11.30am to 1.00pm Grandparent's Christmas Dinner
• Wednesday 18th December – 2.00pm Christingle Service
• Friday 20th December – 2.00pm School Closes for Christmas Holidays
• Monday 6th January – School Opens for Spring1 Term
Thank you for your support!
Yours sincerely
Mrs P Bloor
Headteacher
"Don't forget the our local councillor, Jackie Barnes of Springfield/Trent Vale who is also one of our school governors is always available to help and can be contacted on: 07813 539410 or jackie.barnes@stoke.gov.uk"