Newsletter Spring Term 10
Dear Parents/Carers
As we finish another very busy learning week, staff have been working on assessing writing and noticing how children have progressed. Improving children's writing is our key priority this year and something you can help us with at home.
1. Our Talking Topic
This week's talking topic has been 'kindness', which we started in Monday's assembly, about how we should all be kind to others even when sometimes these may be people who are harder to get on with, but this is when we must try harder. Please talk to your child about this.
2. End of School Day
Last week we had a pupil in reception break his wrist then proceeded to run off and climb over the roped off stage area (that was being treated with an anti-fungus paint) despite being with an adult. Our first aiders were excellent and prompt in dealing with this, but children need to be supervised at the end of the day and I have seen other toddlers running around on the bank. A small group of pupils are regularly being collected late at the end of the day which prevents staff meetings from taking place – Mrs Ramsden is monitoring this. Please help us by being punctual and vigilant. Very well done to parents/carers who use reins to hold younger children close to them, they are all so precious!
3. Chess Tournament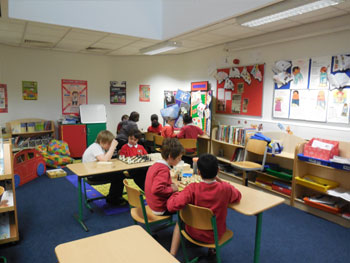 Our annual chess tournament has run over the last few weeks and is a game we teach at my lunch time games club. Fourteen children took part and there were some excellent matches. In the final Moriel Sepe defeated Jojo Joseph and the 2 semi finalists were Isabella Piesse-Mills and
Josna Joseph. The winner and runner up will be presented with a trophy. Chess is a wonderful game of strategy and the children have really reached an impressive standard.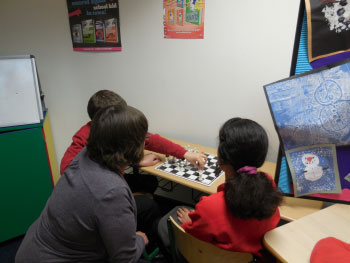 A special well done to Ahmet Selim Erdogan who went to Liverpool to represent Staffordshire at the weekend and won 2 of his 3 matches. Selim is at our school for a year whilst his father undertakes a course at Keele University and arrived in October with no English, what an outstanding achievement!
4. Cloakrooms
We have been having a purge on keeping them tidy and special thanks to Harvey Tams and Ethan Kidd who have been excellent at tidying!
5. Sports Relief Golden Mile
For £1 per child they can join in this national fund raising venture and walk 7 laps. Parents/Carers are invited to join in too! May I remind you that the grounds will be closed to ALL parents/carers which include people with disabled fobs/passes as it will continue after 3pm.
Any parent/carers with the disabled fob/pass is reminded that gates are not opened before 2:50pm (as the intercom system is not always manned before this time we ask that you don't buzz in until the pedestrian gate has opened) and that the driver/named person must get out of the vehicle to collect children – thank you for your support.
6. School Disco
This will be after school; FS & KS1 3:00 – 4:00pm, KS2 3:00pm – 4:15pm. This will be offered for all pupils from Nursery to Y6 as a fun activity to help raise funds for school fund. It will cost £2 which includes entry, a drink and packet of crisps. There will also be a selection of games with prizes at 20p a go if you want your child to take part. Exit will be via the normal doors. A fun session is planned for all however any child whose behaviour is an issue or has received a red card until the day of the disco will not be invited. Any donations for prizes would be gratefully appreciated!
7. The Easter Bunny is Coming

The Easter Bunny is coming to Nursery to collect any dummies that children use. Dummies are a cause of poor speech so it is great to note how many have been collected in the basket already. Mrs Clarke asks that if you have a child that uses a dummy, please bring it in and put it in the basket. Easter treats are promised if it is full!
8. Office Information
School Dinners – After our Easter break (28th April) school dinners will cost £2.20 per day. Please make sure that children's 'squid' accounts are kept in credit at all times, top ups can be made either at school (in the reception area) or at home via www.squidcard.com
9. Home School Link Worker Information
Last week late letters were sent which covered dates from the beginning of the term in September. Late marks ranged from 5 to 52. 14% of our children are late and are missing valuable learning time. Reading begins as soon as children enter the class at 8:50am. Let's see if we can get this percentage down by getting to school on time.
10. Celebration Assembly
Our children/classes who received awards on 14/03/14 were:
Francesca Zander, Hashim Mahmood, Macey Simpson, Elizabeth Soloman, Sara Habib, Lincoln Cotteril, Joshua Brereton-Lewis, Kiera Tatler, Kyle Myatt, Benjamin Poole, Isabelle Westwood, Kyle Lovatt,
Freddie Taylor & Demi Hanks
Mrs Bloors Award: Amber Atkinson
Smart School Uniform: Grace Cooper & Kodi Amison
Lunchtime Supervisor's Award: Reece Cartlidge & Sanjay Arokiaswamy
Good to be Green: KS1-Oliver Woodward & Alisha Johnson, KS2-Naomi Edwards-Cherry & Connor Tatler
Dusty Bin: Y6
Time 4 Sport Class of the Week Trophy: Y3
Walk to School Trophy: Y2C
Awards given out for data collected w/b 03/03/14:
Class Attendance: Y6 & Y1B – 99.3%
Whole School Attendance: 96.4% (Government target is 95%)
Pupil Attendance Awards: Ian Qiu & Zion Wilson
Maths Awards
Very well done to the following who achieved their table's awards this week and have clearly been working hard in maths:
Perfect Pencil – Leenah Elabd
Trick Tables – Gabrielle Lovatt
Brilliant Bookmark – Jacob Simpson, Kieran Tonks, Merin Baby
Brainy Badge – Jack Eaton, Lawrence Hilditch, Jacob Simpson, Natalia Kulik, Thomas Levey and
Ahsen Turkoz.
Swimming Awards
Very well done to Sam Cole who achieved his beginner's certificate & Jake Bamford, Connor Tatler, Jojo Joseph and Isabella Pisse Mills who achieved their length award & Reece Cartlidge, Thomas Beech-Daly, Ben Burgess and Kian Murphy who passes their elementary award, which needs good stroke techniques for at least two strokes. They have all been working hard during their swimming lessons.
11. Dates for your Diary
Friday 21st March – 2.30pm Sports Relief Golden Mile
Monday 24th March – 6.00pm Y2 Dance Extravaganza at the Victoria Hall
Thursday 27th March – School Disco, FS & KS1 3:00-4:00pm, KS2 until 3:00pm – 4:15pm
Friday 28th March – 9.05am Y1S Class Assembly
Wednesday 2nd April – KS1 Manchester Airport Visit
Thursday 3rd April – KS1 Manchester Airport Visit
Monday 7th April – Y3 Recorder Festival
Tuesday 8th April – Open Evening 3.15pm – 5.15pm
Thursday 10th April – 9.05am Y1B Class Assembly
Friday 11th April – Staff Training Day (no children in school)
Monday 14th to Wednesday 16th April – Holiday Sports Camp
Wednesday 7th May – 9.05am R1 Class Assembly
Tuesday 20th May – 9.05am R2 Class Assembly
Friday 13th June – 9.05am Nur Class Assembly
Yours sincerely
Mrs P Bloor
Headteacher