Newsletter Spring Term 6
Dear Parents/Carers
The learning weeks seem to have flown by since Christmas, it's hard to believe that we are about to finish for half term. We have, as always packed a lot into these weeks and there has been a lovely learning atmosphere throughout the school. I am sure that you will agree with me in knowing how lucky we are not to be in the South of England at the moment with a flooded home, although last night was very tricky!
1. Our Talking Topic
This week our topic has been 'Citizenship' and the need to be a good neighbour. Please talk to your child about this.
2. School Routines
At the end of the day staff empty the going home trays in each classroom. Information together with the weekly newsletter goes out on a Thursday but there are sometimes other letters, work, certificates and homework on any given day. This is why our book bags, which are part of our uniform, are so important for keeping parents/carers informed and up to date with school matters. As well as this all teachers have a class reading book that is read to pupils quietly in school most days, for the last 10 minutes of the day.
3. Behaviour Awards
This week we have given out our 'Gold Behaviour Awards' in KS1 and KS2 to all the children whose behaviour has been exemplary. Wonderfully, it is the vast majority of all the children in all classes who are a credit to their parent/carers. A few other pupils who did not receive this award did receive other awards and will continue to work towards receiving this sometime in the future. Our behaviour in school and behaviour for learning is excellent and is an area that has been transformed since the school opened. The Education Secretary Michael Gove urged head teachers last week to bring back traditional methods to discipline children and has given powers to miss break time, repeat unsatisfactory work, lose privileges and use detentions as poor behaviour disrupts other children's learning. We do occasionally use all of these, but not his idea of litter picking or of not being allowed a non uniform day.
4. WOW Fridays in Reception
Reception children have been enjoying our 'WOW Experiences' on a Friday. Many of these activities took place outside, thank you for providing your child with wellingtons. So far the children have enjoyed:
• Winter Outside Walk – although we saw more signs of spring!
• Winter Olympics Outside – the children took part in speed skating, figure skating, sledging and tobogganing.
• Arctic Art Attack
• Chinese New Year – made lanterns, tasting, dancing and had envelopes with lucky coins in.
5. Y6 French Residential Visit
The children were presented with a special certificate and some photographs of themselves this week. They were all really interested in our visit as the lovely piece in the Sentinel last week demonstrated. All the children were a real credit to their parents/carers and the visit has helped the group gel together. For some reason the texts I sent to Mrs Oldfield did not get through, which was disappointing, and I apologise for this.
6. Safer Internet Day
'National Safer Internet Day' was on Tuesday, all the classes have had a focus in ICT lessons and class assemblies on the importance of e-safety and keeping our children safe while they are using lap tops, tablets, computers and mobile phones. We are mainly focused on raising awareness of Cyber Bullying as it has been raised nationally as a serious issue.
7. School Clubs
Golf Club – This week I looked at the new golf club that we are running after school. The coach is really pleased with the children and takes them for a good warm up before the session begins. You never know we could have a budding open winner here!
Art Club – This week I also looked in on Mrs Barrow's Lunchtime Art Club and as you can see from the photos, everyone was having a fabulous time!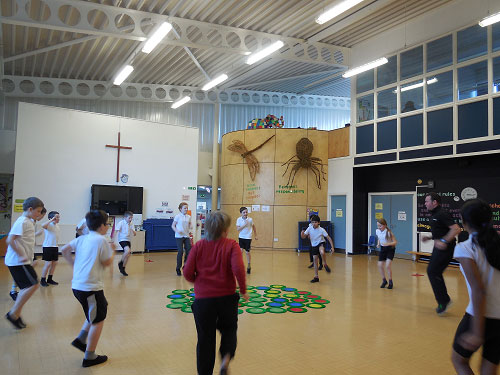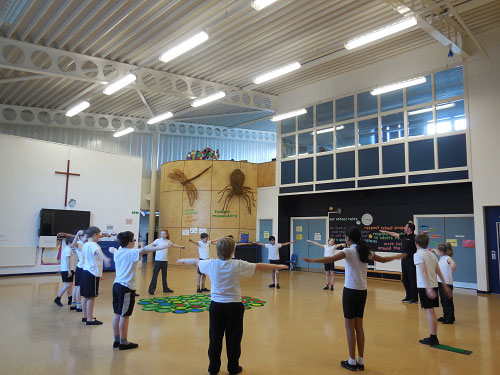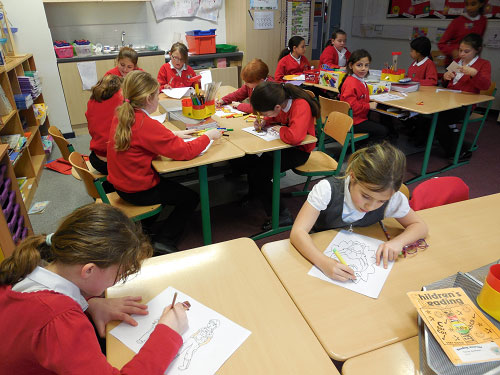 8. Staff News
Mrs Inskip has begun her maternity leave and we wish her a restful few weeks before baby makes her entrance.
9. Y6 Booster Classes
We have started a range of extra classes to really get Y6 to their highest possible level and ready for high school. Mr Shahban is doing three mornings extra support, I am taking a group for English and Maths and Mrs Peake another. Both groups get extra homework to do on top of our normal homework policy and traditionally the children have always enjoyed these lessons, this class is no different. Chloe Godwin said "you can practice things that you have done at school and show your parents", "Grace Cooper commented "good education will get you a job afterwards" and Jack Whieldon stated "the work helps you get a better education to get a good job" – with maturity like this Y6 will go far! As I am teaching now I probably will not get out as much in the mornings but Mrs Ramsden will be out each morning and Miss Mazzei will be out on a Thursday. However, I am always available for an appointment to discus individual children via the school office, but I will only see parents/carers individually, not groups of parents together.
10. Our Kenya Link School
On Friday we are fundraising to buy another cow for our partner school in Kenya as 'Cherish' is lonely. If they wish to take part children can bring 20p for a juice and biscuit and/or 20p to enter a competition organised by Mrs Clarke to help name the new cow. The winning name is to be picked by 2 Governors and 3 prizes will be given out. This is a lovely opportunity for the children to think about others in our global world. When I visited the school, which has nothing and no resources, I was amazed at how happy the children were and how they walked miles to school in a morning and home again at lunch time; education is the only way they can get out of poverty as there is no welfare state in Kenya.
11. Lift Shares
Stoke on Trent has a web site for lift shares: www.share-a-lift.co.uk
This may interest the parents/carers who travel to St John's from outside of our traditional catchment area. Please can I remind parents/carers that any taxi bringing children to school must obey our rules and not park in the drop off zone.
12. Parent/Carer Complaint
We have had complaints from parents/carers about foul language on school premises and on adults clothing. This is not acceptable as children look up to adults as role models and learn what they live!
13. Home School Link Worker Information
Reminder – Y6 parents/carers coffee morning tomorrow morning (Friday 14th Feb). Come for an informal chat or just a coffee/tea and biscuit to warm up after the cold, wet school morning run.
14. Celebration Assembly
Our children/classes who received awards on 07/02/14 were:
Ethan Hill, Ryan Bithell, Mia Sepe, Nteokan Egopija, Megan Proudlove, Freya Sheppard, Leenah Elabd, Thomas Bird, Moriell Sepe and Chloe Godwin.
Mrs Bloors Award: Benjamin Burgess & Rosemary Benny
Smart School Uniform: Ali Hamadto
Lunchtime Supervisor's Award: Charlie Malbon & Kyle Myatt
Good to be Green: Anopa Mutize & Joshua Amor
Awards given out for data collected w/b 27/01/14:
Class Attendance: Y2M – 98.9%
Whole School Attendance: 94.6% (Government target is 95%)
Pupil Attendance Awards: Yashbir Bhullar & Anet Yohannan
Our Values Champions
This week we have been looking at 'Responsibility'. Very well done to those who have shown this quality this week: Theo Lovell, Grace Wain, Zion Wilson, Bailey Birks, Nancy Doward, laura Lou Hopley, Ebony Johnson, Natalia Kulik, Thomas Beech-Daly, Elise Steventon and Yassin Hamadto.
Swimming
Well done to both Kian Murphy who passed his length certificate and Lawrence Hilditch who passed his Elementary Certificate last week.
15. Dates for your Diary
Friday 14th February – 8.50am Y6 Parent/Carer Coffee Morning
Friday 14th February – 9.05am Y2C Class Assembly
Friday 14th February – School closes at normal time for half term
Monday 24th February – School opens for Spring Term2
Thursday 6th March – FS/KS1/KS2 Science Magic Show
Monday 24th March – 6.00pm Y2 Dance Extravaganza at the Victoria Hall
Friday 28th March – 9.05am Y1S Class Assembly
Wednesday 2nd April – KS1 Manchester Airport Visit
Thursday 3rd April – KS1 Manchester Airport Visit
Monday 7th April – Y3 Recorder Festival (details to follow)
Tuesday 8th April – Open Evening 3.15pm – 5.15pm (details to follow)
Thursday 10th April – 9.05am Y1B Class Assembly
Friday 11th April – Staff Training Day (no children in school)
Monday 14th to Wednesday 16th April – Holiday Sports Camp (details to follow)
Wednesday 7th May – 9.05am R1 Class Assembly
Tuesday 20th May – 9.05am R2 Class Assembly
Friday 13th June – 9.05am Nur Class Assembly
Yours sincerely
Mrs P Bloor
Headteacher