Newsletter Spring Term 7
Dear Parents/Carers
As we begin the second half of the Spring Term with lighter mornings and evenings we can only hope for some warmer weather soon to help us all keep cheerful.
1. Our Talking Topic
This week we started our new half term SEAL (Social and Emotional Aspects of Learning) topic
'Good to be Me'. We started with a whole school assembly story on the theme that making the right choices is sometimes the hardest choice and how we need not to follow bad examples of others.
Please talk to your child about this.
2. Year 2C Class Assembly
Thank you to parents/carers who attended this assembly before half term on the theme of 'love to each other and our neighbours' which was a lovely message delivered very clearly by all the children. I thought their made up song was worthy of a recording contract! One parent, who has relocated to Stafford with the hospital came back with her children especially for it, she commented "their new school has not got the same community feel to it as St John's" which is a lovely compliment.
3. School Routines
Foundation Stage pupils in nursery and reception have access to milk, water and fruit each day as part of the curriculum. All of KS1 and KS2 have their own water bottles which are filled each morning and sterilised weekly. KS1 pupils get free fruit that is delivered to the school and covers a range of different fruits which the children enjoy. We give any fruit left over to KS2 pupils (Y3-6). We have milk left over each week so Mrs Bettany has been giving it out in a small cup free to any child who wants it twice a week at morning break.
4. School Clubs
ICT Club – Last week I visited the ICT club where the children were making a power-point adding animation. They were all fully engaged and Lily Groves, Yashbir Bhullar and Synali Jayasekera were especially engrossed in their learning and producing good work.
Taekwondo Club – The coach has told me that some of the children at this after school club are now ready for grading. We are going to arrange this at the end of March, which is great news for the group who are attending this and have been working so hard!
5. Supermarket Tokens
Please send in your Morrison's and Sainsbury's tokens into school as we collect them for lunchtime equipment and consumables throughout the school. You need lots of tokens to buy play equipment which makes lunchtimes a busy and fun time.
6. Attendance
With the newsletter is our attendance information booklet, as the majority of parents/carers know this is crucial to educational success and is lower in Stoke than many areas, it contains some important information. We have been rewarding our good attending children with certificates, prizes in class and assemblies and with visits, more of which are planned in the new financial year.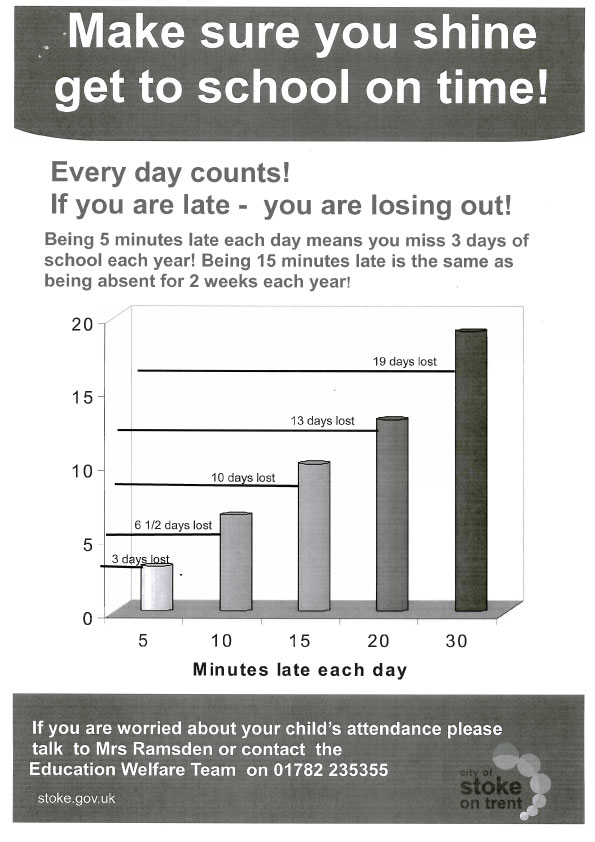 7. Reading News from Miss Mazzei
'Bug Club', the cutting-edge reading programme for 21st century kid:
We know at St John's how important reading is to improve the life chances of our children so we have recently invested in a new reading programme. Bug Club instantly engages each child with a personalised reading world. Interactive activities, characters they know and love and a sophisticated rewards system keeps children motivated.
This is a different way of reading at home so if your child reads a book from Bug Club instead of their usual home reader it can be written in their reading diary. The rigorous pedagogy and fine levelling behind the whole-school programme means that teachers and parents/carers have peace of mind as each child quickly achieves his or her reading goals. Children love it, parents/carers cannot stop talking about it and the results keep teachers using Bug Club every day. If you want to find out more about Bug Club, then you are invited to a Parent/Carer Information Meeting on Thursday 6th March at 9:00am.
8. World Book Day Competition – Thursday 6th March
Next Thursday is World Book Day and as well as the amazing Science we have planned there will be a 'Caught Reading Competition'. What we would like you to do is photograph your child reading in an usual place, the more unusual the better. Try to include the front cover and your child's face in the picture. Please send in your photographs by next Thursday, if you want to enter the competition. All the photographs will be displayed in school and some of our more unusual ones will go onto our school website and will win a prize, so get your thinking caps/reading caps on and get snapping!

9. Baby Mererkat Sleepover
Our school will be taking part in the Meerkat Sleepover Project in association with 'The Parent Zone' and www.comparethemarket.com. Twice a week from next week in Foundation Stage and Key Stage 1, your child will be given a toy baby Meerkat called Oleg, to take home for a "sleepover". They will be asked to complete a diary sheet describing how they made Oleg feel at home, the care they provided for him and the adventures he had. The purpose of the project is to encourage children to think about caring and looking after each other. They will be introduced to the project in class with a lesson to help them to start thinking about caring. We hope you and your child enjoy this project!
10. Office Information
Would all parents/carers please put any money for trips etc into a sealed envelope and mark it clearly with your child's name.
11. Lost Property
Items collected by the cleaning team before half term have been shown to children to look at it and anything left will be put in a bag and kept in the Community Room for a week, you are welcome to pop in and look for anything that's missing.
12. Our Kenya Link School
Before half term we had a juice and biscuit sale to fundraise for a new cow for our Kenyan link school. We raised £90, thank you for your support! The competition to name the new cow was judged by our head girl, Elise Steventon and head boy Thomas Beech Daly. They chose the name 'Dozy' proposed by Freyah Knight Y3/4 and the two runners up were Erin Hill from Y2C with his name 'Moo' and Oliver Brereton Lewis from Nursery with 'Monster'. The children will be receiving prizes this week and we will be dispatching the money to buy her shortly.
13. Home School Link Worker Information
• At St. John's we recognise asthma as an important condition and those children diagnosed are encouraged and helped to participate fully in school life. All staff have been trained in asthma care and each class has a clearly labelled basket where each individual inhaler is stored as well as a class register displayed in a prominent position of those who have asthma in each class.
It is the parents/carers responsibility to provide spare inhalers in school so that their child is not without, as this is dangerous. If a child needs to use their inhaler parents/carers are informed by either class teacher or a note at the end of the day. If children go swimming or outside on the sports ground for PE/games inhalers are taken with them. Recently a child was not allowed to swim as he had not got his inhaler in school. If your child has recently started St John's or has recently been diagnosed with asthma please see Mrs Ramsden to fill in relevant forms.
It is vital that ALL children with asthma has an inhaler (and spacer if needed) in school at all times!
• Please note – children should not arrive to school before 8:45am when we can take responsibility as some children are arriving as early as 8:30am unsupervised!
14. Celebration Assembly
Our children/classes who received awards on 14/02/14 were:
Humaira Shakil, Esme Clarke, James Nicholls, Sasha-Jade Steele, Nirmal Pasupuleti, Nicola Boon, Ali Hamadto, Bhuvan Pasupuleti, all of Y2C, Ameila Harvey for being polite and a good friend, Raul Yasin Miah, Thomas Bird and Isabella Piesse-Mills.
Mrs Bloors Award: Caleb Johnson & Theo Lovell
Smart School Uniform: Elise Steventon & Jenson Nguyen
Lunchtime Supervisor's Award: All of Y5 & Evan Davies
Good to be Green: KS1 Dylan Colclough & Jack Goodall
Awards given out for data collected w/b 03/02/14:
Class Attendance: Y1S – 98.6%
Whole School Attendance: 95.6% (Government target is 95%)
Pupil Attendance Awards: Selim Erdogan & Alex Jordan
Swimming
Well done to:
Jamie Paredes for gaining her Elementary Certificate
Kieran Tonks, Chad Varquez, Ismail Saygili, Charlie Bird, Raul Miah who achieved their Beginner's Certificate
Liam Bates, Laynee Tunnicliffe who gained their Length Certificate
15. Dates for your Diary
Thursday 6th March – FS/KS1/KS2 Science Magic Show
Thursday 6th March – 9.00am Parent/Carer Bug Club Information Meeting
Thursday 6th March – World Book Day
Monday 24th March – 6.00pm Y2 Dance Extravaganza at the Victoria Hall
Friday 28th March – 9.05am Y1S Class Assembly
Wednesday 2nd April – KS1 Manchester Airport Visit
Thursday 3rd April – KS1 Manchester Airport Visit
Monday 7th April – Y3 Recorder Festival (details to follow)
Tuesday 8th April – Open Evening 3.15pm – 5.15pm (details to follow)
Thursday 10th April – 9.05am Y1B Class Assembly
Friday 11th April – Staff Training Day (no children in school)
Monday 14th to Wednesday 16th April – Holiday Sports Camp (details to follow)
Wednesday 7th May – 9.05am R1 Class Assembly
Tuesday 20th May – 9.05am R2 Class Assembly
Friday 13th June – 9.05am Nur Class Assembly
Yours sincerely
Mrs P Bloor
Headteacher