Newsletter Spring Term 8
Dear Parents/Carers
As we march into March! It is noticeable how we can see the first signs of Spring which will give everyone a boost! We have had a lovely learning week in school.
1. Our Talking Topic
This week we have been thinking about 'Lent' and things we can spring clean from ourselves as we prepare for Easter. We talked about how Christian's often give up something during Lent as a reminder of the sacrifices that Jesus made and the temptations he resisted during his time in the desert. As well as spring cleaning our homes we suggested it was a good time to spring clean our lives and give up bad habits that we have. Please talk to your child about what you can all give up!
2. Parking
PC Dyble came to see me this week and commented that anyone parking in Wheatly Avenue from 8:30am-9:30am and 3:00pm-4:00pm is committing an offence. There was an accident there last week between these times involving a parent/carer unfortunately. Now the weather is better it would be great if all our nearby families who have time to walk, left their car at home. Then our many, out of catchment families who choose to send their children to St John's despite other schools being nearer, because of our reputation, academic results and good behaviour could park nearby in our very busy streets. There are always spaces in Harpfields Road and other nearby streets to park safely and 'park and stride' as we call it which is so much healthier too. Parents/carers are afforded an opportunity at present to use the sports ground and the drop off zone in the morning which no other City School allows. There is an expectation that all parents/carers who use a car to transport their children do so responsibly. PC Dyble has contacted enforcement officers about illegal parking. In the news this week it said that children driven to school are killing the planet. Every time a child is driven to school and back the car releases into the atmosphere 85 balloons of carbon dioxide, the greenhouse gas that is blamed for global warming! Two parents/carers have complained that cars are parking in the drop off zone in spite of the large notice.
Very well done to the pushchair Mums who walk in any weather and are always on time.
3. 'Mock Christening'
Last week Y1B and Y1S enjoyed taking part in a 'Mock Christening'.
Reverend Sandy Dutton kindly came into school to perform a pretend Christening for our favourite dolls and soft toys. We all came dressed for the occasion in our smartest clothes and learned a lot through experiencing the ceremony. Reverend Sandy explained the religious meaning of the font, water, oil and candle and performed the ceremony using her special book containing all of the prayers and responses we needed to say. We really enjoyed learning about what happens at a Christening and finding out about the promises made by parents and Godparents. We had a fabulous morning as you can see from our 'family photos'.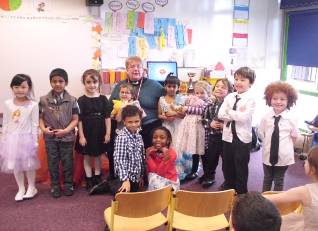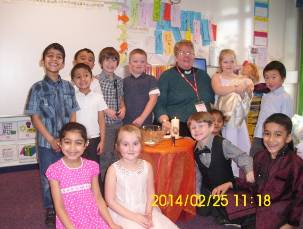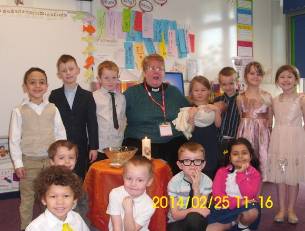 4. Y6
Y6 Children are all having booster classes at present and have been given workbooks to do at home in preparation for their forthcoming SATS. All the children are really focused on their education, Caleb Johnson's dad told me he is limiting his time on the X Box himself so that he can get his work done each night. This is excellent preparation for high school. Very well done Caleb and all of Y6!
5. Uniform
Thank you so much for sending your children so smartly attired for school it helps us keep our learning focus in school. Can I remind new parents/carers that children need school shoes, not trainers and we have no extreme hair styles (2 children were stopped from attending Taekwondo recently for 3 weeks because of this), far better to wait until they are teenagers!
6. Speed Limit
Can I remind all parents/carers that the speed limit on site is 5mph at all times, we recorded a near miss on Monday morning on our CCTV system which is of great cause for concern especially when there are children around! Please drive responsibly!
7. Science Magic Day
This took place today for the whole school in Key Stage groups. It was linked to world book day but we decided not to dress up as this has an impact on behaviour and the school day. Instead we decided to inspire the children with a science magician who showed the children magic tricks based on scientific principles. This was linked to magical characters in books like Winnie the Witch and Harry Potter. Reading is an important life skill that needs to be practised both at home and in school. Our world is full of words on food packaging, in shops, newspapers, comics and books and without good reading skills children cannot access the world and we all need to play a part by promoting a love of reading. Children read regularly at school can you please help by hearing your child read and signing the reading diary! Many of our older children are not reading at home.
8. School Visits
Y1 & Y2 Visit – On Wednesday all Y1 & Y2 children undertook a visit to Stoke Library and Market. This is linked to a geography topic. The children looked at street furniture in a library led session and made a book mark. All the children have received a form to become a library member. Thank you to Mrs Colley, Ms Jones, Mrs Hambleton, Mrs Johnson, Mrs Anwar, Miss Hill and Mrs Amor who helped staff the visit.
9. School Clubs
Archery Club – Last week I looked into the after school Archery Club where all children have been learning a new skill. Very well done to Leenah Elabd, Aaron Marshall, Alexander Jordan, Natalia Kulik, Jack Eaton,
Ethan Boughey, Ismail Saygili, Lawrence Hilditch,
Maria Xanthopolou, Jacob Simpson, Holly Chatterton,
Jake Bamford, Thomas Levey and Laynee Tunnicliffe who have progressed really well.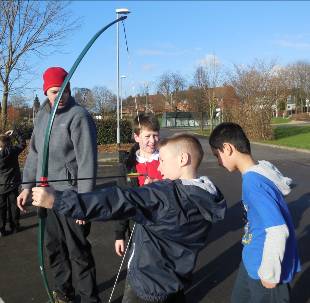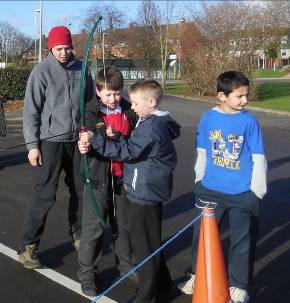 10. Office Information
Bag to School – These will be sent home with children on or around Monday 17th March. For those who have not seen this scheme before bags can be filled with the following items for RE-USE, Adults and Children's Clothing, Bedding, Soft Toys, Paired Shoes, Hats, Belts and Handbags – please no Bric-a-brac. Bags need to be returned to school by 9am on Tuesday 25th March, please not before this date as we have nowhere to hold them.
School Dinner Money – There will be an increase in the prise of a school dinner to £2.20 per day, this will take effect from 28th April 2014.
11. Home School Link Worker Information
• This week we've seen an improvement in the weather even I've been having evening walks! I've attended a few meetings this week and it's nice to have compliments about our school – it certainly feels like Spring is around the corner.
• Lent started yesterday – what will you be giving up? What about changing that chocolate bar for a piece of fruit or instead of giving up something, what about adding something, perhaps more exercise!
12. Celebration Assembly
Our children/classes who received awards on 28/02/14 were:
Eli Sheppard, Aswin Anoop, Matthew Piesse-Mills, Robyn Whieldon, Davis Kurian, All of 1B,Faris Elabd, Charlie Simpson, Joel Sheldon, Abbi Dunn, Solomon Johnson, Alfie Barnett, Freddy Taylor, Kitty Sinclaire & Caleb Johnson
Mrs Bloors Award: Connor Tatler
Smart School Uniform: India Spooner
Lunchtime Supervisor's Award: Megan Wooton & Ethan Hill
Good to be Green: Juvaria Habib, Fizza Rana, Tobias Connor-McCormick & Jack Goodall
Dusty Bin: Y1B
Sports Award: Y4/5
Awards given out for data collected w/b 10/02/14:
Class Attendance: Y2M – 100%
Whole School Attendance: 96.1% (Government target is 95%)
Pupil Attendance Awards: Sophie Carter & Jack Goodall
Responsibility Value: Ethan Boughey
This Weeks Value: This week our value has been 'kindness' very well done to Anopa Mutize, Isaac Williams,
Evie Beech Daly, Megan Wooton, Carley Bithell , Kitty Sinclaire, Eleanor Williams, Molly Clews, Holly Chatterton who have all been noticed being kind this week.
Half Term Challenge Homework: Over half term Miss Quinn invited children to take part in a research challenge. The topic was 'Common Wealth Games', well done to all the children that took part and produced some excellent projects. Especially well done to Thomas Levey who won 1st prize, Jake Bamford who won 2nd prize and Kyle & Connor Myatt who worked together and won 3rd prize.
13. Dates for your Diary
Monday 24th March – 6.00pm Y2 Dance Extravaganza at the Victoria Hall
Friday 28th March – 9.05am Y1S Class Assembly
Wednesday 2nd April – KS1 Manchester Airport Visit
Thursday 3rd April – KS1 Manchester Airport Visit
Monday 7th April – Y3 Recorder Festival (details to follow)
Tuesday 8th April – Open Evening 3.15pm – 5.15pm (details to follow)
Thursday 10th April – 9.05am Y1B Class Assembly
Friday 11th April – Staff Training Day (no children in school)
Monday 14th to Wednesday 16th April – Holiday Sports Camp (details to follow)
Wednesday 7th May – 9.05am R1 Class Assembly
Tuesday 20th May – 9.05am R2 Class Assembly
Friday 13th June – 9.05am Nur Class Assembly
14. Attachments
Good to be Green – Information about our behaviour system in school. It has had a positive impact on our behaviour and I know that some parents/carers use similar systems at home. This is especially for our new families who have joined us recently boosting our numbers to 324 pupils.
Yours sincerely
Mrs P Bloor
Headteacher