Newsletter Spring Term 9
Dear Parents/Carers
We have had a very busy learning week in school as usual and all the children have been very focussed.
1. Our Talking Topic
This week we have talked about all the 'good things' we have in our lives and how they can be shared. Also how God wants people to have good things in their lives; food, clothes, education and friends, but could we all do more to share the good things of the world?
2. Pupil Progress Meetings
This week has seen our pupil progress meetings, where class teachers discuss the progress of all the children in the class with our senior leaders and discuss what steps need to be taken to ensure continued progress. As usual, we are very happy with the progress all the children are making. We will be sharing this progress with you on our Target Sharing Open Evening on Tuesday 8th April and discussing things that can be done at home to help us in our joint responsibility for your child's education.
3. Sports Relief Golden Mile
This is on Friday 21st March at 2:30pm where children can bring in £1 (per child) and walk 7 laps of our 'doughnut' which equates to a mile -parents/carers are welcome to join in. No cars will be allowed on site on this day including disabled as some of the staff are walking 5 miles.
4. World Book Day
This was a great success and the children really enjoyed it! The competition was being caught on camera reading in unusual places. All the children who took part got an extra book day voucher. The winners were: FS – Grace Wain & Thomas Hilditch; KS1 – Ella Curzon & Oliver Woodward; KS2 Ethan Kidd & Kira Reilly.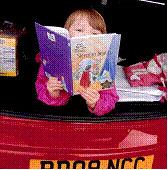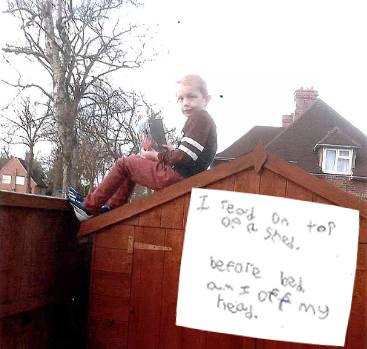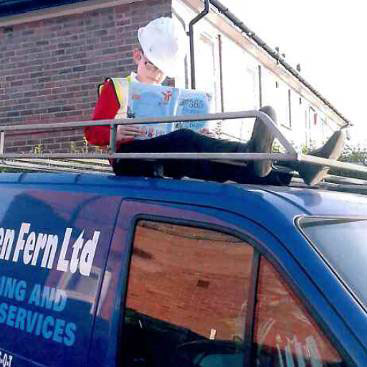 5. Cloakrooms
We have had a purge on keeping the cloakrooms tidy this week and have noted that many children do not have their coats and jumpers named. As we are having better weather, children in our warm school will take jumpers etc off so please check they are all named. Miss Pickerill will be checking every class next week.
6. Science Sorcery & Spells Day
This was last week and linked to famous magical book characters and all classes saw our visiting magician. Y5 & Y6 used a sorting hat to sort children into houses based on Harry Potter, they had magic lessons, worked on potions, bouncing eggs, balloon skewers and colour changing cabbage water. Y4/5 made magic paper loops and water porcupines. Y3/4 had a magic show that was explained to them through science e.g. anti-gravity water. Y3 made 'Orrible Ooze', flying floating fish, linking loops and weightless arms. KS1 had a carousel in the classrooms, a magic boat race, mixed potions, made magic wands and fizzy lemonade. Reception did colour changing potion, foaming potions and exploding milk and the Nursery children made magical glitter and watched a magic show. It was a fun and memorable experience for all of the children!
7. Nursery Library
We now have a library in Nursery for our nursery children. If you would like to take a book out please fill in our log book and enjoy reading with your children at home!
8. School Clubs
» 'Cooking is Fun' Club – This week I looked in at the children who were making Mini Pizza Flyers with Miss Jackson. They all looked delicious and Chloe Barlow, Oliver Williams and Kenneth Bautista clearly have a culinary talent. Very well done to all the children in this club!
» Swimming – Very well done to Rayin Negeem, Charlie Bird, Leenah Elabd, Leah Screen and Alexander Jordan who passed their beginner's certificate this week after weeks of hard work. It has been disappointing to see that some children are not able to take part in this very expensive lesson and in turn miss out on some of their physical activity for the week. Children with no kit have to go to one of the reception classes as their class teacher is on planning time and make up their physical education time at break and dinner times to fulfil the government guidelines. Can the girls in Y4/5 please check that they have not got a spare costume as one pupil lost hers before half-term and cannot go swimming until it is found.
» Archery & Netball – Next week is the last date for Archery & Netball. All other clubs run until Friday 4th April.
9. Office Information
Dinner Money – Dinner money must be paid in advance – there are a growing number of parents/carers letting their children's accounts accrue quite large arrears which results in children being refused a hot meal and parents/carers having to bring them a packed lunch. The 'Squid' system allows you to set up a reminder or even top it up automatically when it drops below a certain amount. If you are unsure how to use this system and would like to, please speak to a member of the office staff who will be willing help!
10. Home School Link Worker Information
• We had our percentage figures for our first terms participation in walking to school. Our baseline was 51%, at the moment we are hitting 75%. Well done to all our walkers, with improving weather (fingers crossed it continues) let's try and get to 80%. We need a few more of you to leave your car behind and walk, well done again!
• Breakfast club starts at 8:15am, please be aware that doors close at 8:30am, we will not let anyone in after this time as we need to give enough time for children to finish eating and get the hall ready for the start of the school day.
11. Celebration Assembly
Our children/classes who received awards on 07/03/14 were:
Elliot Pie, Jack Colley, Daniel Isi-Efefaroro, Caleb Robinson, Jack Sargeant, Whole of Y1B for good behaviour on the trip, Emily Rains, Tyler Conway for settling in well, Dylan Colclough, India Vickers,
George Barnett, Zara Khan, Lawrence Hilditch & all of Y4/5 for good work on science day, Chelsea Warren and Sarah Khan.
Mrs Bloors Award: Leah Milward
Smart School Uniform: Ryan Bithell & Erin Hill
Lunchtime Supervisor's Award: Aaron Marshall & Oliver Woodward
Mrs Ramsden's Award: Y6
Good to be Green: KS1: Ali Hamadto & Isabelle Godwin – KS2: Jyothy Joseph & Chloe Barlow
Dusty Bin: Y2C
Time 4 Sport Class of the Week Trophy: Y3
Walk to School Trophy: Y5
Awards given out for data collected w/b 24/02/14:
Class Attendance: Y1B – 100%
Whole School Attendance: 96.1% (Government target is 95%)
Pupil Attendance Awards: Naomi Edwards-Cherry & Joshua Simpson
12. Dates for your Diary
Friday 21st March – 2.30pm Sports Relief Golden Mile
Monday 24th March – 6.00pm Y2 Dance Extravaganza at the Victoria Hall
Friday 28th March – 9.05am Y1S Class Assembly
Wednesday 2nd April – KS1 Manchester Airport Visit
Thursday 3rd April – KS1 Manchester Airport Visit
Monday 7th April – Y3 Recorder Festival
Tuesday 8th April – Open Evening 3.15pm – 5.15pm
Thursday 10th April – 9.05am Y1B Class Assembly
Friday 11th April – Staff Training Day (no children in school)
Monday 14th to Wednesday 16th April – Holiday Sports Camp
Wednesday 7th May – 9.05am R1 Class Assembly
Tuesday 20th May – 9.05am R2 Class Assembly
Friday 13th June – 9.05am Nur Class Assembly
13. Attachments
Calculation Policy – I hope you find the enclosed calculation policy useful and that it helps you see how multiplication is taught today!
Easter Menu – Our school Kitchen will be offering an Easter Menu on Thursday 10th April for children. Payment for this is as normal hot dinners, £2.15. Children will need to inform their class teacher on the day!
Smart Uniform News – Smart Uniform are based in the Barracks opposite Newcastle Bus Station, they sell all items of school uniform to include all St John's embroidered items which many parents/carers tell us lasts for years!
Yours sincerely
Mrs P Bloor
Headteacher