Newsletter Autumn Term 10
Dear Parent/Carer,
As we finish another busy week the pace seems to be galloping towards Christmas.
1. Our Talking Topic
This week we looked at the founder of the Sikh religion Guru Nanak and his commitment to equality. Please talk to your children about how to treat everyone with respect, whoever they are, as he taught.
2. Our Value
Our value has been responsibility which is so important. Very well done to Lewis Hindmarsh, Nicole Steele, Kian Murphy, Lewis Craggs, Robert Brian, Hibah Rana and Laura-Lou Hopley who have been seen displaying this quality.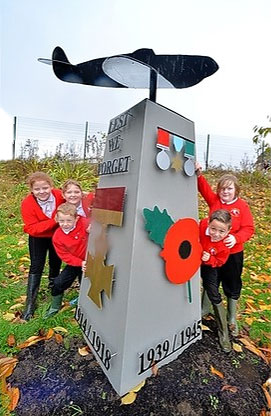 3. Official Opening of the World War Memorial Sculpture
This was last week, on Friday in awful weather, the memorial was opened by the children, parents and our governors Mrs Smith Mrs Rushton and Mrs Groves. We had a lovely picture in the Sentinel of the sculpture that was designed by five children, Kenzi-Shepherd Moss, Oliver Woodward, Lily Groves, Lewis Hindmarsh, Jake Milne and organised by Mrs Barrow. Their designs represented the ideas of many children in the school. It is a very eye catching statue that these children can be very proud of. We held the 2 minute silence on Tuesday as a mark of respect to those who gave the ultimate sacrifice.
4. Behaviour Awards
I made a mistake in last week's newsletter (sorry!) as no Bronze Behaviour Awards were given before half term in KS2 to any child who had a yellow card. Next Friday another group of children will be receiving their Bronze Behaviour Awards. Our behaviour this term has been very good and children knowing how to improve is an important factor.
We will be arranging some visits for good behaviour too shortly.
5. Teaching and Learning Review
This week St John's had an external review. It went really well and the reviewer concluded the children get very good value from staff at St John's and the results of the school are outstanding. Parents should be very proud of the school and their children who were noted as well behaved, polite and eager to learn.
6. Swimming Awards
Very well done to Renae Hodges, Kyra-Mai Phillips, Solomon Johnson and Tobias Connor who gained the most important swimming award,The Beginners Certificate. India Spooner achieved her Elementary Award. St John's pays for extra swimming in KS2 so our pupils can become proficient in swimming as it is such an important life skill. Please make sure your child has their kit for these expensive lessons as we sadly had 4 children missing out this week.
7. Comments to Staff
As parent/carers know both Mrs Ramsden and I go out most mornings to talk and pick up any messages/issues, as do the staff on the doors and the staff after school. Before half term we had 3 instances of abuse directed at staff and in front of children, which is never acceptable when we all work so hard. If there is an issue please make an appointment which we will be happy to deal with as so many do. Thank you for your support.
8. Stanley Head Visits
We are providing each KS2 class with a free adventurous activity day in December and KS1 in January. We are also taking Y5 and Y6 to the Victoria Theatre in January at no cost and providing all the Christmas party food again. I am sure you will agree this will be a great help at this time of year.
9. Y6 French Visit
This subsidised trip is taking place in January and will feature a visit to the Somme region. We have 38 children who are going and we need the medical forms and passports in as soon as possible to complete yet more of the paperwork that is involved with organising such a visit. It promises to be a memory for life for these children.
10. Hall Floor
Our hall floor was cleaned and recoated 4 times over the holidays, we ask that non- marking sole school shoes are worn for school. Our cleaning team work tirelessly to keep our school really clean and had to go on hands and knees to get the marks off on Monday. Only barefoot or black pumps are allowed inside for P.E as they are non-marking. Black pumps are the cheapest footwear and part of our uniform, they are useful to change into if school shoes are wet. Please check for us, especially with older children as some of Y6 do not have them. Thank you for your help here.
11. Home School Link Worker Information
If you have medication from the doctors and there are 3 doses to be taken in a day you can give these at home in the morning, after school and before bed. If there are 4 doses to be taken then we will give your child a dose at school providing you fill in a permission slip at the school office.
12. Reminders
Friday 14th November – 9.05am Y6 Children In Need Assembly
Thursday 20th November – 9.05am Y5/6 Class Assembly
Parent/Carers, friends and family are all invited.
13. Celebration Assembly
Our children/classes who received awards on 19/09/14 were:
Daniel Isi-Efefaroro, Matthew Piesse-Mills, Alfie Hambleton, Elizabeth Solomon, Joshua Clement, Osman Hashemi, all of Y2M, Sedra Osman, Kiera Deaville, Kieran Tonks and Sophie Carter.
Mrs Bloor's Award: Charlie Bird and Biben Benny
Dusty Bin (tidy classroom): R1
Smart School Uniform: Sasha Steele
Lunchtime Supervisor's Award: Emma Brennan and Cameron Tonks
Good to be Green: KS2-Nirmal Pasupuleti and Ethan Hill / KS2–Rayin Negeem and Moriell Sepe
Time for Sport: Y3
Walk to School: Y3/4
Eco Award: Joshua Brereton-Lewis
Awards given out for data collected w/b 20/10/14:
Class Attendance: 1S – 98.9%
Whole School Attendance: 96.2% (Government target is 95%)
Pupil Attendance Awards: Isabelle Westwood and Alan Babu
14. Dates for your Dairy
Thurs 27th Nov – Thurs 4th Dec: 5 Day KS2 and Nursery Art Project – Mosaic Floor Tile Project
Monday 1st December: Y3 Stanley Head Outdoor Education Focus Week
Tuesday 2nd December: Y5/6 Stanley Head Outdoor Education Focus Week
Wednesday 3rd December: Y4/5 Sporthall Athletics 12:30pm – 3:00pm
Thursday 4th December: Y3/4 Stanley Head Outdoor Education Focus Week
Thursday 4th December: Y5 Sporthall Athletics 11:30pm – 3:00pm
Friday 5th December: Y6 Stanley Head Outdoor Education Focus Week
Friday 5th December: 1:30pm In School Panto – Whole School
Wednesday 10th December: Foundation Stage Nativity 9.15am and 2.15pm
Thursday 11th December: 9:30am KS2 Christmas Celebration at St John's Church
Thursday 11th December: 2:00pm KS1 Concert at St John's Church
Friday 12th December: 11.30am – 12.30pm Grandparent's Christmas Dinner
(individual times will be allocated nearer the time)
Wednesday 17th December: Christingle Service at School 2:00pm
Thursday 18th December: Party Day/Santa Visit
Friday 19th December: Finish at 2.00pm
Yours sincerely
Mrs P Bloor
Headteacher