Newsletter Autumn Term 13
Dear Parent/Carer
The weeks seem to be gathering quickly to the end of term and Christmas and like you at home, everything is very busy here.
1. Assessment Week
Next week as well as practising for concerts, our Christingle service and choir visits, we are assessing learning all week and checking on the progress of all pupils and having lots of learning taking place.
2. Stoke Speaks Out Communication Friendly Status
Last Friday the school passed again its Level 4 Communication Award for the good work the school does with supporting children, early speech and language work and it's work with parent/carers. Thank you to parent/carers who attended the coffee and croissants morning and chatted to the assessors. Our visitors were impressed with your support. One of the visitors used to teach here and said how the behaviour and focus of the school has been transformed from 10 years ago which is a compliment to staff, children, governors and families who have worked well together to achieve this.
3. Good Behaviour Visits for Y5/6 and Y6
Last week both classes were rewarded with a free visit to the Awesome Walls Indoor Climbing Centre. The behaviour of all the Y6 children is exemplary, their responsibilities at lunchtime carried out brilliantly and they are a credit to their families. So I wanted to reward these children for their efforts. Both classes had a very energetic, but fun time.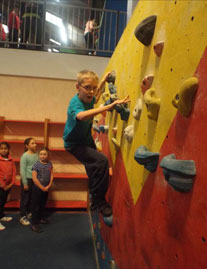 4. Mosaic Art Project
This week we have had a mosaic artist working with Y3/4 Y4/5 Y5/6 and Y6 to design a mosaic tile semi circle that will be put on the path. All the children have completed designs and been involved in making the tiles. Nursery children are making their own one on Thursday. When all the art work is put up after Christmas they will all look wonderful.
5. Homework
This week we are asking children to learn songs and lines for the concert productions. We will not be setting homework next week but children should still be reading and can always do tables and spelling and practice at home with you.
6. Sustainable Travel Award
On Tuesday the Head Boy, Moriel Sepe, and Head Girl, Nicola Tams, went to Longton with Mrs Ramsden to receive our Silver Award for work on sustainable travel. This involves the work we do on encouraging families to walk, cycle or scoot to school, park and stride and lift share to make roads around the school safer; our data shows we have more families walking to school. It also involves the cycle, scooting and road safety we teach the children. Both children represented the school really well and Mrs Ramsden, as travel lead, does fantastic work here.
7. Swimming Awards
Very well done to the following who have been working really hard at swimming lessons this term;
Beginners:
Y6 – Jake Milne and Michaela Sinfield
Y4/5 – Kyra Mae-Phillips, Tobias Connor-McCormick, Renae Hodges, Solomon Johnson, Uzair Rana and Carly Jones
Y5/6 – Anthony Evans, Sneha Miah and Jacob Simpson
Length:
Y4/5 – Freya Knight and Raul Miah
Y5/6 – Jakub Jedrzejczyk, Alexander Jordan, Thomas Levey and Kieran Tonks
Proficiency:
Kian Murphy
Bronze:
Jamie Paredes and Kian Murphy
8. KS2 Outdoor Education Week
All classes had a day at Stanley Head this week sampling archery and climbing walls and stacking challenges. They all enjoyed the days and had some great team building opportunities out in the fresh air.
9. Pantomime
On Friday afternoon all the classes, except Y6 who are at Stanley Head will be having a pantomime which is provided as a treat for all the children.
10. Teddy Raffle
On Friday we are having a teddy/chocolate raffle for all key stages to support a parents, Mr Hashemi's, Afghanistan charity. Tickets are a £1 each. All our visits recently have been free and unlike other schools we don't charge for concerts, pantomime or the party day. Mrs Scott has had to pay £2 a ticket for tickets and £5 for the pantomime at her children's school. So please support this fundraising for those less fortunate than ourselves.
11. Christmas Card Competition
Very well done to the following whose designs won the competition and will be sent out to friends of the school;
Foundation Stage:
1st Angel Johnson R2
2nd Mason Kidd R1
3rd Morfeas Chatzopoulos R2
Key Stage 1:
1st Grace Leese Y2J
2nd Landon Coates Y1S
3rd Emily Rains Y2J
4th Liam Davis Y2J
Key Stage 2:
1st Ethan Kidd Y3/4
2nd India Vickers Y3/4
3rd Lewis Hindmarsh Y6
4th Molly Hancox Y4/5
12. Grandparents Christmas Meal
Don't forget that if you have booked to come along for the meal it is on Friday 12th December. For those that have booked, a slip has been sent out with the children with your allocated time slot on.
13. Reminders, there is a lot going on!
Early Years Christmas nativity next Wednesday 10th December at 9:15am and 2:15pm. Please arrive promptly as we don't want our youngest children disturbed by late arrivals. There are no tickets so please just turn up.
Thursday 11th December KS2 (Y3 to Y6) Christmas Carol Concert at 9:30am at St John's Church. Children will be walking down and back.
Thursday 11th December KS1 (Y1 and Y2) Christmas Carol Concert at 2.00pm at St John's Church. Children will be walking down and can be collected from church afterwards if parent/carers wish.
Please arrive punctually and there will be a plate collection for the church at the end of the services.
14. Week Beginning 15th December
The Choir are performing at the hospital and a support centre on Monday and Tuesday afternoon.
Christingle Service is on Wednesday at 2.00pm in the school hall, you are all invited to come along.
Party day is Thursday and the school are planning a fun day for the children and providing a tea party – children can come in party clothes but please send them in sensible clothes/shoes so they can still take part in all our activities including outside play.
15. Last Day
Children are to come in uniform and a reminder we close at 2.00pm – this is so classrooms can have their Christmas displays taken down and new term resources set up.
16. Parent/Carer Questionnaire
With the newsletter is a copy of the questionnaire and actions taken as a result of your views which were very positive. Thank you for your support from the staff team.
17. Home School Link Worker Information
Now the dark and cold nights are upon us please make sure that your children wear something bright and reflective. 'Be Bright, Be Seen'.
Don't forget that there is a collection for the food bank taking place until 12th December, please send a non-perishable packet/tin for the school collection box. Thank you
18. Celebration Assembly
Our children/classes who received awards on 28/11/14 were:
Delarni Fox, Jayden Barlow, Rian Webster, Izza Fatima, Caleb Robinson, Emily Rains, Grace Leese, Robin Craggs, Sebastian Boothe-Fox, Joel Sheldon, Alexander Morrey, Tobias Connor-McCormick, Jack Eaton and Thomas Bird
Mrs Bloor's Award: Lily-May Barlow
Mrs Ramsden's Award: Y2J
Dusty Bin (tidy classroom): Nursery
Smart School Uniform: Nicola Boon
Lunchtime Supervisor's Award: Cameron Tonks and Charlie Hindmarsh
Good to be Green: KS1 – Jonathon Harvey & Fizza Rana / KS2 – Joel Sheldon & Samuel Cole
Time for Sport: Y3
Eco Award: Y1S
Walk to School: Y3/4
Y6 Prefects Award: Y3/4
Awards given out for data collected w/b 10/11/14:
Class Attendance: Y5/6 – 100%
Whole School Attendance: 95.5% (Government target is 95%)
Pupil Attendance Awards: Oliver Woodward and Holly Bentley
19. Dates for your Diary
Friday 5th December: Y6 Stanley Head Outdoor Education Visit
Friday 5th December: 1:30pm In School Panto – Whole School
Wednesday 10th December: Foundation Stage Nativity 9.15am and 2.15pm
Thursday 11th December 9:30am: KS2 Christmas Celebration at St John's Church
Thursday 11th December 2:00pm: KS1 Concert at St John's Church
Friday 12th December 11.30am – 12.30pm: Grandparent's Christmas Dinner
Wednesday 17th December: Christingle Service at School 2:00pm
Thursday 18th December: Party Day/Santa Visit
Friday 19th December: Finish at 2.00pm
Yours sincerely
Mrs P Bloor
Headteacher