Newsletter Autumn Term 5
Dear Parents/Carers
As we finish the wonderfully warm month of September I am pleased how well all the classes have settled in and are enjoying the very successful learning focus at St John's. All the children seem very happy, thank you for your support!
1. Our Talking Topic
This week we have been thinking about our school and how every person is important. Please talk to your child about this.
2. Parent/Carer Target Sharing Evening
To help parents/carers busy schedules and due to bigger class numbers we held our Parent/Carer Target Sharing Evening over 2 days this year. Both were very well attended and parent/carers now know how to help their child achieve their next steps in learning. There were lots of very positive comments and my staff are always willing to change things if there are any concerns, that is why we are such a good school.
There is a new code of practice for SEN (Special Educational Needs) this year and the main focus is on group work in the classroom. There are a group of pupils who formally had an IEP (Individual Education Plan) who are now on a pupil passport. This must be signed by parents/carers, staff and the pupil for any additional help to be given. Some parents/carers whose children need an IEP did not attend the parent/carer target sharing evening and will be invited in to complete it as they will not get any additional 1 to 1 work without it. Targets will be sent home for any child whose parent/carers did not attend.
3. Our Value
This week our value has been 'Respect' very well done to Sasha Steele, Holly Milne and
Berrie Johnson who have been noticed showing respect this week!
4. Playground Leaders
Very well done to Danny Lea-Shaw, Alexander Jordan, Georgia Piesse-Mills, Kieran Tonks,
Sophie Johnson, Merin Baby, Gabrielle Lovatt, Natalia Lovatt, Liam Bates, Ismail Saygili,
Ethan Boughey, Holly Chatterton, Maria Xanthopoulou, Jacob Simpson and Ilana Steventon who have been appointed to help the younger pupils at lunchtime! They are receiving training from Miss Pickerill and have been given special tabards and have been a great help already. We love to give additional responsibility to our older pupils who thrive on it.
5. After School Clubs

A few pictures from 'Crazy Crafts' after school club, Y1S made handprint owls and hedgehogs using autumn colours. Lovely work!
6. Banners
Have you seen our new banners? We really do want you to talk to your children about what they have learnt at school. Stoke on Trent children's early language lags behind other areas, which is why nursery is no longer full time, but together we can improve our City standards.
7. Childminding
One of our excellent parents has recently completed her child minding course, which is very intense these days. She is now available to take children, please contact Miss Riley on 01782 250862 or 07500 223891, there is a flyer in the parent's notice board.
8. Nits
We have had an outbreak in a few classes this term; the super nits these days love clean hair. To eradicate them every parent/carer needs to check their child's hair. I have been told by a parent yesterday that treatments can be obtained from Lloyds Pharmacy free and a nit comb costs 50p.
A small price to pay to keep them at bay!
9. Parent's Behaviour on School Premises
We had many complaints about an incident by the gate this week, when two parents/carers and other adults who do not even have children in the school verbally abused each other using foul language, in the full hearing of their children and other pupils. As I understand it was about the crucial issue of nits. This is unacceptable behaviour and I will not tolerate it on school grounds.
The office staff have also complained about parents/carers busy on their phone using unsavoury language by the office which was an issue last year. Under our school policy after a warning a parent/carer could be banned from the premises for this behaviour. Children learn what they live.
10. Head Teacher's Good Attendance Tea Party
On Tuesday the following had tea and cakes as a reward for their good attendance this term. Very well done to Davis Kurian, Abbey Filcock, Oscar Dix, Jessica Moores, Anopa Mutize, Erin Hill,
Aleksi Vrapi, Alan Babu and Sneha Miah. A group of children visited Trentham Gardens this week to reward good attendance and really enjoyed the 'Fairy Hunt' and walk around the lakeside: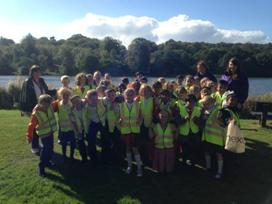 11. Supermarket Vouchers
We always collect these for additional resources at lunch time. Currently we are collecting Morrison's.
12. School Gates
We do not open the gate early as the school grounds are our wonderful teaching resource, so please make any appointments after school. Please do not tailgate through the gate or the barrier, there have been a few near misses this week and we have to know who is on site at all times!
13. Walk to School
Well done to Anto Yohannan, Paige Adlington, Bethany Morrey, Adam Guenane who received a prize for walking in school regularly. We have done a class survey this week and will be giving you the results shortly. There was an article in the Sentinel about the City Spy Car that visits schools to crackdown on illegal parking. 28 motorists were fined including 6 outside the Willows in Penkhull. We are lucky to have space on Harpfields Road were parents/carers can park and stride but there are still alot of families who could walk to school like our push chair brigade which is far more healthy.
14. Nursery
Nursery PE session is on a Wednesday, please can parents/carers encourage the children to dress themselves at home which will begin to encourage the children to be more independent. Joshua Webster, Bailee Sutton and Jacob Nicolson were noted as very good at PE and getting themselves dressed.
15. Scooterbility
Y3 enjoyed 'Scootability' this week; it is designed to reinforce the basic message of pedestrian road safety and encourages the use of scooters as an alternative form of travel to and from school. We have more of these sessions planned for other year groups and now that we have our scooter shelter chlidren can come to school in a healthy, safe and fun way.
16. Home School Link Worker Information
Wednesday 8th October 9:05am – 9:20am, Y1B come and see how your child is taught phonics!
Children will be sent home with a free tooth brush and tube of tooth paste next week as part of "National Look After Your Teeth Week" which has been in the news recently.
17. Office Information
Anyone with problems with their SQUID account please contact them directly on
0208 339 2136.
Tempest Photography will be in school on Thursday 9th October. From 8:15am to 8:45am family groups with non school aged siblings. All other family groups with children at St John's will be taken during normal school hours. Parents/carers do not need to accompany their child as class teachers will be overseeing this.
18. Celebration Assembly
Our children/classes who received awards on 26/09/14 were:
Jagoda Kulik, Yassin Hamadto, Charlie-Ann Hindmarsh, Theo Lovell, Azka Chaudhry, Oscar Dix, Tlyer Jordan, Abbi Dunn, Samuel Cole, Alfie Barnett and Rayin Negeem.
Head Teachers Award: Jessica Huckfield
Smart School Uniform: Ismail Saygili
Time for Sport Award: Y2M
Mrs Ramsden's Award: Y5/6
Lunchtime Supervisor's Award: Laim Davis & Anett Yohannan
Dusty Bin (tidy classroom): R1
Awards given out for data collected w/b 15/09/14:
Class Attendance: Y1B, Y4/5 & Y5/6 – 100%
Whole School Attendance: 98.2% (Government target is 95%)
Pupil Attendance Awards: Alisha Johnson & Sebastian Boothe-Fox
Yours sincerely
Mrs P Bloor
Headteacher