Newsletter Autumn Term 6
Dear Parents/Carers
As we finally say good- bye to a wonderful September, it is time to organise all the coats and scarves to make school journeys warm for the children.
1. Our Talking Topic
This week we have been thinking about words and how to use them, especially the harm caused by unkind words, please talk to your child about this.
2. Our Value
This week we have been thinking about responsibility, very well done to
Theekshana Wickramatunga in Nursery and Chelsea Warren in Y6 who have been seen demonstrating this value.
3. School Closure
Due to industrial action by NUT/UNISON/GMB/UNITE the school will be closed on Tuesday 14th October 2014.
4. Play
On Tuesday all the KS1 and KS2 children were treated to a play by a theatre company entitled 'Tales That Time Forgot'. The message was that reading can be forgotten in an all digital age. All the children thoroughly enjoyed it and were praised for their listening. Let's hope the message of the importance of reading was reinforced.
5. Wet Weather
We do have facilities in the cloakroom for umbrellas and change of shoes etc. Please check your child has a coat each day, a swimming group last week had to wait outside for the bus and 3 children had no coats! Could you also please help us by checking you have named your child's coat and uniform!
6. School Clubs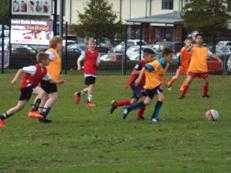 This week I looked at the multi-skills taken by Mr Kelter on Monday's. All the children were very active and enjoying the physical activity. George Baldwin, Oliver Woodward and Berrie Johnson were praised by Mr Kelter for their efforts.
We have clubs at lunchtime and Y2 children attend my golden mile club where they complete laps towards Golden Mile certificates. They are a really fit group and last week Robin Craggs, Alisha Johnson and William Kidd told me how much they enjoyed it.
Our after school football practices are getting us ready for the 'English Schools Football Association 7 a Side Match' which takes place next Friday!
7. School Routines: Water
All the foundation stage children have access to milk, water and fruit all day. All the children in KS1 and KS2 have a named water bottle that is filled each morning and sterilised weekly so at certain times they can have a drink if thirsty. The children do like this!
8. School Travel Plan
All the classes completed a survey last week: 144 children walk to school, 6 cycle, 5 come by bus, 9 scoot, 31 park and stride and 68 come by car. Most of the children would prefer to cycle and scoot. We are trying to reduce unnecessary car journeys by families who live within walking distance which is a healthier option. We are lucky that if you have to drive there is lots of parking in Harpfield Road. It would be great to increase the number walking and parking and striding for the next survey by Mrs Ramsden.
9. E-Safety
We have had 14 new computers for FS and KS1 (Years 1 and 2) and 16 I Pads. All machines at St John's have an E-safety filter so you know everything is safe. We are asking children as an additional learning activity to produce an E-safety poster with prizes on offer. So get designing!
10. Mosaic Art Week
Next week we have a mosaic artist in school for the KS1 children to help make a mural that will go outside. All the younger children are having a go at designing in class.
11. Homework
There are a number of children in KS2 who are regularly not completing homework. Learning at home is equally as important as learning in school and is an opportunity for parents/carers to engage with their children. We do have a lunch time catch up club for children without internet access and children who don't complete work are also required to work here and miss their lunch time activity.
12. Home School Link Worker Information
There is a free coffee morning for Parents/Carers at 9am – 10am on Friday 17th October. Come along for a cuppa and an informal chat, if you have any concerns/issues you can pop in and speak to Mrs Ramsden.
The Government expectation for attendance is now 95% rather than 90%, each week pupils in KS2 who have below 95% will have a slip sent home with their attendance figures on. Every 4 weeks the figures for the whole school are checked, any child with less than 95% attendance will have a letter sent home, if there is no improvement over the next 4 weeks you will be invited into school for a short meeting. If you have any concerns at all with attendance or punctuality, which is also monitored then please see Mrs Ramsden.
13. Celebration Assembly
Our children/classes who received awards on 03/10/14 were:
Isaac Williams, Setara Jaffari, Angelika Tworzewska, Thomas Hilditch, Joshua Brereton-Lewis, Sanjay Arokiaswamy, Ruby Howard, Chanelle Tooth, Eleanor Williams, Solomon Johnson,
Selim Erdogan and Kyle Lovatt.
Head Teachers Award: Jerome Juguilon and Georgia Piesse-Mills
Time for Sport Award: Y3
Lunchtime Supervisor's Award: Frankie Wright and Nicole Steele
Dusty Bin (tidy classroom): 2M
Awards given out for data collected w/b 22/09/14:
Class Attendance: 1S – 100%
Whole School Attendance: 98.3% (Government target is 95%)
Pupil Attendance Awards: Grace Hawkins and Thomas Ninan
Yours sincerely
Mrs P Bloor
Headteacher