Newsletter Autumn Term 7
Dear Parents/Carers
As the term gathers pace it has been lovely to note how well wrapped up all the children are in the mornings, although we have been able to go out for playtimes and P.E.
1. Our Talking Topic
This week we have been talking about 'giving' and how you get back what you give in love and kind words. Please talk to your child about this.
2. Our Value
Our value that we have been working on has been 'respect' which is so important for everyone.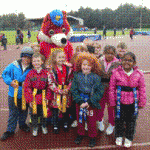 3. Fitzy Fox Festival
12 children from Y2J and Y2M attended a Fitzy Fox Festival to improve PE skills at Northwood Stadium – it was enjoyed by all!
4. LA Visit
The Head and Assistant Head of the Local Authority visited the school last week to look at classes, teaching and data. They were both very impressed with the school and challenged me as to why I did not rate St John's as an 'outstanding' school, as they did. This is a great compliment to all the hard work of the staff teams, governors and parent/carers who have worked with us to achieve such high standards. We want all the children and families in this part of Stoke to aspire to great things. They said I was right to insist on uniform, homework, attendance and behaviour as it has impacted. Parents/Carers should be proud that their children are being taught so well.
5. Football Team
8 children from the squad were selected to represent the school at the 'ESFA National 7 a Side Tournament' on Friday after school. The team did not qualify for the later round but improved in every match and were unlucky just to draw with The Willows. It was noticeable to Miss Pickerill and myself how fit our team was. All the benefits of 2 hours a week P.E. and the sports clubs we do! Very well done to Rayin Negeem, Kyle Lovatt, Jacob Simpson, Alfie Barnett, Lewis Hindmarsh, Hamza Shakil and Charlie Malbon who was the player of the tournament.
6. Purple Books/Maths
We are giving all the children a purple book to keep at home for practicing times tables. All the key stages have some maths work sheets too. The Government now expect all children to know their tables by Y4. They can use the books for other things over half term if they wish, please keep it at home, it does not need to be brought back to school.
7. Y4/5 Class Assembly
Y4/5 Class Assembly is on Thursday 23rd October, Parents/Carers are invited to attend. The assembly starts at 9:10am in the School Hall.
8. Use of the Drop Off Zone
At present the Governors allow use of our sports ground in the mornings only which enables a prompt start to the learning day. The drop off zone was designed for parents/carers to drop off children if they come by car from out of catchment, please do not park here and leave your car unattended. All parents/carers have to obey our safety rules if they come on site. Last week I saw an example of a parent dropping her children off by the barrier and the yellow lined bank which is always slippy, one left their car in the drop off bay and another telling a taxi to wait. Today I saw someone driving around and then picking up someone to save a 100 metre walk! These contravene our rules and are not acceptable. Parent/carers who continue to flout our simple rules will be asked in the first instance not to come on school premises and could be stopped. Our rules are for the safety of your children and will be reviewed next week by the Governors.
9. Mosaic Art Project
This week the children from Reception to Y3 have taken part in a 'Mosaic Art Project' producing designs that will be attached to the school in 3 murals. They are very impressive, the children have done mosaic designs during our art focus week organised by Miss Jackson. KS2 and Nursery have theirs in November. I am sure you will be impressed when you see them.
10. New Travel Initiative
From next week please try 'Foot on Friday', which asks that at least 1 day a week the car is left at home and everybody walks. It is always good to make exercise part of your daily routine. That's why our pushchair families are so fit. We do encourage children to scoot to school and put their scooters and bikes at the front of the school as they are safely covered by CCTV. They do not need a bike permit for this day!
11. Scooters
We have purchased 10 scooters for a lunchtime club where children will be scooting around the one way system. Mrs Barrow will be taking a group from KS2 classes, who are up to date with their homework, another reason to be up to date!
12. Safeguarding
Safeguarding children is everyone's responsibility, all the school staff have received Level 1 Training on one of the training days in September and key staff have had additional training last term. If you have any worries about a child please go on the safeguarding board website, www.safeguardingchildren.stoke.gov.uk
There is a page for concerned parents/carers; we all have a duty to keep all children safe.
13. End of the Day
Our finish time of 3 o'clock for the whole school is helping, so parent/carers tell me who have children in different key stages. We do ask parents/carers to wait behind the red lines so we can safely dismiss the children. It is always Y1 and Y3 first, so perhaps other parents/carers knowing this, could assist by standing back until they have gone which would make it easier for the staff. Following a complaint can we please ask that Parents/Carers keep the pathways clear so the children do not have to walk on the grass and get their shoes wet, perhaps keeping to the left will help.
14. School Disco
The disco is next Thursday from 3.00pm – 4.30pm, children can bring a change of clothes to school to change into if they wish. It is for reception to Y6 and costs £1 for a drink and crisps.
15. School Clubs
I looked at the Y2 Multi-Skills group taken by Mr Wood and saw how they were improving their reactions and team work. Well done to Amber Gregory, Emma Brennan, Oliver Woodward and Archie Hambleton who displayed great skills. Miss Pickerill's Boot Camp is really impacting on fitness; yesterday they started with circuit training and went onto different sport's skills. Very well done to Kyle Lovatt, Kenzi Shepherd-Moss and Jack Goodall who were very impressive!
16. Hair Accessories
We do insist all long hair is tied back for health and safety reasons and to keep these super nits at bay. Just as we don't allow gel for boys, the girls are asked to wear a simple flat headband only, which have to be taken out for gymnastics; all long hair must be tied back for P.E/sports. One or two children seem to be on the fashion cat walk, your children are all lovely as they are!
17. Behaviour
We have thankfully only a small group of children who are receiving red cards who are not allowed to attend the disco, have detentions and will miss lunch break computer time. Other children should not have their learning or playtimes spoilt; further sanctions could be exclusions or time at a behaviour unit.
Next Thursday the children whose behaviour has been exemplary will be receiving their Bronze Behaviour Certificate (the special pencil has not arrived yet and will be given out at a later date). We are lucky to have so many well behaved children. Some children will have to wait for their award as they are not quite there and some will not be receiving it until there is an improvement but the behaviour reward scheme will give every child something nice to work towards.
18. Eco council
Very well done to the following who have been elected as their class reps in the Eco Council;
Jack Goodall, Ebony Johnson – Y6, Ilana Steventon, Jacob Simpson – Y5/6, Alan Babu,
William Cooper – Y4/5, Amber Gregory – Y3/4, Tyler Baldwin – Y3, Eve Tams , Robin Craggs – Y2M, George Baldwin, Isabelle Godwin Y2J, Lola Howard, Lucas Conway-Kendall – Y1B. They will be starting their first project conserving energy soon.
19. Appeal collections
We are selling juice and biscuits at break time on Thursday 23rd October for 30p as part of our Harvest appeal. We have collected seeds for our partner school in Kenya and want to send them donations so they can buy more crops to feed the children who do not have food at school.
20. Attendance Information
Included with this newsletter is an attendance booklet and our colour coded system. Please read these important documents and look at your child's attendance when we have 'Know Your Attendance Week' next week. It shows the impact of poor attendance and unnecessary time off on school days for non emergency appointments which is a big issue at St John's. The vast majority of the children have excellent attendance which impacts on their learning. We are having pupil progress meetings this week and there are already children falling behind because of this. The head of the LA was impressed with our robust monitoring of attendance. Two parents complained recently about a missed reward visit, but taking a holiday in term time is breaking the law. We want children in school to get the best possible education and experiences that they can.
21. News from the School Governor/Local Councillor
A meeting with the Directors of UHNS has taken place, Jackie Barnes one of our School Governor's and Local Councillors attended on 13th October. The issues regarding hospital staff parking around St John's school was discussed, a request was put forward to ask if the hospital would consider part funding residents parking areas if they were introduced. There were no solutions or conclusions made but they are now fully aware of the situation and requests are being considered. Any queries, Jackie can be contacted on; jackie.barnes@stoke.gov.uk or 01782 845619/ 07813 539410.
22. Home School Link Worker Information
There is a coffee morning tomorrow (Friday 17th October), please feel free to come along for a cuppa, biscuit and informal chat!
23. Celebration Assembly
Our children/classes who received awards on 10/10/14 were:
Anayah Shahzad, Harvey Wheelan, Pia Cousins, Corey Johnson, Berrie Johnson, Vithakshi Wickramatunga, Ella Curzon, Synali Jayasekera, Molly Hancox, Charlie Bird and Jake Milne.
Head Teachers Award: Keira Whieldon
Time for Sport Award: Y6
Mrs Ramsden's award: Y5/6
Smart School Uniform: Chloe Barlow
Lunchtime Supervisor's Award: Oliver Woodward and Molly Clewes
Dusty Bin (tidy classroom): R2
Good to be Green: KS1 – Surra Osman and Jonathon Harvey, KS2 – Hamza Shakil and Jake Milne
Walk to School Trophy: Y2J
Eco Trophy: Y1B
Awards given out for data collected w/b 29/09/14:
Class Attendance: 1S – 100%
Whole School Attendance: 97.1% (Government target is 95%)
Pupil Attendance Awards: Eliza Williams and Tyler Baldwin
24. Dates for your Dairy
Friday 17th October French Focus Day
Thursday 23rd October Half Term Y4/5 Class Assembly 9:10am
Thursday 23rd October School Disco KS1 &KS2
Friday 7th November 1:30pm Opening of War Memorial, Trisham Hunt MP
Thurs 27th Nov – Thurs 4th Dec 5 Day KS2 Art Project – Mosaic Floor Tile Project
Yours sincerely
Mrs P Bloor
Headteacher