Newsletter Autumn Term 8
Dear Parents/Carers
As we finish today for half term, we hope you are pleased with the academic and all round progress your child has made in his or her new class. We have had our half termly pupil progress meetings this week and all the staff are pleased about all the progress made and we often alter things if we think we can improve outcomes for the children. This is why we are such a good school.
1. Our Talking Topic
This week we have been thinking about how we are all different and how what is in the inside of a person that is important and something we can change. Please talk to your child about this important topic.
2. Our Value
Our value this week has been resilience-not giving up when things go wrong. Very well done to George Baldwin – Y2J, Christian Smith – Y2M , Matthew Ingram, Tyler Jordan – Y3 and Danny Lea-Shaw Y5/6 who have demonstrated this life skill which is so important.
3. Events In School Last Week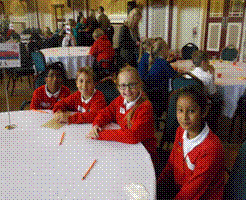 • Local Democracy Week
Last Thursday 4 Y6 attended this event at the King's Hall and had a tour of the council chambers and took part in a discussion with local councillors. It is so important young people know about this. Very well done to Laura-Lou Hopley, Biben Benny,Lewis Hindmarsh and Shuhena Miah who represented the school so well.
• Y5 and Y6 Theatre Production
Last week all the Y5 and Y6 children had a theatre production aimed at e-safety awareness. It is such a crucial area for young people these days with the increasing availability of social media and parent/carers need to know that their child is safe on line as there are examples of grooming and worse, going on in our city.
Kyle Lovatt and Michaela Sinfield summarised the key messages;
"Always go on sites which are safe"
"Never give out your last name address, birth date or telephone number"
"If you ever feel worried or scared tell an adult you can trust"
• French Focus Day
Last Friday all the school had a French Focus Day practising the language. Classes were asked to take part in a competition to build The Eiffel Tower. Very well done to Y2J who won and received juice and crisps as their prize. Thanks to Mrs Clarke for organising the day. Maybe a French book might be a good Christmas present?
• Reception Visit to the Potteries Museum
Both reception classes visited the museum this week to help their language skills. It was an excellent visit thoroughly enjoyed by all. Special thanks go to Mrs Yousaf, Mrs Kidd, and Miss Roberts who volunteered to help staff the successful visit.
• Y6 Visit to Manchester Museum
Last Friday Y6 visited the Manchester Museum at the University of Manchester for a science focus visit and an Egyptian workshop. The children had an excellent visit, were wonderfully behaved and so interested in their learning. This class has all the makings of a fantastic class. Very well done!
4. Breakfast Club
We do have a breakfast club to help our working parents each day. It is organised by 2 staff only and it is now full as all other staff are busy preparing for the day's learning so we don't waste a minute of learning time.
5. Staff news
Mrs Brown begins her maternity leave this week and we all wish her well for the imminent birth of her child. Mr Meir will be taking over Y1B for the rest of the year. Reception 1's new teacher who was appointed in July but not released by the present school unfortunately will not be with us until January but we have a very good teacher for the next half term.
6. Disco
We have finished the half term with a juice and biscuit fund raising event for Kenya and a disco for the children as a treat.
7. Bonfire Night Menu
On Wednesday 5th November there will be a special lunch time menu:
Hotdog with onions and tomato sauce, Quorn dog with onions and tomato sauce, cheese whirl; Jacket potato with assorted fillings of cheese and beans or tuna mayonnaise, chipped potatoes; Baked beans, sweetcorn;
Rice krispie cup cake, chocolate pin wheels and fresh fruit.
8. Community Information
Staffordshire Wildlife Trust is holding some activity days during half term at Westport Lake Visitor Centre, ST6 4RZ.
• Wild Play day on Thursday 30th October, 10am – 3pm for 8-13 year olds. Leave your parents at home and join them for a day of exploration and play in the great outdoors. The cost is £9 per child and booking is essential, contact Claire on 01782 826985 or email c.williams@staffs-wildlife.org.uk. Please wear outdoor clothes and take a packed lunch.
• Family Wildlife Watch on Tuesday 28th October, 10am – 12pm and 1.30pm to 3.30pm, outdoor adventure aimed at 4-7 year olds and their parents/carers, you must stay with your children during the session. The cost is £2.50 per child and please dress for the weather as you will be going outside. For more information contact Claire as above.
9. Jake Milne's Egyptian Topic: Story Extract
Horous the Avenger
Horrified, startled, scared – Horous ' eyes were staring at horrible ,grisly tarantula .Horous didn't quite know how to kill it because only a month ago, Horous was living on a beautiful, striking floating island with his mother…
It all started when Horous, who was charming, brave man, lived with his mother. Iris was graceful, elegant and took care of Horous for most of her life. Horous loved playing on the island. Iris was as elegant as a fox and as beautiful as a summer breeze.

Horous, who was the most extraordinary child that ever lived, lived on a beautiful, heart pumping floating island. The island was as beautiful as the night sky. On the island there was an army of misty clouds that protected it from horrible, gloomy things .When Horous was asleep the stars looked like a bucket full of gleaming, shiny diamonds. Although Horous had no friends he still enjoyed living there. The island was bursting with life all the time…

Horous had an amazing life but little did he know what was about to come! Iris wanted to speak to Horous about something, " Horous it is time to tell you what has happened to your brave, young father. He was killed by the evil pharaoh Seth!'' Little did Horous what he had to face…

TO BE CONTINUED…………
By Jake Milne Year 6
10. Home School Link Worker Information
• Attendance – we have our attendance policy on our website, you were all sent the important attendance information sheet. If your child's attendance reaches 90% their absences will be unauthorised which will affect their attendance furthermore. If you bring in medical evidence the absences can be authorised. If attendance continues to drop the Education Welfare Team can get involved
• Child Safety – now the darker nights are here and the bad weather please make sure you know where your children are at all times especially if they go trick or treating. If you do not go with your children please reinforce keeping safe and only knocking on the doors of people they know.
11. Celebration Assembly
Our children/classes who received awards on 17/10/14 were:
Humaira Shakil, Macey Simpson, Mckenzie Gallagher, Claire Johnson, Ali Hamadto, Aaron Sajan, Beth Brennan, Elliot Craggs, Megan Proudlove and Lawrence Hilditch.
Lunchtime Supervisor's Award: Moriell Sepe and Claire Johnson
Dusty Bin (tidy classroom): Y1S
Awards given out for data collected w/b 06/10/14:
Class Attendance: 1S – 98.2%
Whole School Attendance: 95.9% (Government target is 95%)
Pupil Attendance Awards: Angel Evans and Amelia Harvey
12. Dates for your Dairy
Monday 3rd November School re-opens after half term
Wednesday 5th November Bonfire night lunch
Friday 7th November 1:30pm Opening of War Memorial, Trisham Hunt MP
Thurs 27th Nov – Thurs 4th Dec 5 Day KS2 Art Project – Mosaic Floor Tile Project
Yours sincerely
Mrs P Bloor
Headteacher