Newsletter Spring Term 12
Dear Parent/Carer
As we finish for what we all hope will be a lovely Easter break, I hope you are as pleased as we are with all the excellent teaching and learning, opportunities and visits that we do at St John's.
1. Our Talking Topic
This week we have been "thinking about Easter and the person who we celebrate is Jesus." Also how it is a happy time as he came back to life again and we should be kind and generous like him. Please talk to your child about this.
2. Our Value
This week we have been thinking about "resilience" and looking for children who do not give up easily. Well done to Laura-Lou Hopley, Charlie Malbon, Chad Varquez, Jerome Juguilon,
Chloe Barlow, Lily-May Barlow, Alisha Johnson and Theo Lovell who have shown this important value this week.
3. Events In School Last Week
Very well done to Y4/5 who organised a fund raising event for Vanuata, the coutry that recently had a cyclone that devastated the country. They raised £124 through a raffle. Very well done to Lily Groves, Megan Proudlove and all of the Y4/5 class for their wonderful organisation, care and compassion.
4. Easter Competitions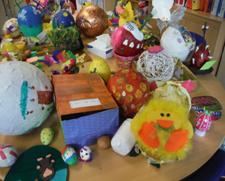 We have had some wonderful Easter models (KS2) and Easter gardens (KS1). I have been showing them to visitors and all classes have looked at them. We have some very talented children and families! As a result we have increased our prizes from 5 to 11 for each key stage. Not everyone can win a prize, but we hope all the children and their families have talked about Easter and enjoyed the task. Very well done to all who took part and they can all be proud of their work.
Our Early Years Easter Bonnet Parade is on Wednesday at 2:15 which will be another lovely and enjoyable event.
5. Behaviour Awards
Tomorrow children, whose behaviour in KS1 and KS2 has been exemplary, will be receiving their Platinum Behaviour Award and a pencil sharpener.
They will also be having a 'Proud Platinum Party' at break as an extra treat. We feel it is really important to reward children who do not waste learning time and are our 'always 'children (always doing the right thing). Other children who are a little behind will receive the award they are working for. Early Years (nursery and reception pupils) will also be presenting Excellent Behaviour awards with some prizes. The vast majority of our pupils will be receiving the top award, families can be very proud of their children, as we are.
6. Good Attendance Disco
Mrs Ramsden, the Home School Link Worker, invited children from Y1 to Y6 whose attendance has been 95% or above (the government target) to a fun disco taken by Miss Pickerill today. No exceptions were made to this. The children will have a lovely time and fully deserve this treat. We have a few families who have been fined for poor attendance and a few others whose absences are no longer authorised. For information, registration involves individual marking, eg if a child is in hospital, medical etc, which does effect attendance, depending on the circumstances.
7. After School Club
Last week I watched the Badminton Club taken by Mr Walter who have been learning skills as well as being very energetic. Very well done to Jensen Nguyen, Luke Brian and Cassandra Martin who seem to have a great eye for the sport.
8. End of School Day
We still have some children who seem to not be walking safely with parents/carers going up the bank. Please help us to keep all our parents/carers and children safe (some do have medical issues) by supervising your children properly.
9. Homework
We set homework according to government guidelines and because research tells us the impact of families on education is greater than schools. We have a group of pupils who are regularly not doing it and have to go to catch up club at lunchtime. This week there are two Y6 children who have an after school detention (parents/carers have been informed), although this happens regularly at all high schools without notice. Please help us to improve all the children's standards by doing your part.
10. Easter Holiday Projects
The General Election is big news at the moment, but what is the General Election and voting all about?
To answer this question is the holiday challenge for the children;
KS1 – your challenge is to find out who your local MP (Member of Parliament) is, when is Voting Day and what is voting?
KS2 – your task is to find out and present 10 Key Facts about the Election, so that if another child reads these, they will understand better what a General Election is.
The projects are to be handed to Mrs Wolfe by Wednesday 22nd April, thank you.
*Remember-you can go on My Maths or Bug Club anytime.
11. Staff News
Miss Shufflebotham moves to another city school next term and we all wish her all the very best for the future and thank her for all her work at St John's. Miss Wood will be teaching Y1S next term.
Mrs Shaw takes over permanently from Mrs Meakin after Easter (we had one of our regular good supply staff covering for 2 months) both are looking forward to joining our excellent team and working with all our wonderful pupils and families.
12. Time for Sport Camp
A group of children have been invited to this sport camp running from Monday 13th April to Wednesday 15th April, 9.00am – 1.00pm, they will be participating in a range of fun and exciting games to build confidence, improve fitness and try a range of sports.
13. PE Kit/Cloakrooms
We clear the cloakrooms each half term and send PE kits home for a wash. They are needed the first day back and children will be expected to take part, we text to remind you as well. Thank you for your support.
14. Office Project
We are having the office reorganised over Easter, although most of the project will be finished things won't be back to normal until the new furniture arrives. We are also building a room in the community room in May.
15. Home School Link Worker Information
As you may have heard, Head Teachers in Nantwich plan to report parents/carers for allowing children to play computer/console games that are for over 18's, due to concerns about levels of violence. Some of our children have mentioned that they play Call of Duty, Grand Theft Auto and similar games, as well as watching over 18's films. These are inappropriate and have age guidelines for a reason! Please consider this when buying games for your children and be aware of what they play/watch at friends or with older siblings.
See attached some activities that are taking place during the Easter holidays!
16. Celebration Assembly
Our children/classes who received awards on 27/03/15 were:
Charlie-Ann Hindmarsh, Elizabeth Solomon, Tyler Barlow, Berrie Johnson, Anopa Mutize, Erin Hill, Kyra-Mae Phillips, Megan Proudlove, Lily Groves, Danny Lea-Shaw and Hughie Knight
Mrs Bloor's Award: India Spooner
Dusty Bin (tidy classroom): Y3/4
Smart School Uniform: Renae Hodges
Lunchtime Supervisor's Award: Monica Joshua and Declan Matthews
Good to be Green:
KS1 – Mihai Busuioc and Ryan Davis
KS2 – Eleanor Williams and Sneha Miah
Time for Sport: Y1S
Lunchtime Trophy: Y1B
Y6 Prefect Trophy: Y1B
Attendance Award: Sneha Miah
Awards given out for data collected w/b 16/03/15:
Class Attendance: Y6 – 99.3%
Whole School Attendance: 96.9% (Government target is 95%)
Pupil Attendance Awards: Jake Bamford and Laynee Tunnicliffe
17. Dates for your Diary
Thursday 2nd April – Class Assembly Y2M ~ 9:00am ~ school hall, all welcome
Thursday 2nd April – End of Term – school closes at the normal time
Monday 20th April – Start of Term
Tues 21st to Thur 23rd April – Gladstone Pottery Museums Visits
We will be giving all of the children a traditional Easter crème egg as the children leave on Thursday.
Yours sincerely
Mrs P Bloor
Headteacher