Newsletter Spring Term 3
Dear Parent/Carer
As we enter a cold spell, it has been lovely to note how cheerful all the children are. Ofsted were right, we have a lovely teaching and learning atmosphere at St John's where all children can flourish.
1. Our Talking Topic
This week we have been thinking about healthy lifestyles and what we can do to promote a fitter and healthier city. Please talk to your child about the benefits of exercise and sensible eating.
2. Our Value
This week we have been thinking about respect, such an important value. Very well done to Jay Edwards-Cherry, Chelsea Warren, India Spooner, Oliver Brereton-Lewis, Matthew Piesse-Mills, Lola Howard, Kenzi Shepherd-Moss, Harvey Tams and Abbi Dunn who have been seen displaying this quality. We do have so many respectful children in school which is a great credit to you parents/carers for doing a great job.
3. Staff News
Mrs Meakin retires next Friday after a working life devoted to our Trent Vale area for 42 years! She has given a great many children excellent care and teaching for the important first steps on their educational journey. I know, on your behalf, you would want me to pass on our grateful thanks and to wish her all the very best as she embarks on the next stage of her life. As a staff, we will be organising a special presentation next week for her. We will miss her and wish Mrs Meakin all the very best for the future.
4. Sporting Opportunities
This week a group of pupils took part in a Stoke 'High 5' Netball Tournament. They all enjoyed the additional sporting opportunity and had 3 close games. Thanks to Miss Edwards who organised the group. Very well done to Gabrielle Lovatt – the player of the tournament. Another group of Y6 pupils took part in the Staffordshire Table Tennis Competition. All the children had been prepared by practising on our outdoor table which Y6 use when the weather is good. They also have a school table tennis trophy to play for later in the term. Thanks to Mr Walter who organised the team. Very well done to Kodi Amison- the player of the tournament.
5. Y6 French Visit
This is next week on Wednesday to Friday when 35 pupils and 4 staff will be going to the Somme region in France to learn about the sacrifice our forefathers made in WW1 as well as sampling French culture and the language. The visit has entailed a great deal of work for Mrs Varley, Miss Pickerill, Mrs Barrow, Mrs Stevenson and myself. Supervision will be of the highest standard and all necessary risk assessments have been carried out as you would expect from St John's. It is an example of how we strive for the highest possible opportunities and learning at St John's. Fingers crossed for decent weather, but the children will have a great time. Miss Pickerill's Y2 club will not take place next week. Parents/Carers will receive at text and children will be told.
6. Faith and Understanding Week
This week we have a special focus on faith and understanding of all the groups in our community. We have had an RE focus and a visiting speaker has taught the children about prayer and sacrifice. Y6 visited the Mosque and we are having a pilgrimage, different faiths workshops throughout the school. All the children have really enjoyed the week so far which has been organised by Mrs Clarke.
7. School Routines (reminders and for our new parents/carers)
Children are not allowed to do swimming or PE with earrings in for health and safety reasons. We ask parents/carers to take them out on PE days, as staff are not allowed to do this. We also need all children to do PE with black shorts and a white t- shirt, different from their school one -many families were given this free in September.
However, it is parents/carers responsibility to provide black pumps that are safe for indoor PE and trainers for outside lessons from Y4 upwards. A blue/black tracksuit can be bought for outdoor lessons. These can be purchased from family allowances very reasonably these days. We have a non-marking floor and only black pumps, which are the cheapest footwear, can be worn in the hall for lessons and clubs, we do gymnastics and dance barefoot. Any child who cannot take part watches and writes about the lesson. Please help us to keep your child healthy by making sure they have kit in school. Miss Pickerill's detention last week had 5 children in who had no PE kit and wasted learning time.
8. Clubs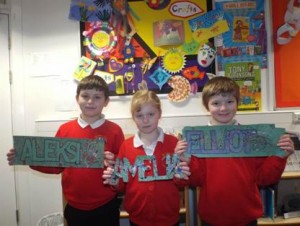 All the after school clubs are now full and we have put on more than ever! A small group of pupils have not been allowed a club, as their behaviour in school is not respectful enough. All clubs were over-subscribed; we have 324 pupils so this is not a surprise. However, next term some clubs will be given to those children who did not receive a place this term (unless behaviour is an issue).
This week the crazy craft club made their names using graffiti splat paint art, in the picture is Aleksi Vrapi, Amelia Harvey and Elliot Craggs.
9. New Attendance Award
From January, 1 child each week from a different class will receive a free family ticket to Waterworld for good attendance, names are picked by Mrs Varley. The first winner was Hughie Knight in Y6. We have organised attendance reward visits, but these have always resulted in a parental complaint which has spoilt them, so Mrs Ramsden who leads on attendance, and I, decided to try something different which we hope you will like. Tickets to Waterworld are expensive and this should result in some lovely family fun days.
10. School Council
The School Council have done some work on improving reading; the results are here and contain some good tips.
11. Home School Link Worker Information
60 letters were sent out his week to those children who had 3 or more late marks since September. The number of late marks ranged from 3 to 42. Our policy now is attendance and punctuality so please make sure your child is at school for 8.50am.
Just a reminder that on Friday 30th you all are welcome to come along for a bacon bap, cuppa and a chat from 9.00am – 10.00am.
12. Celebration Assembly
Our children/classes who received awards on 16/01/15 were:
Jagoda Kulik, Elliot Pye, Angelika Tworzewska, Surra Osman, Kane Silvester, all of 2M, Rhihena Miah, Ian Qiu, all of Y3/4, Natalia Kulik and Cameron Tonks.
Mrs Bloor's Award: Holly Chatterton
Smart School Uniform: Oliver Brereton-Lewis and Bethan Hill
Lunchtime Supervisor's Award: Cassandra Martin and Jeff Joseph
Good to be Green: KS1-Delin Negeem, Grace Leese / KS2–Lewis Hindmarsh, Cameron Tonks
Time for Sport: Y5/6
Eco Award: R1
Attendance Award: Anthony Evans Y5/6
Awards given out for data collected w/b 05/01/15:
Class Attendance: 1S – 100%
Whole School Attendance: 95.3% (Government target is 95%)
Pupil Attendance Awards: Alexander Jordan and Gabrielle Lovatt
13. Dates for your Diary
Tuesday 27th January: Animal Lady Visit KS1 and KS2 at school
Wednesday 28th January: France Trip Depart ~ 6.00am
Friday 30th January: France Trip Return ~ 10.30pm
Friday 30th January: Parents/Carers Breakfast ~ 9.00am at school
Wednesday 4th February: KS1 WOW Day ~ all day at school
Wednesday 11th February: Y5/6 Football Tournament ~ 1.00pm
Thursday 12th February: Darwin Day W/Shops at school ~ Y6 at 1.00pm-Y5/6 at 1.45pm
Thursday 12th February: School Disco 3.00pm-4.15pm at school ~ Reception to Y6
Friday 13th February: Class Assembly at school ~ Y3 ~ 9.00am in school, all welcome
Friday 13th February: End of Term
Monday 23rd February: School re-opens
Yours sincerely
Mrs P Bloor
Headteacher