Newsletter Spring Term 6
Dear Parent/Carer
As we finish for half term on Friday, we hope you are as pleased with your child's all round progress as we are. We are still having a real purge on improving reading and writing standards in the school and in the city and this is something you can help us with by doing some work with your child over half term.
1. Our Talking Topic
This week we have been talking about "what it takes to be a good citizen" and how we can all take good actions every day whatever our talents and differences. Please talk to your child about this important message. Each term as a Church Aided school we have a Christian theme; this term it is "forgiveness". It is a wonderful quality that should also be modelled in our community.
2. Our Value
These have been "resilience and friendship". Very well done to Ayse Gurses, Elliot Pye,
Lola Howard, Jessica Huckfield, Anopa Mutize, Kira Reilly, Rusne Kaupyte, Sneha Miah and
Moreill Sepe who have all been seen demonstrating these values. Our values champions will be rewarded at the end of term.
3. Writing Example
Each week with the newsletter we are now including a piece of writing from a class at a time. This week from Y4/5 we have a lovely piece of instruction writing from Kenzi Shepherd-Moss.
4. Food on School Premises
Last week we had a complaint that a child gave food to another child with a food allergy on the way out of school. This could have been dangerous and so this is a good time to reinforce our school rule that children should not be given food whilst on school premises. This is why we never distribute food for birthdays but ask you buy a book for the class. Staff have seen children running with lollies in their mouths which is also dangerous. We are a healthy school and teach the children how to look after their teeth and about how too much snacking leads to obesity. Mr Cox also stated that it adds to the janitor workload picking up litter. Please wait until tea time.
Thank you for your help in this matter.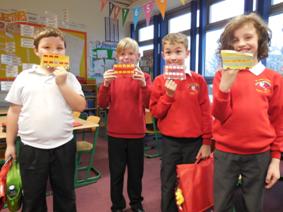 5. School Clubs
Last week I looked at computing wizardry run by Miss Morris, the group were designing and making a St John's school bus. Very well done to Oliver Williams, Synali Jayasekera and Rhianna Molyneux whose designs looked wonderful. I also looked at the Crazy Crafts Club run by Mrs Barrow who were printing designs in the ICT suite. Very well done to Tobias Connor, Declan Matthews and Isabelle Westwood for producing wonderful designs.
6. Taekwondo Club
Well done to all of the children who are taught by Master Peter Johnson (7th Dan), they are all doing really well and some have now achieved their yellow belts.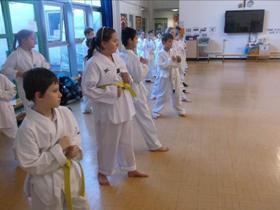 7. Messages In The Morning
Staff do not come out in the morning as they are busy preparing the day's learning but staff at the key stage doors can pass on any messages to class teachers. Staff do go out most afternoons but we have 3 after school meetings a week so we ask for any chats to be short. If there are any real issues, don't worry you will be contacted, we also have open nights coming up after half term.
8. Y6 Boosters
Y6 have been in booster classes in preparation for their forthcoming SATS, the week of the 13th May. As a group they have really matured this year and are working really hard. I take a group with Mrs Peake and Mrs Bayley, I should not really do this as head teacher but am committed to our children. I want them achieving the best possible standards so they start high school confident and in the highest sets possible, as we have done the last few years. This means I am busy in the mornings but am happy to see parents/carers by appointment. Mrs Peake is also taking a level 6 maths club for a small group of our gifted and talented children.
9. Disco
This was tonight after school, planned as a fund raiser and fun event. A small group of children were stopped from attending for a set number of red cards as per our policy. Whilst it is disappointing to have to do this, these children have disrupted other children's learning. We can only do these events if staff stay behind (we have meetings on 3 other nights) and staff say to me they should not have to do this for children who don't behave, which is a fair point. Let's hope these children learn from this.
10. Safer Internet Day
This was on Tuesday and all classes looked at age appropriate tips for staying safe online. This is a campaign to promote positive and responsible use of technology for young people. Parental tips include showing children how to block content you are not comfortable with and to warn your children that not everyone is who they say they are online so they should be wary of strangers.
11. Behaviour Awards
On Thursday all the children whose behaviour has been exemplary have been awarded their Gold Behaviour Certificate and a new ruler. There were a lot of children in each key stage who achieved the awards and we are so proud of them, as we know you will be. The behaviour at St John's is excellent. A few children received their next award and some will have to wait a little longer as we do have high expectations that children don't waste learning time and treat all staff with respect.
12. Half Term Additional Learning Project
A research project has gone out to all KS1 and KS2 classes about Saint John and there will be some prizes for the best efforts. Please hear your child read as well. Very well done to Alyssa Stanley in Y2J who reads to her mum on the journey to school and mum signs the diary before going to work. What a super use of time!
13. Fortune Cookies
One of our parents has sent one cookie for each pupil in the school to celebrate the Chinese New Year on 19th February. We shall be giving them out on Friday and are telling the children to take them home. Any child with a food allergy will have to collect one from the office with their parents/carers at the end of the day.
14. Home School Link Worker Information
We are having more children being picked up late at the end of the school day. Due to different staff meetings after each school day, we do not have the staff to supervise the children. Can I remind you that we finish at 3.00pm. Thank you for your support in this matter.
15. Celebration Assembly
Our children/classes who received awards on 06/02/15 were:
Harvey Whelan, Hashim Mehmood, All of 1B, Ayyan Chaudhry, Ali Hamadto, Samuel Kuruvilla,
Hollie Bentley, Julia Pustula, Kira Reilly, Ilana Steventon and Jay Edwards-Cherry.
Mrs Bloor's Award: Leah Screen
Dusty Bin (tidy classroom): Y6
Smart School Uniform:
Lunchtime Supervisor's Award: Natalia Kulik and Emily Rains
Good to be Green: KS1–Archie Hambleton, Rita Qiu / KS2–Laynee Tunnicliffe and Rayin Negeem
Time for Sport: Y2J
Y6 Prefect Trophy: Y2J
Waterworld Attendance Award: Archie Hambleton
Awards given out for data collected w/b 26/01/15:
Class Attendance: Y4/5 – 98.7%
Whole School Attendance: 94.2% (Government target is 95%)
Pupil Attendance Awards: Kyle Smith and Evie Beech-Daly
16. Dates for your Diary
Friday 13th February: Class Assembly ~ Y3 ~ 9:00am in school, all welcome
Friday 13th February: End of Term ~ normal finishing time
Monday 23rd February: School re-opens
Monday 23rd February: Story Telling/Writing Focus ~ KS1 ~ in school
Tuesday 24th February: Story Telling/Writing Focus ~ Y3/Y4 ~ in school
Wednesday 25th February: Story Telling/Writing Focus ~ Y5/Y6 ~ in school
Wednesday 25th February: Parent/Carer 5 Senses Workshop ~ KS1 ~9.15am-11.15am
Yours sincerely
Mrs P Bloor
Headteacher