Newsletter Spring Term 7
Dear Parent/Carer
As we restart after half term we have had a lovely learning week in school. All the children seemed very keen to return to school and have arrived back looking wonderfully smart .Thank you for your support.
1. Our Talking Topic
This week we have been thinking about 'Good to be Me' and how we are all unique and have different talents. The children were asked to keep their eyes and ears open to see if they could find something they could do to help someone else. The children came out with some marvellous thoughts during the bible story of the Feeding of the Five Thousand. Please talk to your child about this. Our Christian value this term is "forgiveness" which is so important.
2. Our Value
This week we have been thinking about "honesty", such an important value. Very well done to
Grace Hawkins, Sebastian Boothe-Fox, Amber Gregory, Abbey Filcock, Kevin Babu, Ben Morris, Amelia Harvey, Claudie Polhosova, Leah Screen and Abel Joseph who have been seen displaying this quality.
3. School Routines (for our new families)
At lunch time all of our pupils get some fresh air. Early Years pupils go out to play on their 2 playgrounds. KS1 also now use 2 playgrounds and a group of Y2's are chosen to go onto the top playground each day. Keep fit activities take place the first 15 minutes. KS2 children have 1 dinner time computer club staffed by Mrs Bayley and each class has a turn on the top playground to play energetic games. We like to keep all of the children very busy, active and healthy!
4. Events In School During the Last Week of Term
Y6 and Y5/6 had a Darwin Day and learnt about the famous explorer's voyages. They also looked at the live animals he found there; an African land snail, a centipede, a snake, tarantula and tortoise which the children could hold and stroke! The children thoroughly enjoyed the demonstrations and the lead complimented the school on the children's behaviour. Very well done to Y6 and Y5/6 children.
School disco-this raised £395.62 for school funds and was enjoyed by the children who attended. Thank you for your support.
Thank you to parents/carers who attended the Y3 class assembly. The children gave us some interesting information about volcanoes and tsunamis. They had clearly enjoyed this topic and spoke really well. The children love family attending, which is why we put the dates in each newsletter. We did have some disappointed children who had no one to watch them, so please try and prioritise these special events.
Y1 and Y2 had a visitor from The Dogs Trust to tell the children how to be safe around dogs. Some of the children said they had been bitten so they were given some tips and a leaflet about dogs and how to keep safe around them. The children were told not to approach dogs. Thank you to those who sent in donations.
5. Football Festival
Very well done to Kitty Sinclaire, Lewis Hindmarsh ,Abel Joseph, Hughie Knight, Rayin Negeem, Hamza Shakil, Liam Bates and Jacob Simpson who took part in a football festival before half term. They did not qualify for the next stage but were up against much larger schools and all played well.
6. Author Visit and Performances
This week in school all KS1 and KS2 classes have has a session with Tony Wilson who has enthralled the children with stories and showed classes how to improve writing stories. Tony complimented the school on the behaviour and keenness of the children. This is also a great compliment to all our parents/carers.
Early Years had a "Learning Through Fairytales" theatre production this week from the Take a Hint Company and a "wobbly words" performance about rhymes and poetry from the New Vic Theatre, they all thoroughly enjoyed the performances.
7. Writing Example
With the newsletter is a piece of writing from Y3/4 by Keneth Bautista. The staff wanted parents/carers to read some good writing by a class each week. Well done Keneth!
8. P.E Kits
We always start normal teaching the first day back and have had 2/3 children in classes without PE kit which means they miss out on exercise and inconvenience staff, even though we sent a text. The children will be in detention on Friday and make a note about their P.E days which are the same as last half term. Please check your child has their kit in school-thank you for your help here.
9. Coppers For A Cow
As part of the Y2 topic on Kenya the classes are sending work to our partner school Matilli FYM. This was the school I visited four years ago on an inspiring visit with the Lichfield Diocese. The 1000 children there are so eager to learn and wonderfully polite, as education is their way out of poverty. However, they have nothing and the school is so poor. The children want to buy another cow as the old one has died and the milk was used to give the orphan children food. We had a juice and biscuit fund raiser and have got half a cow, (!!) so we will be sending home a cylinder and asking children to put coppers in to fund the other half. Your help to raise money for this cause is very much appreciated.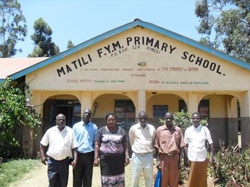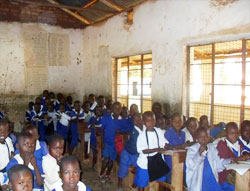 10. Drop Off Zone
Can I please remind parents/carers that if they travel to school via taxi that the taxi must not wait in the drop off zone, as this causes congestion around the school grounds.
Also please ensure that you do not park in the zone either as this stops other parents/carers from using this facility when they do only need to pull in to let their children out. All vehicles must park on the sports ground and we have provided this facility in the mornings to assist all parents/carers. Thank you for your help in this matter.
11. Attachments
12. Home School Link Worker Information
Next week your child will bring home their attendance percentage. It will be from September 2014 to the end of February. If your child's attendance is 95% to 100% they will be invited to a free disco on Wednesday 1st April, 3.00pm-4.00pm. Keep an eye out for their invite!
Just a reminder about attendance – the Government expects 95% to 100% achievement and here at St John's we take this very seriously. Along with Mrs Ramsden, who looks at attendance weekly, we have the support of our Education Welfare Officer. The EWO is sending more letters out that could lead to a fine if your child's attendance does not improve. If you are unsure whether your child should be in school because of illness please speak to Mrs Ramsden who will advise you.
13. Celebration Assembly
Our children/classes who received awards on 13/02/15 were:
Maira Mashonganyika, Lewis Craggs, Cindy Li, Anannya Sinilraj, Davis Kurian, Anto Yohannan, Sanjay Arokiaswamy, George Baldwin, all of Y3, Carley Bithel, Declan Matthews, Rihanna Molyneux, Yashbir Bhullar and Daasha Dhillon.
Smart School Uniform: Millie Mae-Grey and Tyler Jordan
Lunchtime Supervisor's Award: Renae Hodges and Freya Knight
Good to be Green:
Mia Beardmore, Alyssa Stanley – KS1
Ismail Saygili, Kyle Lovatt – KS2
Y6 Prefect Trophy: Y1B
Waterworld Attendance Award: Ella Curzon
Awards given out for data collected w/b 02/02/15:
Class Attendance: Y5/6 – 97.9%
Whole School Attendance: 93% (Government target is 95%)
Pupil Attendance Awards: Ninan Thomas and Lina Al Hussein
14. Dates for your Diary
Monday 2nd March : Dance Extravaganza Victoria Hall ~ starts at 6:30pm
Wednesday 4th March : Bringing Books to Life W/Shop KS1
Wednesday 4th March : Early Years ~ Promoting Reading pyjama/onesie day ~ in school
Thursday 5th March : French Visit Slide Show ~ 3:10pm and 5:00pm ~ school hall
Friday 6th March : Gladstone PP Visit ~ off site
Tuesday 10th March : Target Sharing Evening ~ 3:15pm-5:15pm ~ in school
Tuesday 10th March : African Drumming ~ N-Y2 ~ in school
Wednesday 11th March : Target Sharing Evening ~ 3:15pm~5.15pm ~ in school
Wednesday 11th March : Samba Drumming ~Y3-Y6 ~ in school
Friday 13th March : Class Assembly 2J ~ 9:00am ~ school hall, all welcome.
Yours sincerely
Mrs P Bloor
Headteacher