Newsletter Spring Term 9
Dear Parent/Carer
As we finish another very busy and fun learning week, it has been wonderful to see how your children really enjoying all their learning.
1. Our Talking Topic
This week we have been thinking about "how no matter how small we are we can all make a difference to our world". The children were told the parable of the mustard seed that grew into an enormous tree. We asked children this week to say a kind word, help someone, cheer up someone or help take care of the world by recycling. Please talk to your child about this important topic. Well done to Jay Edwards-Cherry who showed these qualities when he ran over to another child who had fallen over, he helped him up and checked he was ok – the child's mum was most impressed with Jay's caring attitude!
2. Our Value
This week we have been "sharing" and the children were challenged to complete acts of kindness during the week. Very well done to Jayden Fielding, Cisco Handy, Esa Haq, Mason Kidd,
Julia Pustula, Ryan Davis, Megan Proudlove, Danny Lea-Shaw, Jake Bamford, Kitty Sinclaire and Hamza Shakil who among many other pupils have been seen being kind to others this week.
3. Target Sharing Open Evenings
We have had two this week on Tuesday and Wednesday to give you the opportunity to talk to class teachers, see work completed and work together on the next target. We love seeing our parents/carers, as it is only together that all of the children can make the best possible progress. Some families with Pupil Passports who did not attend, will be contacted to sign the target sheet and decide on actions that they need to work on at home.
4. World Book Day
Following a week of storytelling with our visitor, Tony Wilson, we celebrated World Book Day with some whole school story writing! Staff and children worked collaboratively on a "Story Chain" activity where each class added their own creative ideas to stories which were passed around the school throughout the day. In total, we wrote 6 new stories which have been combined to create a book that can be shared by all.
Children of all ages were able to contribute to the story writing and thoroughly enjoyed their authorship experience, being really excited each time a sheet arrived in their classroom to see what the next story would be.
We are also creating several "Writes of Passage" displays in school, where children make book recommendations. They were asked to choose a book they would consider to be a "really good read" and briefly tell us what made it so good and who they thought would enjoy it. The hope is that these displays will help children to choose a book they will enjoy and promote a love of reading through peer recommendation.
5. Events In School Last Week
French Presentation
Parents/Carers were invited to a French slide show prepared by Mrs Barrow which showed how much the children enjoyed the visit.
Cow For Kenya
Thank you so much for your support. We raised £201.58 which will buy a cow and food for our partner school in Kenya. The Y2 children had a competition to name this cow, which will be called Daisy! Work is also being sent out there this week from the children. Thank you for your support and generosity to help others who have less.
6. Events In School This Week
Church School SIAMS Inspection
This was held on Tuesday and was very successful. The report will read very well and shows all the very good work we do with all of our pupils and their families. Our distinctiveness as a Church School was rated outstanding and the inspector concluded our Christian heritage supports the daily life of the school and how we celebrate the diversity of our community. Our R.E and collective worship practices were really praised. The inspector felt the children's responses and confidence throughout the school were excellent. Our inside and outdoor displays she said were stunning. Thank you to parents/carers who attended the coffee morning to meet the inspector. She noted that throughout the day she had seen no bad behaviour from anyone and how we had an excellent learning focus throughout the school. Parents/Carers can be proud of their children and our school.
Drumming Days
On Tuesday all the children from Nursery to Y2 had an African Drumming Day and on Wednesday Y3 to Y6 had a Samba Drumming Day. These 'WOW' days were thoroughly enjoyed as all the children took part. We have had a very noisy but creative school this week!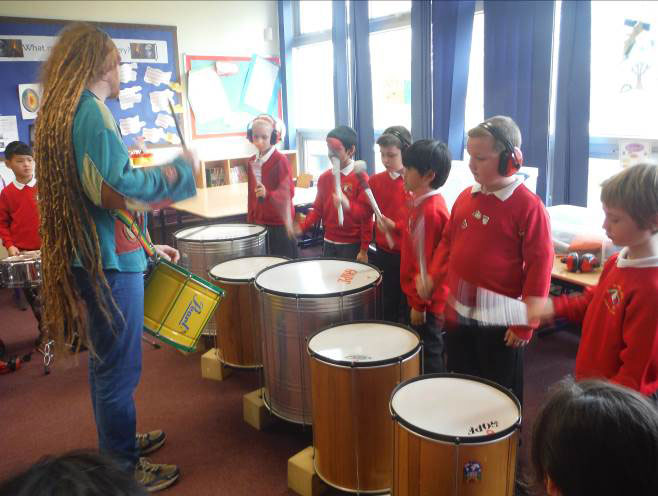 7. Swimming Awards
Very well done to Rayin Negeem and Kyra-Mae Phillips who have passed their length certificate at school swimming (which is the government's minimum requirement).
Also well done to Kenzi Shepherd-Moss, Nicole Steele, Isabelle Westwood and Yashbir Bhullar who have passed their Elementary Certificate which means they can swim technically correct strokes on their back and front. Well done to Lawrence Hilditch who passed his Bronze Survival Award, a very high achievement, and Jerome Juguilon who passed his Yellow Certificate. This is a super standard and all the children have worked hard at school swimming lessons which we make a financial priority at St John's, as it is so important children learn to swim.
8. Good Attendance Tea Party
Last Friday Alfie Hambleton, Landon Coates, Emma Brennan, Isabelle Godwin, Ella Curzon, Zagros Negeem, Carley Jones, Ismail Saygili and Kyle Lovatt had tea in china cups and cakes from the cake stand as a reward for good attendance.
9. School Clubs
This week I looked at the Faith Through Understanding Club run by Miss Pickerill. They were creating something out of clay from God's wonderful world and were all very busy and happy. Robin Craggs was making a sunflower, Delin Negeem a butterfly, William Kidd the sun and Emma Brennan a heart. We all have a lot to be thankful for!
10. Parking
The swimming coach had difficulty getting into school on Wednesday due to parents/carers parking illegally on Wheatly Avenue, which is banned for parking between 8:30-9:30am and
3:00–4:00pm. In large yellow lettering it says SCHOOL KEEP CLEAR. These thoughtless drivers are also putting off families from walking. I am going to contact Councillor Barnes and the City Council about what we can do to stop this. We shall also do a parent/carer safety questionnaire shortly to see if you have any better ideas.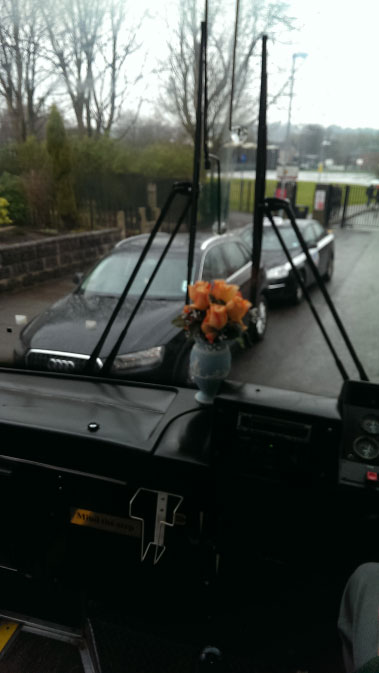 11. Reminders
Y2J class assembly starts at 9:05am on Friday.
Comic Relief / Red Nose Day on Friday – in return for a donation of a £1 per child we are happy for children to come with a funny face but in normal school uniform. This is another very worthy cause we like to support.
The 2 swimming classes must come ready to swim on Friday but could put on a nose or something later.
You are able to download the newsletter from the school website.
12. Writing Example
In the newsletter this week is a great piece of research from Isabelle Godwin from Y2J who produced a fact file about Christopher Columbus, it is based on the topic 'Why were Christopher Columbus and Neil Armstrong brave people?' Well done!
13. Home School Link Worker Information
We have had complaints about bad language on the school grounds, which is not acceptable. We keep mentioning this issue; children pick up on your language/behaviour. We ask that you consider other parents/carers and visitors along with all of the children.
14. Celebration Assembly
Our children/classes who received awards on 06/03/15 were:
Evie-Mai Bourne, Oscar Green, Bethan Hill, Anto Yohannan, William Kidd, Isabelle Godwin, Skye Lea-Shaw, Abbi Dunn, Laynee Tunnicliffe and Kodi Amison.
Mrs Bloor's Award: Molly Clewes and Chelsea Warren
Dusty Bin (tidy classroom): R2
Smart School Uniform: Aska Chaudhry
Lunchtime Supervisor's Award: Samuel Kuruvilla and Jamie Paredes
Good to be Green: KS1 – Rianne Hodges, Nirmal Pasupuleti and Angelika Tworzewska
Good to be Green: KS2 – Kara Tatler, Ryan Davis and Bhuvan Pasupuleti
Time for Sport: Y2J
Y6 Prefect Award: Y4/5
Walk to School Trophy: Y3
Attendance Prize: Holly Barnett
Awards given out for data collected w/b 23/02/15:
Class Attendance: Y5/6 – 100%
Whole School Attendance: 96.8% (Government target is 95%)
Pupil Attendance Awards: Landon Coates and Leah-Rose Walker
15. Attachments
City Catering – Space and Sea Theme Day Menu for 18th March
16. Dates for your Diary
Friday 13th March Class Assembly 2J ~ 9:05am ~ school hall, all welcome
Friday 13th March Comic Relief Day ~ £1, funny face ~ in school
Tuesday 17th March Theatre Production for Early Years ~ 9:10am ~ in school
Wednesday 18th March KS1 WOW Day ~ themed dress ~ in school
Thursday 19th March RAF Cosford Trip 1B/1S ~ 9:30am-2:30pm
Friday 20th March RAF Cosford Trip 2J ~ 9:30am – 2:30pm
Monday 23rd March Y3/4 Football Tournament Crescent ~ 1:15-4:00pm
Wednesday 25th March KS1 Storytime Workshop 9:15am-11.15am ~ in school
Friday 27th March RAF Cosford Trip 2M ~ 9:30am – 2:30pm
Wednesday 1st April Quarry Bank Mill Trip ~ Y4/5 ~ all day
Wednesday 1st April Attendance Disco ~ 3:00pm – 4:00pm ~ in school
Thursday 2nd Apri l Class Assembly Y2M ~ 9:00am ~ school hall, all welcome
Thursday 2nd April End of Term
Monday 20th April Start of Term
Yours sincerely
Mrs P Bloor
Headteacher