Newsletter Summer Term 5
Dear Parent/Carer
As we finish for half term on Friday the school has been busy assessing pupils and working out the progress made and next steps. All the staff are very pleased with all the children.
1. Our Talking Topic
This week we have been thinking about 'responsibility' and how important this is. We talked in assembly on Monday about the need to take responsibility for keeping our bodies healthy by taking exercise. Please talk to your child about this.
2. Our Value
This week we have also been working on 'responsibility' as we want all our children to grow up as responsible citizens. Very well done to Sophie Carter, Kodi Amison, Aaron Marshall, Ismail Saygili, Zara Khan, Ethan Kidd, Kiera Tatler, Ninan Thomas, Christian Smith and Leah-Rose Walker who have all shown this important value.
3. Events In School Last Week
This week both Y1 classes and Y2J have all had a free PE day at Stanley Head. All the children had a physically active day in the fresh air and thoroughly enjoyed the day. At St John's we believe these experiences that we provide free to all our families are so important. All other KS1 and KS2 classes will have their visit later in the term-something to look forward to!
Y1S and Y2M visited St John's Church and learnt so much from Reverend Chris Rushton, who was impressed with their behaviour and knowledge.
Y5/6 visited the Royal stoke Hospital and Lawrence Hilditch has written a super account about the visit.
Y6 have had Bikeability training which is so important to keep them safe when cycling.
Y5/6 have been organising an art competition for Nepal. We will have a raffle after half term. Very well done to Chad Varquez, Liam Bates and Alex Jordan for their special efforts. On Tuesday 2nd June, Y5/6 have organised a raffle for 20p with lots of prizes. Please help them by supporting this.
Well done to Kiera Whieldon, India Vickers and Jenson Nguyen who all passed their Length Award at swimming recently.
4. Our Local School Crossing Warden
In February our local crossing warden slipped on the ice and had 2 fractures, which take a long time to heal. As an act of kindness the staff collected items for a hamper for her, which has been gratefully received.
5. Reminders
The school is closed for staff training tomorrow, for Health and Safety and Teaching Reading.
We have lots of visits so please could parents/carers help by getting forms back in plenty of time. The children need to put their forms in the classroom office bag at morning register.
We have had 2 incidents of unacceptable behaviour to school staff this week which is unacceptable and sets a bad parental example.
PE kits will go home for a wash today and we ask that all children bring them back washed and named, along with pumps on Monday 1st June. The timetables remain the same but Y6 will now have PE first thing on Monday. Please help us to deliver the PE the government say all children need and organise your child.
6. Staff News
Very many congratulations to Mrs Peake and family who had twin sons Henry and Fraser last Monday – arriving a little early. Mrs Peake taught full time right up to the Friday before Y6 SATS and begins her busy maternity leave now.
Mrs Connolly returns from maternity leave after half term to R2. Miss Lovatt will take Y6 for the rest of the term.
7. After School Clubs
The children are all enjoying the activities and challenges set each week. The Crazy Crafts Club have been working on their cross stitch skills, the Taekwondo Club participants are working very hard and developing excellent techniques. Well done to everyone!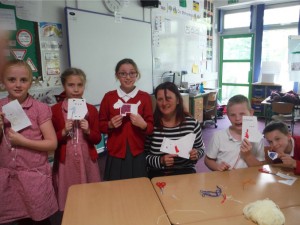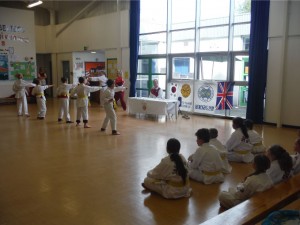 8. Tempest Photography
Group class photos will take place on Thursday 4th June during the school day. No individual photos will be done on this day. Please send children in white shirts/polo shirts and a red cardigan or jumper.
9. Home School Link Worker Information
On Wednesday 3rd June 1:30pm-2:30pm we will be having our family picnic (weather permitting!). Just a reminder that parents/carers go onto the field and the children will be sent across to you. They will also be sent to the toilet before they come out so there will be no need to come back into school.
Friday 5th June is our sponsored event – I hope you are doing well collecting sponsors! It will be a fun time singing songs. Please send the money in as soon as you can in a sealed,named envelope. Thank you for supporting us.
10. Celebration Assembly
Our children/classes who received awards on 15/05/15 were:
Ashton Barnett, Setara Jaffari, Nirmal Pasupuleti, Landon Coates, Ryan Bithell, Harvey Tams, Eleanor Williams, all of Y4/5, Aaron Marshall and all of Y6.
Mrs Bloor's Award: Thomas Hilditch
Dusty Bin (tidy classroom): Y2J
Smart School Uniform: Alfie Barnett
Lunchtime Supervisor's Award: Ella Curzon and Pia Cousins
Good to be Green: Lola Howard and Bethany Morrey – KS1
Time for Sport: Y3
Walk to School Trophy: Y6
Lunchtime Trophy: Y1S
Y6 Prefect Trophy: Y3
Attendance Award: Oscar Dix
Awards given out for data collected w/b 04/05/15:
Class Attendance: 2M – 97.8%
Whole School Attendance: 94.8% (Government target is 95%)
Pupil Attendance Awards: Tyler Barlow and Oliver Woodward
11. Dates for your Diary
Friday 22nd May Staff Training Day ~ school closed to pupils
Monday 1st June Term Starts
Wednesday 3rd June Family Picnic ~ 1:30-2:30pm ~ all welcome
Thursday 4th June Tempest Group Photos ~ during the day~ in school
Friday 5th June Sponsored Challenge ~ in school
Saturday 13th June Y6 London Visit ~ all day
Tuesday 16th June New Nursery/Reception September Intake, Parent/Carer Evening
(for new pupils to St John's only – those already in Nursery and moving upto Reception will be given info via class teachers)
Friday 26th June Northwood Visit ~ all day
Thursday 2nd July New Pupil and Parent/Carer visits ~ 9:30am-10:30am ~ in school
Saturday 4th July School Summer Fayre ~ 12:00pm – 2:00pm
Thursday 9th July New Pupil and Parent/Carer visits ~ 9:30am-10:30am ~ in school
Yours sincerely
Mrs P Bloor
Headteacher