Newsletter Summer Term 6
Dear Parent/Carer
The children all arrived back on Monday looking very happy to begin learning again and looked so smart in their uniform. Thank you for your support and we extend a special welcome to our new families who have joined us recently.
1. Our Talking Topic
This week we have been thinking about 'changes' and how to 'have the courage to stand up for what you believe in'. The children were told the bible story of Daniel in the Lion's Den and keeping to what they know is right. Please talk to your children about this.
2. Our Champion Value
This week it is 'resilience' and 'not giving up even when it is hard'. Very well done to all the classes in the school who have come back after half term and made an excellent start to the new term.
3. Class Visits
All the classes in KS1 and KS2 are going to Stanley Head for a PE day (3 have already been). KS1 classes are also going to Tittersworth Reservoir. All the visits are free to help all families and add 'wow' to our curriculum. Please can we have the forms signed and returned as soon as possible.
4. Writing Competition
A group of talented writers entered a Young Writer's Competition recently to have their work published in a book. Very well done to Hollie Bentley, Hibah Rana, Ali Hamadto, Joshua Clement and Oliver Woodward whose stories have been accepted. Parents/Carers will shortly be sent more information. Very well done to these wonderful budding writers in Y2.
5. Reminders
Next Tuesday is our Sports Day; we have 3 other dates in case of rain (Thursday 11thJune, Tuesday 16th June and Thursday 18th June). Let's hope the weather is fine next Tuesday and please check your child has kit in school so they can take part. It is Early Years and KS1 at 9:30am and KS2 at 1:30pm. We look forward to seeing you there!
Friday 19th June at 9:05am is Reception 1 and Reception 2 class assembly, which will be lovely.
6. Mini Tennis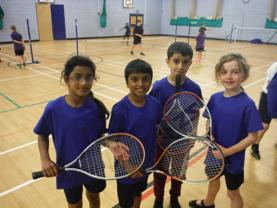 Last term Miss Burgess and four pupils attended a Mini Tennis Tournament at Trentham High School. Yashbir Bhullar, Anet Yohanna, Brodie Sinclaire and Zagros Negeem all played excellently and were great team players. All four children were very enthusiastic during the tournament. It was a great chance to gain some tennis skills. Well done for taking part! The organiser has provided the school with a leaflet, should any children wish to attend a tennis club.
7. Re-surfacing Of Roads
The school has been informed by the Highways Agency that next Thursday the re-surfacing of Newcastle Lane to the school entrance will take place and on Friday the 'Square' will done. The following week on Monday to Wednesday all of Springfields Road will be re-surfaced. Access will be available to the school grounds in the mornings but there is no promise that the work will be finished by the evenings, so no cars will be able to park near Springfields Road. Please help this long awaited project by not bringing any cars on these days. A chance to walk and park and stride!
8. Writing Example
We have attached a lovely piece of independent writing from Tala Alhussien from nursery class. Well done Tala!
9. End Of Term Information
The term ends on Tuesday 21st July. Please be aware that on Monday 20th and Tuesday 21st July there will be no breakfast club running.
10. Staff News
A Catering Assistant is required for the school kitchen, if you are interested and would like more details please contact Jenny Copeland in the kitchen on 01782 234989.
11. Summer Fayre Donations
Please send in any donations, bottles, jars, toys etc via your child. Your child will be given further details from their class teachers.
12. Home School Link Worker Information
Reminder: If your child has 100% attendance by the end of term they will come home with a prize on Tuesday 21st July. That means NO time off at all.
Thank you to all those that took part in the art competition and the raffle to raise money for Nepal. You raised £97.03. Well done to Liam Bates, Alex Jordan and Chad Varquez who organised it all. The winners of the art competition are;
1st – Grace Hawkins 2nd – Rihanna Molyneux 3rd – Lily-May Barlow
4th Beth Brennan 5th Lincoln Cotterill
The raffle prizes, 3 per class, have been given out today. Thank you for your support.
13. Dates for your Diary
Friday 5th June Sponsored Challenge ~ in school
Saturday 13th June Y6 London Visit ~ all day
Tuesday 16th June New Nursery/Reception September Intake, Parent/Carer Evening
(for new pupils to St John's only – those already in Nursery and moving up to Reception will be given info via class teachers)
Friday 19th June Class Assembly ~ R1 and R2 ~ 9:05am in school hall
Friday 26th June Northwood Visit ~ all day
Thursday 2nd July New Pupil and Parent/Carer visits ~ 9:30am-10:30am ~ in school
Saturday 4th July School Summer Fayre ~ 12:00pm – 2:00pm
Thursday 9th July New Pupil and Parent/Carer visits ~ 9:30am-10:30am ~ in school
Yours sincerely
Mrs P Bloor
Headteacher