Newsletter Summer Term 7
Dear Parent/Carer
As we finish another busy week it has been lovely to enjoy better weather. Let's hope it lasts!
1. Our Talking Topic
This week we have been thinking about 'courage' and thinking about 'the importance of being trustworthy and honest' even when it means doing something disagreeable. We read the bible story of Jonah who tried to hide from doing the right thing but realised later what was the correct thing to do. Please talk to your child about this.
2. Our Value
This week we have been working on 'honesty'. Very well done to Alex Ballard-O'Shea,
Claire Johnson, Dylan Wright, Christian Smith, Ethan Hill, Rhys Wooliscroft, Charlie Simpson, Jessica Cotterill, Aleksi Vrapi, Casandra Martin, Carley Jones, Declan Matthews, Theo Molyneux, Jack Eaton, Charlene Bloor and Thomas Bird who have all been noted as demonstrating this important value.
3. Sports Day
It was lovely to have the event on our planned day and so many parents/carers have said how good it was and very well organised by all the staff. One of the reception pupils was so excited the night before she could not sleep! All the children enjoyed it and competed brilliantly.
4. Cricket Competition
A mixed group from Y3 and Y4 took part in a Cricket Tournament last week. Whilst they didn't progress to the finals they did give every team a hard fought game and showed great improvement throughout their competition.
Well done to Alan Babu, Yashbir Bhullar, Anet Yohannan, Brodie Sinclaire, Jenson Nguyen, Zagros Negeem, Amin Miah, Ryan Davis, Luke Brian and George Barnett.
5. School Clubs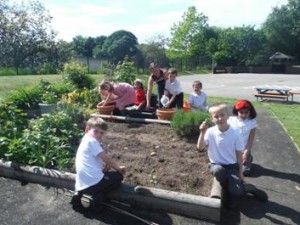 Here is a photo of the Eco Club taken by Mrs Barrow which shows the children enjoying this after school learning.
6. Resurfacing Work: Reminder
The school has been informed by the Highways Agency that today the re-surfacing of Newcastle Lane to the school entrance will take place and on Friday the 'Square' will done. The following week on Monday to Wednesday all of Springfields Road will be re-surfaced. Access will be available to the school grounds in the mornings but there is no promise that the work will be finished by the evenings, so no cars will be able to park near Springfields Road. Please help this long awaited project by not bringing any cars on these days.
7. Reading Awards – "I can read at home"
A new reward system to encourage children to read at home was launched on Monday by Miss Chapman. To receive the first certificate children must read a minimum of 3 times a week at home which is our expectation each week this half term. There is a chart in each classroom. We are trialling it this half term with a 1 star award and will be developing it further with other certificates next term. Three children in each class chosen by class teachers will get a special treat at the end of June as well. The children have been enthusiastic about this.
It links to the Sentinel Big Read Project to improve reading standards across the city to help drive up standards. Please support this new initiative to help your child. On Friday at 9:00am all children will read out the poem attached as part of Stoke Speaks Out's campaign to embed good reading habits.
8. Taekwondo Awards
Well done to all the children who have been working hard in this after school club.
The Taekwondo 7th Kup (yellow belt with green tag) was awarded to Danny Lea-Shaw,
Aaron Marshall, Anthony Evans, Isabelle Westwood, Lawrence Hilditch, Jack Eaton,
Maria Xanthopoulou, Orlando Heselwood, Jakub Jedrzejczyk, Ethan Kidd, Declan Matthews, Jake Bamford, Ilana Steventon and Natalia Kulik.
The Taekwondo 8th Kup (yellow belt) was awarded to Kenzi Shepherd-Moss, Ellie Moreton, Molly Hancox, Jack Goodall and Kodi Amison.
9. Swimming Awards
The following children who have worked hard and achieved their certificates.
The Beginners Awards went to Zara Khan, Dylan Colclough, Ella Curzon, Joel Sheldon, Ben Morris, Skye Lea-Shaw, Ricardo Gordon and Beth Brennan. Those that achieved their Length Award were Ella Curzon, Joel Sheldon, Ben Morris and Ricardo Gordon. Well done to you all!
10. Lost Property
If you need to look through the lost property box it will be in the community room for the next week.
11. Community Information
A message from Councillor Jackie Barnes –


Recently I delivered a small consultation to residents of Springfield Road and Algar Road. The aim of this was to get a majority consensus of opinion, to what the wishes are of residents with a view to a solution to parking issues, in particular because of people who park attending the hospital, either for work or other needs. To date I have only received two responses to take forward to hospital executives to assess residents desires. If anyone wishes to return their consultation papers, please take them into St. John's school, who are happy to receive them and pass them on to myself.

From Cllr. Jackie Barnes, Springfield/Trent Vale, 0781353941

We have had a lovely message from a member of the community –


Dear School,
I had the pleasure of walking along the A34 past your school gardens last week as I attended the hospital. The images of your art work representative of the 2 wars and of the diversity of religions was beautiful and I felt I needed to comment on the views.

If the images in your school gardens is mirrored in your quality of your history and religious teachings I am sure the children in your care will have a very rounded view of all religions and a solid knowledge of the impacts war had on the world and the individual sacrifices those service people implemented to provide the life we have today.

Well done school from a passer by !
12. Home School Link Worker Information
Our family picnic will now take place on Monday 22nd June, 1:30pm-2:30pm. Let's hope for good weather!
13. Attachments
Poem
City Catering Menu – Mediterranean Theme Day (this menu will not be served to Nursery)
14. Celebration Assembly
Our children/classes who received awards on 27/03/15 were:
Esa Haq, Macey Simpson, Izza Fatima, Alfie Hambleton, Corey Johnson, Christian Smith, Joseph Machin, Lennon Gladwin, India Vickers, Elliot Craggs, Molly Hancox, Kian Murphy, Liam Bates, Chad Varquez, Alex Jordan and Abel Joseph.
Lunchtime Supervisor's Award: Rita Qiu and Kitty Sinclaire
Attendance Award: Alex Ballard-O'Shea
Awards given out for data collected w/b 18/05/15:
Class Attendance: 100% – Y1S
Whole School Attendance: 92.7% (Government target is 95%)
Pupil Attendance Awards: Lucas Conway-Kendall and Bethan Hill
15. Dates for your Diary
Saturday 13th June Y6 London Visit ~ all day
Tuesday 16th June New Nursery/Reception September Intake, Parent/Carer Evening
(for new pupils to St John's only – those already in Nursery and moving up to Reception will be given info via class teachers)
Wednesday 17th June KS1 WOW Day ~ in school
Friday 19th June Class Assembly ~ R1 and R2 ~ 9:05am in school hall
Monday 22nd June Family Picnic ~ 1:30pm-2:30pm ~ weather dependant
Tuesday 23rd June Tittesworth Reservoir Visit ~ Y2J ~ all day
Wednesday 24th June Tittesworth Reservoir Visit ~ Y1S and Y1B ~ all day
Thursday 25th June Tittesworth Reservoir Visit ~ Y2M ~ all day
Friday 26th June Northwood Visit ~ all day
Monday 29th June EY Spacebus ~ in school
Thursday 2nd July New Pupil and Parent/Carer visits ~ 9:30am-10:30am ~ in school
Saturday 4th July School Summer Fayre ~ 12:00pm – 2:00pm
Thursday 9th July New Pupil and Parent/Carer visits ~ 9:30am-10:30am ~ in school
Monday 20th July NO BREAKFAST CLUB
Tuesday 21st July NO BREAKFAST CLUB
Tuesday 21st July End of Term ~ School closes at 2:00pm
Yours sincerely
Mrs P Bloor
Headteacher