Newsletter Summer Term 8
Dear Parent/Carer
As we enter the summer months and hopefully more good weather, we have had another busy week in school with all the children very active. Y1 pupils have had the Statutory Phonics Test this week as have other children who did not pass it last year.
1. Our Talking Topic – Christian Heroes
This week we told the story of Noah and the flood and reminded the children that we have a wonderful world to look after and we can all do our part. Please talk to your child about this.
2. Our Value – Kindness
Very well done to Jay Edwards-Cherry, Jacob Simpson and Rusne Kaupyte who have shown this value this week.
3. Events in School Last Week
Congratulations go to Nancy Doward, Keneth Bautista and Chloe Barlow who have achieved their Length Certificate in swimming.
4. Nits
We have had another outbreak-this time in Y3/4. Please can all parents/carers check hair as these super nits love clean hair. This is why we have a policy that all long hair is tied back all day. Thank you for your help here.
5. Y6 Visit to London
This visit took place on Saturday and the children went in the London Eye and had a river cruise on the Thames. This was a real 'Wow' visit subsidised by the school, as reward for Y6. Some Y5 children chosen by their class teachers went to make up the 42 places. We set off early and got back late to maximise the day. Great thanks must go to Miss Pickerill, Mrs Barrow, Mrs Ramsden, Mrs Varley and Miss Carson who gave up their Saturday to staff the visit so the children could have this lovely experience.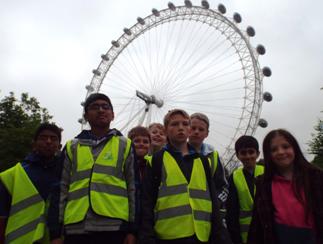 6. Summer Concert
All the classes from Y1 to Y6 are in the process of preparing for our annual summer concert 'St John's Summer Special'. This promises to be a real 'wow' event that involves all children on the stage performing, singing and dancing for you. For our new families, we shall be putting on 3 performances for you, a morning, afternoon and an evening one so all families have the opportunity to see it at a time they can manage. More information about tickets has been sent out.
7. Outdoor Reading
New outdoor reading areas have been set up on both KS1 and KS2 playgrounds for children to use at break and lunch times. Each day 2 children are chosen from each class to use these areas, where they can sit on picnic rugs and cushions to look at a selection of new books. Pupils from Year 6 have been very helpful in setting up our reading areas each day and reading with the younger children which they have very much enjoyed.
8. School Clubs
This is the Y2 Eco Club with Miss Lovatt, they were having fun working on a water experiment.
9. Reminders
No Taekwondo this Friday as the coach Mr Peter Johnson is competing in Northern Ireland.
R1 and R2 have their class assembly tomorrow at 9:05am.
10. Attendance Prizes
As a result of a parent questionnaire we started awarding a family ticket to Waterworld which is a lovely prize and quite expensive. We asked the winners about the experience recently and a lot had not used their ticket, probably waiting until the long summer holiday. Can the winners come in or leave a message if they have used it or are planning to otherwise we will change the reward if this is not working for you.
11. School Fair
This is our one community event on Saturday 4th July and we shall need your help with prizes etc. Each class has been asked to collect certain items for the stalls which are listed here. Please help us to make it a fun day and send all items in via the class teachers.
Nursery Tombola
R1 Cakes
R2 Teddies/soft toys
Y1B Sweets/chocolates
Y1S Prizes for children
Y2J Toiletries
Y2M White elephant/ bric-a-brac
Y3 Toys
Y3/4 Tins/packets of food
Y4/5 Food for a hamper
Y5/6 Full bottles and jars
Y6 Books
12. Fundraising
A very big well done to Grace Wain from Y1B who completed the 'Race for Life 2015' and raised over £300. What a super effort!
13. Tempest Photography
All order forms have been given out, if you wish to make an order please complete the forms and return in the envelope provided to the office by Friday 26th June.
14. Sports Day
Well done to all of the children who took part in last weeks Sports Day! Here are a couple of photos of some events from the day.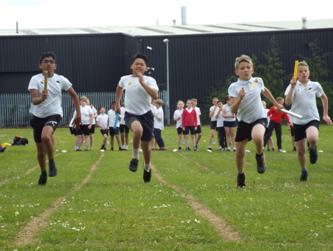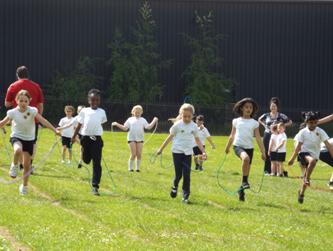 15. Our Big Read Campaign
Staffordshire University is supporting The Sentinel's campaign to transform literacy standards and inspire children's love of reading throughout the City. They have gifted copies of the book Monkey Puzzle by Julia Donaldson to all of our Reception, Year 1 and Year 2 children and this will be given out today.
16. Home School Link Worker Information
• Many thanks to those that have sent sponsor money in. Our total was £898.26. That will now be split between Children with Cancer UK and school. Well done!
• A reminder that if your child has 100% attendance (and it needs to be 100%) on the 21st July they will come home with a prize!
17. Celebration Assembly
Our children/classes who received awards on 12/06/15 were:
Esme Clarke, Setara Jaffari, Grace Wain, Leah-Rose Walker, Monica Joshua, Alan Sose, Tyler Conway, Megan Proudlove and Orlando Heselwood, Holly Chatterton and Daasha Dhillon.
Mrs Bloor's Award: Danny Lea-Shaw and Lawrence Hilditch
Dusty Bin (tidy classroom): Y6
Smart School Uniform: Mia Sepe
Lunchtime Supervisor's Award: Abbey Filcock and Uzair Rana
Time for Sport: Y2J
Walk to School Trophy: Y1S
Attendance Award: Theo Lovell
Awards given out for data collected w/b 01/06/15:
Class Attendance: Y2J – 98.7%
Whole School Attendance: 95.3% (Government target is 95%)
Pupil Attendance Awards: Claire Johnson and Abbey Filcock
18. Dates for your Diary
Friday 19th June Class Assembly ~ R1 and R2 ~ 9:05am in school hall
Monday 22nd June Family Picnic ~ 1:30pm-2:30pm ~ weather dependant
Tuesday 23rd June Tittesworth Reservoir Visit ~ Y2J ~ all day
Wednesday 24th June Tittesworth Reservoir Visit ~ Y1S and Y1B ~ all day
Thursday 25th June Tittesworth Reservoir Visit ~ Y2M ~ all day
Friday 26th June Northwood Visit ~ all day
Monday 29th June EY Spacebus ~ in school
Thursday 2nd July New Pupil and Parent/Carer visits ~ 9:30am-10:30am ~ in school
Thursday 2nd July Rounders Tournament ~ 3:30pm – 5:30pm
Saturday 4th July School Summer Fayre ~ 12:00pm – 2:00pm
Tuesday 7th July Summer Concert ~ 1:30pm
Tuesday 7th July Summer Concert ~ 6:00pm
Wednesday 8th July Summer Concert ~ 9:15pm
Thursday 9th July New Pupil and Parent/Carer visits ~ 9:30am-10:30am ~ in school
Monday 13th July Stanley Head Visit ~ Y6 ~ all day
Tuesday 14th July Stanley Head Visit ~ Y3/4 ~ all day
Wednesday 15th July Stanley Head Visit ~ Y3 ~ all day
Thursday 16th July Stanley Head Visit ~ Y4/5 ~ all day
Friday 17th July Stanley Head Visit ~ Y5/6 ~ all day
Monday 20th July Stanley Head Visit ~ Y2M ~ all day
Monday 20th July NO BREAKFAST CLUB
Tuesday 21st July NO BREAKFAST CLUB
Tuesday 21st July End of Term ~ School closes at 2:00pm
Yours sincerely
Mrs P Bloor
Headteacher