Newsletter Autumn Term 11
Dear Parent/Carer
As we approach the lead up to this special time of year, all the classes are very busy starting to prepare for our Christmas celebrations.
1. Our Thinking Topic
This week has been 'anti-bullying week' and we have taught the children that this is not a single act, but repeated actions over a period of time. Children were told they must talk to someone if they have a concern. Bullying is something that is very rare at St John's but would be dealt with swiftly according to our policy. A visitor to school this week observing lessons commented on how well all the children get on with each other. In the bible Jesus teaches us that we should treat others as we would like them to treat us. In fact it is such an important idea that you can find it in all the world's major religions and is called the 'Golden Rule'. Please talk to your child about this.
2. Our Value – Kindness
We have been thinking and talking about this important value. Very well done to all the children in the school who have been so kind to our new pupils. They really are brilliant!
3. Class Of The Week

Y3M hard at work in an English lesson working on writing good sentences.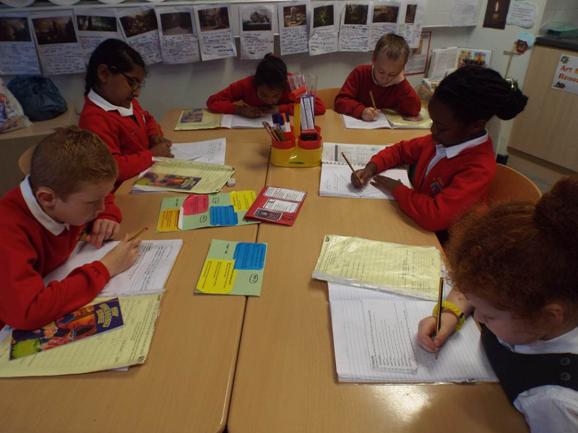 4. Pen Licences
Once a child has joined up, fluent, legible writing, we allow them to receive a pen licence and write in pen in their English books. We are having a handwriting focus to get more children writing in pen. Maybe a handwriting kit might be a good Christmas gift for the children.
5. Parent/Carer Questionnaire
One of the issues I promised to investigate from the questionnaire before half term was the days we set homework. We set it on a Wednesday to be in on the Monday, we have a lot of split families who spend time at the weekend with different families and other children have clubs to attend in the week. Therefore giving time in the week and at the weekend helps everyone to be involved. This is why we shall be keeping it on these days.
6. School Routines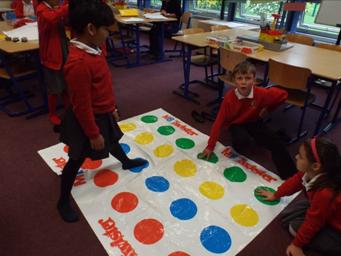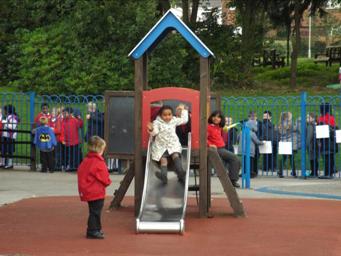 We always try to go out at lunch time to give children much needed play and exercise. If it is wet we have games in the classrooms for children to play. Children always enjoy lunchtimes.
7. Events In School Last Week
Swimming – Very well done to Amin Miah who gained his Beginner's Certificate and
Ranudi Premadasa who passed her Length Certificate last week.
8. Packed Lunches On School Visits
I lead the Y6 visit to the Imperial War Museum on Friday and the children had a wonderful time, they enjoyed the taught session about rationing and were praised by a member of public for their behaviour and common sense. Y5/6 were similarly impressive on Monday Miss Whalley informed me.
We ask families to provide a healthy packed lunch, for example a sandwich, cereal bar, crisps, fruit and one drink. Lunches are often stored in a crate while the group looks around, as happened at the museum. However, two children brought yogurts, one of which went everywhere and we do ask for them not to be sent on visits. A couple of children bought sweets which we do not allow as we are a healthy school and some had very large or multiple drinks. We were delayed on Friday on the return journey due to an issue on the M6, and children drinking too much might have caused a problem to staff responsible for their care. We always only have about 30 minutes for lunch, toilet breaks and clearing bags away, the visits are so expensive and we want to fully engage the children with learning and activity for as long as we can. Over the next week all KS2 children are having a free physical activity day at Stanley Head. Could I ask that packed lunches are adequate but healthy. Thank you for your support.
9. Stanley Head Visits
Reminder – The children need warm clothes on these visits as they will be outside all day.
10. Lates
Parents/Carers who bring their child/children in late do have to sign them in the late book, just as many other schools implement. We had a complaint regarding this system but the office staff have many other duties to undertake. Today the awards information for the assembly was not given out as staff were unable to leave reception due to children arriving late. It is far better to get to school on time.
11. Christmas Card Competition
Mrs Wolfe has organised a competition to design a Christmas card, it is 50p to enter and there are prizes to be won. The designs must A5 in size, be 2-D, with no collage and no glitter. Entries must be in by the end of Monday 7th December in the KS2 Challenge Tray or handed to Mrs Wolfe.
12. City Catering – Special Menu
Wednesday 2nd December
Medieval Day
Ye Olde Jumbo Sausage with Sir Lancelot's Baked Yorkshire Pudding
Medieval Pottage (Lobby) with Dragons Eyeballs (Crusty Bread)
Fishcakes
Filled Jacket Potatoes
—————————————-
Merlin's Mashed Potatoes
Wizards Jacket Wedges
—-————————————
Sweetcorn
Broccoli
—————————————
Castle Cookies
Sludge Cake (Chocolate Fudge Cake)
Yoghurt
Fresh Fruit
Selection of Fruit Mead
13. Christmas Craft and Gift Fair
This is on Friday 11th December, 3:00pm-4:00pm. We are requesting that any parents/carers that are able to give up some time to come along at 2:00pm to help with the setting up.
We are asking for various items to be donated. Please can you send in items from the list below, your contributions make a real difference.
Week commencing 30th November we will be collecting chocolate and sweets.
Week commencing 7th December we will be collecting cakes and biscuits.
Thank you for all of your donations so far, it promises to be a lovely event.
14. Grandparents Christmas Dinner
This will take place on Friday 11th December and all the slips with allocated times have been sent out. Please ensure grandparents arrive promptly, staff will collect the children to join them for the meal. All lunch accounts for those that don't have free school meals will need to be topped up before the day, £2:00 for nursery and £2:20 for other children's meals.
15.Home School Link Worker Information
This week we have been looking at bullying. In school we have Anti-Bullying Ambassadors who meet with Mrs Ramsden and discuss issues/concerns. Our Ambassadors are Anthony Evans, Natalia Kulik, Erin Hill, Elliot Craggs, Kenzi Shepherd-Moss and Zara Khan. These are also a 'going to person' if any child feels worried.
16.Dates for your Diary

Monday 30th November
Y4E Stanley Head Visit ~ 9:00am-3:00pm
Monday 30th November
Y4-5M Englesea Brook Visit ~ 9:00am-3:00pm
Tuesday 1st December
Y3M Stanley Head Visit ~ 9:00am-3:00pm
Tuesday 1st December
Winter Craft Family Learning W/Shop ~ 9:15-11:15am
Wednesday 2nd December
Y4-5M Stanley Head Visit ~ 9:00am-3:00pm
Wednesday 2nd December
Early Years Open Evening(for new intake) ~3:15pm-4:00pm
Wednesday 2nd December
Sportshall Athletics ~ Trentham High ~ 2:30pm-5:45pm
Thursday 3rd December
Y5/6 Stanley Head Visit ~ 9:00am-3:00pm
Friday 4th December
Y6 Stanley Head Visit ~ 9:00am-3:00pm
Friday 4th December
Whole School Pantomime ~ 1:30pm
Monday 7th December
Y3J Stanley Head Visit ~ 9:00am-3:00pm
Tuesday 8th December
PTFA Initial Meeting/Coffee Morning ~ 9:00am ~ in school
Tuesday 8th December
Crescent Football Festival ~ 12:45pm-3:45pm
Wednesday 9th December
Early Years Christmas Performance ~ 9:15am and 2:15pm
Wednesday 9th December
Crescent Football Festival ~ 12:45pm-3:45pm
Friday 11th December
Grandparents' & Pupils Christmas Dinner ~ times given
Friday 11th December
Christmas Craft and Gift Fair ~ 3:00pm – 4:30pm
Monday 14th December
Choir Visit to Cancer Unit ~ 1:15pm-2:45pm
Wednesday 16th December
Christingle Making Day ~ more info will follow
Thursday 17th December
Santa Visiting
Friday 18th December
End of Term
Monday 4th January
Term Starts
Tuesday 5th January
Y5 and Y5/6 New Vic Theatre ~ 1:30pm
Wednesday 27th January
Y6 France Trip Departing
Friday 29th January
Y6 France Trip Returning
Celebration Assembly Dates
Friday 15th January
Y4E ~ Class Assembly ~ 9:05am ~ all welcome
Friday 12th February
Y3J ~ Class Assembly ~ 9:05am ~ all welcome
Friday 11th March
Y3M ~ Class Assembly ~ 9:05am ~ all welcome
Thursday 24th March
Y2C ~ Class Assembly ~ 9:05am ~ all welcome
Thursday 28th April
Y1-2P ~ Class Assembly ~ 9:05am ~ all welcome
Friday 20th May
Y1B ~ Class Assembly ~ 9:05am ~ all welcome
Friday 10th June
R1 and R2 ~ Class Assembly ~ 9:05am ~ all welcome
17.Celebration Assembly
Our children/classes who received awards on 20/11/15 were:
Aleina Grace, Bailee Sutton, all of 1B, Cindy Li, Christian Smith, all of 3J, Rita Qiu, all of 3M, Haya Jamil and Carley Jones.
Mrs Bloor's Award: Dylan Colclough
Smart School Uniform: Carley Jones
Lunchtime Supervisor's Award: Angelika Szklarska and Angelina Abraham
Time for Sport: Y1B
Attendance Prize Award: Evie Beech-Daly
Awards given out for data collected w/b 09/11/15:
Class Attendance: 4-5M – 100%
Whole School Attendance: 97.0% (Government target is 95%)
Pupil Attendance Awards: Milly-Mae Gray and Lennon Gladwin
Yours sincerely
Mrs P Bloor
Headteacher