Newsletter Autumn Term 12
Dear Parent/Carer
As we begin the very hectic run up to Christmas, which is always such a special time in primary schools, we are also having assessments this week and next week to check progress and identify the next steps in your children's learning. So with all the Christmas activity, it is a very busy time for all the staff and pupils.
1. Our Value
This week we have been thinking about 'respect' and how important it is. We have a label in the hall 'give respect-get respect' which we teach the children. Very well done to Jacob Jedrzejczyk, Samuel Cole, Claudie Polhosova, Freyah Knight, Erin Hill, Ranudi Premadasa, Arahbela Arvesu, Chelsee Hodgkinson, Vicky Yu, Sahej Bhullar, Mason Kidd, Angelika Szklarska, Rhys Wooliscroft and Liam Davis who have all been seen being especially respectful.
2. Class Of The Week

Y3J have been busy making calendars for the Christmas Craft and Gift Fair.
3. Events In School This Week/Last Week
Y4/5 class assembly – Thank you to parents/carers who attended this lovely assembly about the meaning of advent. All the children were involved and spoke really well. Events in school such as this add so much to children's self-esteem and confidence, it is lovely for families to see this
'Pritt' Road Show – The school won a free art morning making puppets which was given to Y3M, they had a lovely artistic morning and went home with some of their work and some free items.
Y4/5 enjoyed their day at the Englesea Brook Museum and learnt about life in World War 2.
4. Stanley Head Visits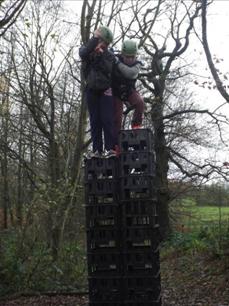 All KS2 classes are going this week and next Monday for a free PE activity day. They have been completing indoor climbing, archery and crate stacking activities. All the classes so far have had a great time and it helps that the weather has been so mild. I know families appreciate these visits and the full subsidy the school are paying at this expensive time of the year. The children really do enjoy these PE activity days.
The KS1 classes Y1, Y1/2 and Y2 will be going to Stanley Head during the first week in January (letters will be going out shortly)
for an outdoor activity day based on the book Mr Creep the Crook by Alan Ahlberg
. Again this will be free for all families. It might be a super idea to get the book for a stocking filler for Christmas for KS1 children.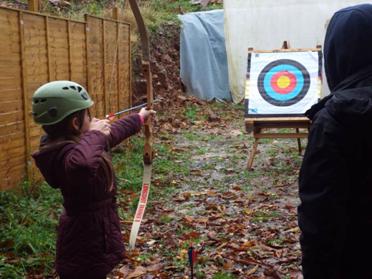 5. Fund Raising
Some parents/carers have expressed an interest in organising a PTFA to raise funds for the school and a meeting is planned for Tuesday 8th December at 9:00am in the community room. All are most welcome to come along.
6. Christmas Craft and Gift Fair
Please put in your diary our Christmas Crafts and Gift Fair to be held on Friday 11th December at 3:00pm-4:30pm in the hall but the hall will be open from 2:30pm for you to browse, however, please remember to collect your children from the doors as per normal. Any money raised goes to subsidising visits which have all been free, such as the visits to Stanley Head. Just give us some of your time, join us and buy some of our lovely Christmas gifts and stocking fillers to help finance the visits which benefit all of the children at St John's.
We are aware that some children have to leave at 3:00pm with childminders/afterschool care clubs and cannot come to the fair so these children can bring some money in on the Friday only and have a look around before they leave. Each class has made items and they are 50p plus there will be other activities and items for sale.
Thank you for all your donations so far, they are very much appreciated. We are still collecting items so if you have any tins, cans, bottles (wine, pop etc), unused toiletries, good clothes and toys, sweets and chocolate to donate please bring them to the school office.
On the week commencing 7th December we are asking for donations of cakes and biscuits.
7. Swimming Awards
Very well done to the following who have passed awards after a term's swimming lessons. These are impressive standards and reflect the commitment to school swimming at St John's. We buy in from school budget 3 lessons a week for KS2 and last year had a year's extra lessons for older children to raise standards. These actions have clearly worked. The tuition at Fenton Swimming pool is also first rate!
Beginners Certificate
Palveen Dhillon which is a fantastic achievement as this pupil is new to the school and school swimming
Length Certificate
Jacob Simpson and Ellie Moreton
Elementary Certificate
Liam Bates and Abbi Dunn
Proficiency
Jack Eaton, Charlie Bird, Raul Miah and Carley Jones
Swimming Challenge Gold Award
Kian Murphy
8. Homework
Class teachers log homework, which I know from the feedback from parents/carers coffee mornings and questionnaires is thought to be just the right amount.
Mrs Spiers reported that it is liked as it is in books clear and straightforward and consolidates previous learning.
Each half term we set a project involving research or making something for the new class topic and these will be set for the last 2 weeks.
To further reward children and families who have supported this, on Monday all the children who have completed homework and are up to date will be given a workbook and a box of Maltesers. This will further show the value of hard work to both the children and their families. Children who have not completed homework will of course not qualify.
9. Pantomime
On Friday afternoon all the school (except Y6 who are on their extra special Stanley Head PE day) will be treated to a performance of Mother Goose. This is especially aimed at our younger children but all the children always enjoy this free annual Christmas treat.
10. KS1 and KS2 Concerts and EY Nativity next week
Our concerts for KS1 (Y1 and Y2) and KS2 (Y3-Y6) take place at St John's church on Thursday 10th December. These visits are covered by the 'Short Visit Consent Form' that you signed in September
KS2 is at 9:30am at the church. The children will be walking there and back as we usually do (please make sure all children have waterproof coats on).
KS1 is at 2:00pm at the church. The children will walk to church as normal. If parents/carers so wish they can pick up children from the church afterwards.
Please come and support them. As Oliver Woodward from Y3M said in a piece of writing, "It would be kind to come, you might not but I would appreciate it if you would come. Please give me courage to do it." Archie Hambleton also wrote "I wish to invite you to our concert. We will be singing, playing the recorders and reading words." I think those invitations say it all.
11. Early Years Nativity
This is in school at 9:15am on Wednesday 9th December. We are now only doing one performance as that is enough for such young children. Family and friends are welcome to come along to watch.
Our part time children have been given 4 full days free on the 4th for the pantomime, 8th for the rehearsal, 9th for the Nativity performance and Thursday 17th December for party day. This is so they do not miss anything during this special time of year.
12. Reminders
This is the last week for swimming. Classes who swim need their PE kit in school next week as the lesson turns to PE for the last 2 weeks. Next term Y4, Y5/6 and Y6 are swimming.
This is the last week for after school clubs and lunch time clubs. New clubs for different groups of children will be organised next term. A few children whose behaviour has been a cause for concern at clubs will not be invited.
13. Complaints
I received a complaint from a resident, near the Lodge Road park, of children throwing stones that broke her window, she was sure it was one of our pupils which is unacceptable and criminal damage. I have heard enough whispers from Y6 to know that this did take place and caution parents/carers to know where their children are after school. We have such dark nights now and I think children should be at home under supervision.
14. Toys
Children are bringing in toys and key rings and attaching them to book bags. KS1 children have theirs put in boxes for reading and KS2 children need to put them under their desk along with lots of other books so it is making them too big. Perhaps we could have a key ring amnesty for January!
15. Christingle
We have a special Christingle Day on Wednesday 16th December and a service at 2:00pm in school which involves children in KS1 and KS2. It is always lovely and well supported, so once again please come along to this event.
16. Uniform
We have quite a few children in trainers, which is not part of our uniform, and they are not substantial for cold wet weather – I hope these children will be having school shoes as a Christmas present. A few children are coming in boots and wearing them during the day – these are not suitable for the movement we expect from our pupils and is against our uniform policy. Children may come to school in boots, but need to change into school shoes before registration.
17. Prefects
Well done to Orlando Heselwood and Lawrence Hilditch who have been made prefects this week.
18. Christmas Jumper Day
A couple of Y6 children have suggested this as a fund-raising idea so on Friday 11th December children can come in Christmas jumpers and Christmas tops for a 50p donation to the Douglas Macmillan Hospice.
19.Grandparents Christmas Dinner
This is on Friday 11th December, all time slots were given out last week to the youngest child in the family. If you have any queries regarding times then please contact the school office. Grandparents are also invited to join in our Christmas jumper day by donating 50p to Douglas Macmillan and will also have the opportunity throughout the meal to buy items and take part in some of the activities for the Christmas Fair.
20.Staff News
Mrs Copeland has retired from her position as school cook so we have a new Acting Cook in the school kitchen, Mrs Amison, and wish her well in her new role.
21. Attachments
City Catering Christmas Dinner Menu
22. Dates for your Diary

Friday 4th December
Y6 Stanley Head Visit ~ 9:00am-3:15pm
Friday 4th December
Whole School Pantomime ~ 1:30pm
Monday 7th December
Y3J Stanley Head Visit ~ 9:00am-3:15pm
Tuesday 8th December
PTFA Initial Meeting/Coffee Morning ~ 9:00am ~ in school
Tuesday 8th December
Y4-5 Crescent Football Festival ~ 12:45pm-3:45pm
Wednesday 9th December
Early Years Christmas Performance ~ 9:15am only
Wednesday 9th December
Y5-6 Crescent Football Festival ~ 12:45pm-3:45pm
Thursday 10th December
Christmas Concert ~ St John's Church
KS2 9:30am – KS1 2:00pm
Friday 11th December
Grandparents' & Pupils Christmas Dinner ~ times given out
Friday 11th December
Christmas Jumper Day ~ 50p donation
Friday 11th December
Christmas Craft and Gift Fair ~ 3:00pm – 4:30pm
Monday 14th December
Choir Visit to Cancer Unit ~ 1:15pm-2:45pm
Wednesday 16th December
Christingle Making Day ~ service in school at 2:00pm
Thursday 17th December
Party Day – Santa Visiting
Friday 18th December
End of Term
Monday 4th January
Term Starts
Tuesday 5th January
Y5 and Y5/6 New Vic Theatre ~ 1:30pm
Tuesday 5th January
Y2C Stanley Head Visit ~ 9:00am-3:15pm
Wednesday 6th January
Y1B Stanley Head Visit ~ 9:00am – 3:15pm
Thursday 7th January
Y1-2P Stanley Head Visit ~ 9:00am – 3:15pm
Wednesday 27th January
Y6 France Trip Departing
Friday 29th January
Y6 France Trip Returning
23.Celebration Assembly Dates
Friday 15th January
Y4E ~ Class Assembly ~ 9:05am ~ all welcome
Friday 12th February
Y3J ~ Class Assembly ~ 9:05am ~ all welcome
Friday 11th March
Y3M ~ Class Assembly ~ 9:05am ~ all welcome
Thursday 24th March
Y2C ~ Class Assembly ~ 9:05am ~ all welcome
Thursday 28th April
Y1-2P ~ Class Assembly ~ 9:05am ~ all welcome
Friday 20th May
Y1B ~ Class Assembly ~ 9:05am ~ all welcome
Friday 10th June
R1 and R2 ~ Class Assembly ~ 9:05am ~ all welcome
24. Celebration Assembly
Our children/classes who received awards on 26/11/15 were:
Lewis Craggs, Jenuka De Alwis, Zarra Jamil, Harsha Goru, Grace Wain, Anashe Mutize,
Fareedah Ibrahim, Ryan Bithell, Archie Hambleton, Evie Beech-Daly, all of 4-5M, Rusne Kaupyte, Aaron Marshall, Chloe Barlow and Delarni Fox
Challenge Award: Abbi Dunn
Time for Sport: Y6
Attendance Award: Lincoln Cotterill
Yours sincerely
Mrs P Bloor
Headteacher