Newsletter Autumn Term 13
Dear Parent/Carer
As the time seems to be galloping towards Christmas, the focus this week has been on making sure our Early Years Nativity, KS1 and KS2 concerts are all special and really put you in the mood to enjoy Christmas and all the magical times involved.
1. Class Of The Week
This is Y4E busy undertaking the guided reading that we teach every morning.
2. Stanley Head Visits
All the KS2 children (Y3-6) have had a wonderful PE activity day taking part in archery, team building and climbing. It also fits our heavy focus at St. John's about teaching the lifelong benefit of healthy lifestyles.
3. Sports Hall Athletics
The following children in Y5/6 represented the school at an after school competition last week; Stephanie Muyakha, Anet Yohannan, Rihanna Molyneux, Kenzi Shepherd-Moss, Jamie Paredes, Molly Hancox, Ellie Moreton, Lily Groves, Rusne Kaupyte, Jerome Juguilon, Alan Babu, George Barnett, Yashbir Bhullar, Harvey Tams, Oliver Williams, Keneth Bautista, Zara Khan, Soloman Johnson, Declan Matthews and Vishal Mathew.
Mr Walter and Miss Burgess were really pleased with their efforts and their exemplary behaviour. Very well done to this group!
4. Football Tournaments
Some of the Y3, Y4, Y5 and Y6 children team took part in 7-a-side tournament this week. The matches were played outside and the teams had some very good games.
5. Pantomime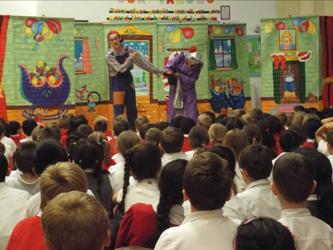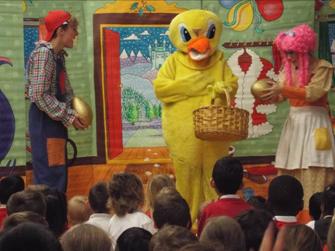 All the children had a great time watching Mother Goose. It was all very colourful and loud! As you know we like to give all the children at St John's some wonderful experiences.
6. Theatre Visits – Y5 and Y6
This has been organised at the New Vic Theatre on Tuesday 5th January to see Robin Hood, this is another free experience. It will help the children with their writing of accounts and play scripts.
7. French Residential Visit
Following a meeting last week the staff team are continuing with the planned visit to the Somme region at the end of January.
8. Grandparents Christmas Meal
This will be on Friday and all the meals have been ordered. I know it will be a great success and many of the staff team will be giving up their lunch time to ensure everything goes smoothly and everyone has a great time.
9. Christmas Jumper/Top Day
This has been organised by Y6 who are asking children to wear Christmas or seasonal tops on Friday 11th for a 50p donation to the Douglas Macmillan Hospice. Please support the children in this very thoughtful project.
10. Christmas Craft and Gift Fair
This is also on Friday from 3:00pm – 4:30pm. Please support this event, join us and come and buy some of the lovely Christmas gifts we have. All proceeds goes towards visits like the pantomime that we organise at no cost for your children. The hall will be open for browsing from 2:30pm.
11. Next Week Reminders
On Wednesday all the children will be having a Christingle making and RE day. This will finish with a Christingle service at school at 2:00pm. Parents/Carers are invited to attend and we shall be making a plate collection for the Children's Society which does great work looking after damaged and vulnerable families. Please bring some loose change with you.
12. Swimming Award
Well done to Erin Hill who gained her Beginners Certificate in swimming.
13. Party Day
This is on Thursday for all children from nursery to Y6. The staff have planned a fun packed day for all the classes. As usual we shall be providing the party food as a thank you to parents/carers for their fantastic support. Children can come in party clothes, but please make sure they are suitable to play outside in. We have decided to have the disco at no cost for families during party day, so it will now not be after school. The children will have a super fun and active party day.
14. Last Day
A reminder that we finish at 2:00pm on the last Friday so staff can pack away Christmas and prepare the rooms for the new term. Thank you for your support here.
15. St John's Christmas Card Competition
Well done to all who those that entered the competition, it has been decided that the winner is Casandra Martin from Y4-5M.
16. Fairtrade Picture Frame Design Competition
Design a picture frame that makes you think of Fairtrade and you can win a prize. Designs must be in the style of Burleigh in black and white. More information, including a template can be collected from the KS2 challenge tray and entries must be handed to Mrs Wolfe or be back in the challenge tray by 15th December. Good luck!!
17. Lates

Friday
15
Monday
11
Tuesday
7
Wednesday
22
Thursday
10
18. Class Values Champions
These have now been chosen and the children will receive a prize;

R1
Tala Alhussein and Jayden Fielding
R2
Caitlin Martin and Jayden Griffiths
1B
Jagoda Kulik and Isaac Williams
1-2P
Humaira Shakil and Hashim Mahmood
2C
Bethan Hill and Kevin Babu
3M
Rubina Mahnoor and Liam Davis
3J
Fareedah Ibrahim and Robert Brian
4E
Sedra Osman and Joel Sheldon
4-5M
Ethan Kidd and Kira Reilly
5-6W
Freya Knight and George Barnett
6H
Maria Xanthopoulou and Jack Eaton
19. Reminders
If you change your contact details please ensure that you collect a form from the stand outside the office and return it to school as soon as possible. We need accurate contact information to be able to contact parents/carers. Please also note that if we do try to contact you by phone that it will show as a private number calling.
20. Home School Link Worker Information
Christingle – collection candles will go home Friday 11th December for you to fill and return with any spare change.
Please send in a big orange on Monday 14th ready for the Wednesday Christingle making day.
21.Dates for your Diary

Friday 11th December
Grandparents' & Pupils Christmas Dinner ~ times given out
Friday 11th December
Christmas Jumper/Top Day ~ 50p donation
Friday 11th December
Christmas Craft and Gift Fair ~ 3:00pm – 4:30pm
Monday 14th December
Choir Visit to Cancer Unit ~ 1:15pm-2:45pm
Wednesday 16th December
Christingle Making Day ~ service in school at 2:00pm
Thursday 17th December
Party Day – Santa Visiting
Friday 18th December
End of Term – finish at 2:00pm
Monday 4th January
Term Starts
Tuesday 5th January
Y5 and Y5/6 New Vic Theatre ~ 1:30pm
Tuesday 5th January
Y2C Stanley Head Visit ~ 9:00am-3:15pm
Wednesday 6th January
Y1B Stanley Head Visit ~ 9:00am – 3:15pm
Thursday 7th January
Y1-2P Stanley Head Visit ~ 9:00am – 3:15pm
Wednesday 27th January
Y6 France Trip Departing
Friday 29th January
Y6 France Trip Returning
Celebration Assembly Dates

Friday 15th January
Y4E ~ Class Assembly ~ 9:05am ~ all welcome
Friday 12th February
Y3J ~ Class Assembly ~ 9:05am ~ all welcome
Friday 11th March
Y3M ~ Class Assembly ~ 9:05am ~ all welcome
Thursday 24th March
Y2C ~ Class Assembly ~ 9:05am ~ all welcome
Thursday 28th April
Y1-2P ~ Class Assembly ~ 9:05am ~ all welcome
Friday 20th May
Y1B ~ Class Assembly ~ 9:05am ~ all welcome
Friday 10th June
R1 and R2 ~ Class Assembly ~ 9:05am ~ all welcome
22.Celebration Assembly
Awards given out for data collected w/b 23/11/15:
Class Attendance: 1-2P – 97.4%
Whole School Attendance: 95.0% (Government target is 95%)
Pupil Attendance Awards: Archie Hambleton and Alyssa Stanley
Attendance Award: Oliver Woodward
Lunchtime Supervisor's Award: Dania Mousa and Tyler Hodkinson
Time for Sport: Y1-2P
Yours sincerely
Mrs P Bloor
Headteacher