Newsletter Autumn Term 14
Dear Parent/Carer
As we finish for Christmas, it does not seem two minutes since the start of term. We have had an excellent term and all the children have moved forwards in their learning and with greater self- esteem and confidence.
1. Class Of The Week Y4-5M

Busy in the ICT room writing an evaluation on their topic of WW2.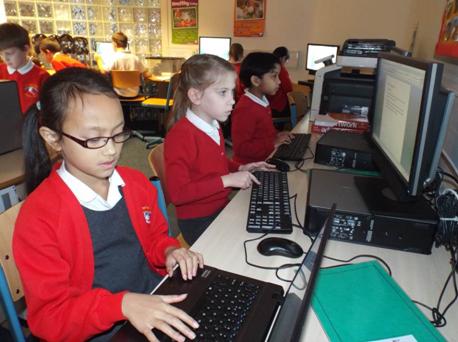 2. Christmas Activities In School
We had a lovely nativity and two super concerts last week. We are so proud at St. John's that every single child is involved and the children all enjoy the concerts so much. Your support of our school is exceptional.
The heavy rain on Tuesday meant walking to the service at St John's Church would have been difficult, so I took the decision to hire a coach from our usual company, at a cost to the school of £180. We had to make four journeys for KS2 and the children were fantastic whilst waiting. Although an hour late (there had been a fatality in Kidsgrove) which held it up, it went ahead as planned and all the children were brilliant. As Miss Mazzei said only a minor hitch, when compared to schools in Cumbria who were flooded recently.
3. Grandparent's Christmas Meal
This was thoroughly enjoyed by all who attended and is another well-established tradition here at St. John's. All the staff worked really hard to make it successful and Mrs Amison and her team of chefs deserve great credit for their 'master chef' meal.
4. Christmas Jumper Day
This idea from Y6 pupils raised £102.61 for the Douglas Macmillan Hospice. Thank you for your support.
5. Christmas Service At St John's

Very well done to Holly Chatterton, Sam Cole, Orlando Heselwood, Georgia Piesse-Mills, Laynee Tunicliffe, Eleanor Williams and Eliza Williams who took part in the service on Sunday. The children were highly complimented by the congregation for their maturity and enthusiasm.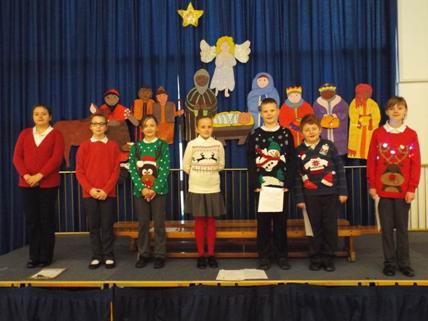 6. Christmas Craft and Gift Fair
Thank you to all who attended and supported this event to raise funds to spend on the children. It was a great success and raised over £600 for school funds.

7. Safeguarding
Safeguarding children is everyone's responsibility and if you are worried about a child please go onto the Stoke on Trent Safeguarding website www.safeguardingchildren.stoke.gov.uk. We need to be sure that all our children and young people are safe from abuse.
The Board's priority is the 'Toxic Trio' domestic abuse, drugs and alcohol misuse. We have children who suffer and are suffering at St. John's as a result of these, most of which are lifestyle choices.
8. E-Safety
This week all the classes have had a lesson on e-safety and how to keep safe whilst on line.
9. Christingle RE Day
This has been today and is a great tradition of the school. The service supported by Reverend Chris Rushton is always well supported and we make a plate collection for the Children's Society who look after vulnerable families throughout the year. Thank you to Mrs Barrow who brilliantly organised the event and for all your support.
10. Attendance/Lates
Out attendance this term has been 96% which is a great improvement. Thank you for your support. Any holidays in term time are not approved and involve the Education Welfare Officer. A couple of families have been recently been given penalty notices that could result in a fine for poor attendance, which is breaking the law. All absences are unauthorised, unless you inform the school as to why you child is off. Our dip in results in KS2 last year, which was just our writing, involved 4 children who did not make expected progress as their families did not and could not be bothered to send them into school regularly.
We have new punctuality targets of no more than 3 'lates' in half a term. Punctuality is in our attendance policy and is classed as seriously as attendance.
11. Lates

Friday
12
Monday
12
Tuesday
7
Wednesday
17
12. Silver Behaviour Awards
These were given out with a Silver Award rubber on Monday to all our children whose behaviour is exemplary. It was 95% of our children which is a great compliment to parents/carers. Early Years staff are giving certificates today to all their well-behaved children. Some children who are further behind got their Bronze Award as well.
13. PE Kits
We have given each child a colour coded PE bag, so there is a different one for each class. It has helped us track kits left out and keep the cloakroom clear. I know parents/carers have thought it a great idea.
As kits go home please can we ask for them to be sent in on the first day back in January? We always text parents/carers as a reminder but some will still not be sent back. R1, Y2, Y3 and Y4/5 have PE on the first day back and our policy is to train and encourage children to be responsible so any without their kit will have a detention. It would be great as well if all kits are checked for names when they are given a wash and black pumps, which are the only indoor shoes that can be worn in the hall, are checked for size as well. Thank you so much for your help.
14. Party Day
This is tomorrow and all the food, prizes and drinks will be provided by the school as a thank you for your great support. The children will be having a disco during the day and fun party games. Children can come in their own clothes, but need to be able to go out to play at lunchtime and move safely for party games. It will be a fun day for them.
All children who have received red cards and lots of yellow cards, or whose behaviour at the concerts let themselves down will be meeting myself and Mrs Ramsden at the start of the day and will miss some party time as their behaviour affects others. We will be talking about what changes can be made. Thankfully it is only about 15 children and the other 300 will start their party day in style.
Mrs Ramsden will be speaking with those children who regularly arrive late and they will be late for the party, which seems fitting.
15. Staff News
Miss Khan leaves us at the end of term to start a new job. We thank her for all her hard work with the children at St. John's and wish her all the best for the future.
Mr Heywood also leaves having been poorly for some time and we also thank him for his efforts and send our best wishes for the future.
16. Last Day
On Friday children will be in school uniform for our final assembly and attendance awards of the year. We are having the corridor painted, so need the children to be collected at 2:00pm so we can move furniture.
17. Home School Link Worker Information
On Monday a group went and sang at the Cancer Unit at the Royal Stoke Hospital. This is very much appreciated by the patients and staff. A big well done and thank you to Nancy Doward, Carly Bithell, Angel Evans, Chloe Barlow, Molly Hancox, Ranudi Premadasa, Claudie Polhosova, Nela Polhosova, Rihanna Molyneux, Nicole Steele, Kenzi-Shepherd Moss, Keira Wheildon, Anet Yohannan, Brodie Sinclaire, India Vickers and Isabelle Westwood.
I hope everyone has a very happy Christmas and a peaceful new year!
18. Dates for your Diary

Thursday 17th December
Party Day – Santa Visiting
Friday 18th December
End of Term – 2:00pm finish
Monday 4th January
Term Starts
Tuesday 5th January
Y5 and Y5/6 New Vic Theatre ~ 1:30pm
Tuesday 5th January
Y2C Stanley Head Visit ~ 9:00am-3:15pm
Wednesday 6th January
Y1B Stanley Head Visit ~ 9:00am – 3:15pm
Thursday 7th January
Y1-2P Stanley Head Visit ~ 9:00am – 3:15pm
Wednesday 27th January
Y6 France Trip Departing
Friday 29th January
Y6 France Trip Returning
Celebration Assembly Dates

Friday 15th January
Y4E ~ Class Assembly ~ 9:05am ~ all welcome
Friday 12th February
Y3J ~ Class Assembly ~ 9:05am ~ all welcome
Friday 11th March
Y3M ~ Class Assembly ~ 9:05am ~ all welcome
Thursday 24th March
Y2C ~ Class Assembly ~ 9:05am ~ all welcome
Thursday 28th April
Y1-2P ~ Class Assembly ~ 9:05am ~ all welcome
Friday 20th May
Y1B ~ Class Assembly ~ 9:05am ~ all welcome
Friday 10th June
R1 and R2 ~ Class Assembly ~ 9:05am ~ all welcome
Finally, on behalf of all the staff teams may we wish you a happy Christmas with your families at this special time. It can be an unhappy time for some, but I hope you find comfort as you join in with family, friends and neighbours.
Your support as usual has been fantastic and the children at St John's are always complimented on by visitors for their lovely manners and vitality. We clearly make a great team!
On your behalf I give grateful thanks for my outstanding staff teams, who always go the extra mile for your children and hope they too have a joyous and restful Christmas.
Happy New Year to you all.
Yours sincerely
Mrs P Bloor
Headteacher