Newsletter Autumn Term 2
Dear Parent/Carer
We have had a lovely learning week in school and have welcomed our nursery pupils who have started this week and their families. All the children look lovely and smart so thank you.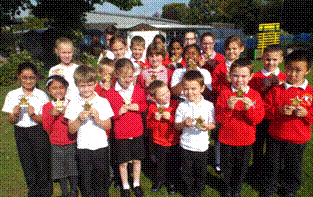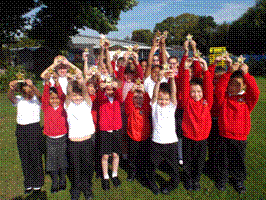 1.Attendance Award
Very well done to all these children who were presented with trophies for 100% attendance last year. We are very proud of you!
The Parent/Carer Policy Pack has been sent out today. This is so you are really informed about what we do and our practices and how you can help in our joint responsibility for your child/children's education. All of our policies can be found on the school website www.stjohns.stoke.sch.uk
2.School Routines (for our new families)
All the children in KS1 and KS2 have a named water bottle. This is filled every day and sterilised each week. Early Years have access all day to milk and water. Mrs Barnes in the office told me not only must she buy her children a water bottle at their school but she has to fill it with water before school every day! At St John's we do like to look after our families. We also provide extra free fruit for our juniors as well.
3.Staff News
Mrs Clarke leaves this week to await the birth of her baby. Mrs Morgan, an experienced teacher has been in R2 all week and will cover Mrs Clarkes maternity leave. Three members of staff: Mrs Mills-Farmer, Mrs Morgan and Mrs Shaw completed their Paediatric First Aid course the first week, which means we have 9 trained in Paediatric First Aid and 16 First Aid at Work qualified which means our first aid provision is excellent.
4.Sweets and Drinks on School Premises
We have asked that families do not give children sweets or drinks at the end of the school day. We are teaching your children about healthy lifestyles and want to look after their teeth. We do not give any sweets out for birthdays. Staff are too busy and we ask that you rather send in a book for the staff to read to the class. Thank you for your support with this.
5.Reception Dinners
Very well done to R1 and R2 who have had their lunch in the school hall on their own this week for the first time. The staff are really pleased with them and it is lovely to see them enjoying their food and chatting.
6.Swimming
We buy extra swimming lessons for our children from our school budget and PE funding to enable them to learn to swim and become competent, which is a crucial life skill. This term 6H, 5-6W and 4-5M are swimming. Next term it will be 6H and 5-6W (so able swimmers can complete the higher awards than Y4). Then it will be in the summer 3J, 3M and 4-5M. It starts next week for the top 3 classes, we let parents/carers know in plenty of time to get a swim kit sorted.
7.After School Clubs
Letters have gone out to Y2-Y6 pupils who have been targeted for this term (other year groups will be prioritised next term) although some clubs have specific funding streams so children are invited. We now have to have 2 staff for sports clubs to protect staff following a parent's malicious allegation last year, so we have less after school but more at lunch time. We are also holding an Active Families course with Time For Sport, which Mrs Ramsden is organising.
A few parents/carers have complained that there is not enough clubs, but they are run for free, and are in addition to our core purposes of delivering the National Curriculum in classes of 30, marking and doing extra reading when parents/carers don't do it at home which sadly happens in some families. Last year in the end of KS2 SATS for reading, spelling and grammar and maths we were above National Standards which is a testament to the hard work and ability of the staff team. Four years ago I was invited to 10 Downing Street to meet the then Prime Minister as we were one of the 100 most improved schools in the country!
**Please note that there was a typing error on the Taekwondo letter, this club starts on Friday 25th September**
8.PE
Last year the school passed the Silver Award for School Sport for all the competitions in school and PE that we do. Last week the children all had a fitness test where they were scored from 1 star to 4 stars (the best). Some of the children who did not do so well will be given extra activities at lunch time. I know all parents/carers would want their child to be as healthy as possible and all children took part as we are a very inclusive school. Please be aware that no child is allowed to do PE with jewellery on.
9. Letter from Mrs Xanthopoulou – Regarding Childhood Cancer Awareness
September is globally recognised as Childhood Cancer Awareness Month and is symbolised by a gold ribbon. There are 10 children every day in the UK diagnosed with cancer yet they receive less than 4% of Cancer Research's annual donations.
Maria and her mum are currently supporting CCLG (Children's Cancer and Leukaemia Group) by raising awareness/donations through CCLG leaflets, bracelets and pens – the sale of which all helps towards the research. These can be purchased at the school office, please see Maria in Y6 for more information.
The gold ribbon pin badges can be purchased at various places including Wallis, Wetherspoons and online at CCLG, Clic Sargent and Children with Cancer UK.
# Go Gold this September to help increase Childhood Cancer Awareness.
10. Parent/Carer Form
Thank you for sending these back and I urge those who have not done so to complete them as soon as possible to help the staff. Can you please check we have the right contact number as we were unable to contact a parent this week regarding a medical issue. Our phone system does show 'private number' when we ring out but I know as parents/carers you would always want us to be able to contact you so please bear this in mind.
11.School Uniform
There has been a lot in the news about the high cost of school uniform.
At St. John's we keep our uniform very simple with family budgets in mind. All our required uniform can be purchased at supermarkets. Mrs Beech-Daly, one of our teaching assistants who has a pupil in our Y4 informed me she purchased a skirt for £4.00, a polo-shirt for £3.00, cardigan for £4.00, PE kit- top, shorts and pumps for £6.00 and school shoes for £10 and this was the cost of her one weeks child benefit of £20.70 a week and £5 of the next weeks. This must be a great help to families compared to the cost of uniform 20 years ago!
All children need a school book bag only as these are the right size for letters homework etc and fit in the desks reading boxes. There are some children who have got unsuitable bags in Y1 and Y3. Please purchase one from the office. Some pupils in Y6 last year had the same book bag for 7 years so they do last!
12.Target Sharing Open Evenings
These will take place on Tuesday 29th September and Wednesday 30th September at 3:15-5.15pm.
**Click here for a printable version of the letter, please complete and return by Wednesday 23rd**
13. Home School Link Worker Information
Asthma – If your child was sent a Staffordshire & Stoke-on-Trent Partnership Asthma Review form please send it back asap. This is so I can send out care plans for you to sign which are placed in the class rooms. Inhalers and spacers must be in school at all times which is parents/carers responsibility. If your child is diagnosed with asthma then please come to see me, Mrs Ramsden.
This year we are again joining in the World's Biggest Coffee Morning for Macmillan Cancer Support. It takes place on Friday 25th September 9.00am-10.00am in the community room. It's a chance to come for an informal natter and have a drink and a cake – for a donation. Please feel free to bring family and friends along to this worthwhile cause.
14. Dates for your Diary
Friday 25th September
World Biggest Coffee Morning ~ 9:00am ~ all welcome
Wednesday 29th September
Target Sharing Open Evening ~ 3.15pm-5.15pm by appointment
Thursday 30th September
Target Sharing Open Evening ~ 3.15pm-5.15pm by appointment
Thursday 8th October
Tempest Individual/Family Photos ~ more information to follow
Friday 23rd October
End of Term
Monday 2nd November
Term Starts
Yours sincerely
Mrs P Bloor
Headteacher