Newsletter Autumn Term 3
Dear Parent/Carer
It has been lovely to note how well all the children are getting used to new routines and classes. We have had a very happy atmosphere in school this week.
1. Our Talking Topic
This week we have been thinking about 'food' and how we must feed our mind with good thoughts and always try to be grateful to God for the many gifts we have.
2. Our Value
Every week we work on a value and take the theme into classes to talk to children. This week we have been focussing on 'honesty' which is so important. These values are really beginning to impact in the school. Very well done to Maria Xanthopoulou, William Cooper, Ellie Moreton, Jenson Nguyen, Ian Qiu, Angelina Abraham and Delin Negeem who have been extra responsible this week.
3. Y6 Responsibilities
These were chosen by senior staff last week and this was a really hard task, as we have a very good Y6 group. All children have a job to help us with the efficient running of the school. Other Y6 children can earn the right to be a prefect throughout the year.
Head Boy:
Jack Eaton
Deputy Head Boy:
Ismail Saygili
Head Girl:
Holly Chatterton
Deputy Head Girl:
Ilana Stevenson
Prefects: Charlie Bird, William Cooper, Jake Bamford, Jakub Jedrzejczyk, Natalia Kulik,
Aaron Marshall, Raul-Yasin Miah, Sneha Miah, Liam Bates, Maria Xanthopoulou, Chad Varquez and Laynee Tunnicliffe.
Assembly Team: Liam Bates, Tobias Connor, William Cooper and Maria Xanthopoulou.
Sports Leaders: Kian Murphy, Aaron Marshall and Jacob Simpson
Recycling Monitors: Sam Cole, Kieran Tonks and Claudia Polhosova
Anti-bullying Ambassadors: Natalia Kulik and Anthony Evans
School Council:
School Council Chair: Chad Varquez
School Council Secretary: Laynee Tunnicliffe
School Council Y6 Rep: Nicole Steele
Eco Council Leaders:
Charlie Bird, Isabelle Westwood and Carley Jones
ICT Leaders:
Orlando Heselwood and Lawrence Hilditch
Y5/6 Class Captain:
Eleanor Williams
Corridor Lunchtime Monitors:
Georgia Piesse-Mills, Jasmin Dhillon and Palveen Dhillon
Office Team:
Kyra-Mae Phillips, Laynee Tunnicliffe and Sneha Miah
Water Bottle Monitor:
Theo Molyneux
4. Late marks this Week
Monday – 8
Tuesday – 3
Wednesday – 6
Thursday – 9
5. Good Attendance Reward Visits Y2 to Y6
All the children who have been here since last September and have achieved 95% attendance and no more than 4 lates, are being treated to a visit to Trentham Gardens for younger children or Awesome Walls for the older children. Letters have been sent out. This free visit paid from the school budget is also a reward for families who support the school as good attendance is linked to attainment. Raising attendance is the main Ofsted issue. This is a great achievement and we are so proud there are so many receiving this reward.
The next reward visit will only apply to those with good attendance and punctuality, as staff are complaining that their teaching is being interrupted. It is important to start good habits for life when children are young. The EWO is looking at fining families who take holidays in term time and they are not being offered after school clubs as we want to reward our supportive families.
6. School Coats
Please could families check that school coats are named and spare jumpers also are labelled. We need a proper coat for the cold weather as children go out whenever we can at break and lunchtimes. We do not want younger children wearing play suits, as they might assume the role of the character and injure themselves.
7.Harvest Appeal
Our harvest appeal this term, chosen by Mrs Ramsden and some of our pupils, is for the food bank and the St Mark's Shelter looking after the homeless, where one of the staff volunteer. We shall be collecting tins and groceries and new men's socks for the next two weeks. Harvest is a time when we can all think about those who do not have a roof over their head and who go hungry. Parents/Carers are always very generous for our charity donations.
8.Target Sharing Open Evening
Letters have gone out for appointments and this is on Tuesday 29th September and Wednesday 30th September, next week. Nursery parents/carers who have just had home visits will be later on Tuesday 20th October at 3:15pm-4:30pm, staff are looking forward to sharing targets with you and hearing any concerns.
9. Reception Lunch Times
Well done to the children who are doing so well carrying their tray, talking to the catering staff and eating so sensibly! They have all had a great start to the year.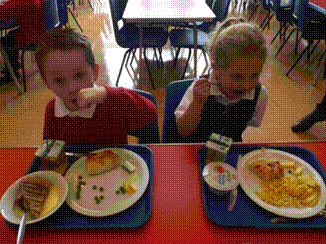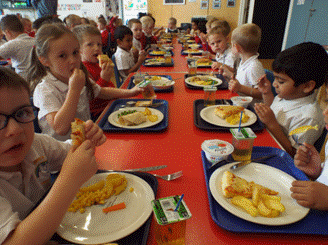 10. City Catering Theme Day – Thursday 1st October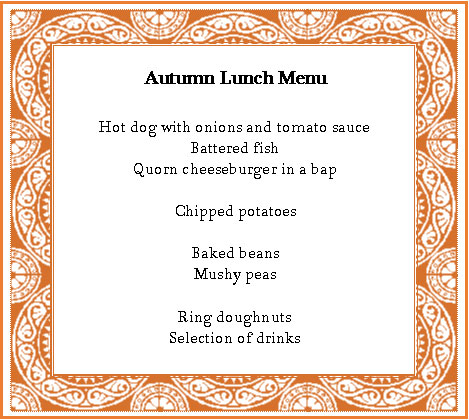 11. Home School Link Worker Information
Tomorrow we are taking part in the World's Biggest Coffee Morning (which I am sure you have seen advertised on the TV) in the community room at 9:00am – 10:00am. This is to raise money for MacMillan Cancer Support which we all know is a worthwhile charity. Please bring along friends and family for a fun morning of chat, tea, coffee and plenty of cake!! This year instead of asking for £1 we are asking for donations.
We have had a number of parents/carers concerned with the bad language they are hearing as they are coming into school, on the yard and also going home. Please be considerate to others and remember children pick up what they hear!
12. Celebration Assembly
Our children/classes who received awards on 18/09/15 were:
Esa Haq, all of 1-2P, Bethan Hill, all of 3J and 3M, Sedra Osman, Eleanor Williams,
Georgia Piesse-Mills and William Cooper.
Mrs Bloor's Award: Claudie Polhosova
Dusty Bin (tidy classroom): 3J
Smart School Uniform: Tyler Conway
Lunchtime Supervisor's Award: 4E
Pupil Attendance Award: Kieran Tonks and Laynee Tunnicliffe
13. Dates for your Diary

Friday 25th September
World Biggest Coffee Morning ~ 9:00am ~ all welcome
Tuesday 29th September
Target Sharing Open Evening ~ 3.15pm-5.15pm by appointment
Wednesday 30th September
Target Sharing Open Evening ~ 3.15pm-5.15pm by appointment
Thursday 1st October
Trentham Attendance Visit~ 2:30pm-5:00pm ~ selected pupils
Friday 2nd October
Awesome Walls Attendance Visit ~ 2:30-5:00pm ~ selected pupils
Thursday 8th October
Tempest Individual/Family Photos ~ Families from 8:15am
Thursday 8th October
Awesome Walls Attendance Visit ~ 2:30-5:00pm ~ selected pupils
Tuesday 20th October
Nursery Target Sharing Evening ~ 3:15pm-4:30pm
Thursday 22nd October
Good Behaviour Disco ~ 3:00pm ~ more information will follow
Friday 23rd October
End of Term
Monday 2nd November
Term Starts
Yours sincerely
Mrs P Bloor
Headteacher