Newsletter Autumn Term 4
Dear Parent/Carer
We have had a lovely, busy learning week and the children told me in assembly that they all felt happy and safe which are very important before learning can begin.
1. Our Talking Topic
This week we have been thinking about 'friendship' and how we have opportunities every day to show kindness to others. The children were told the story of the Good Samaritan and reflected on how we should treat our friends and neighbours.
2. Our Value
This has been 'kindness' and is immersed in our Christian value this term of 'love'. Very well done to Chloe Steele, Riley Tams, Elliot Pye, Sasha Steele, Aeisha Hashemi, Rhys Woolliscroft, Kane Silvester, Aiden Johnson, Amin Miah, Kenzi Shepherd-Moss and Tobias Connor who have all been seen showing kindness at lunchtime. What lovely children we have here at St. Johns.
3. After School Clubs
This week's photo is of the Crazy Crafts Club taken by Mrs Barrow on a Monday. They were completing name designs based on different art styles. All the budding artists seemed to be having a lovely time.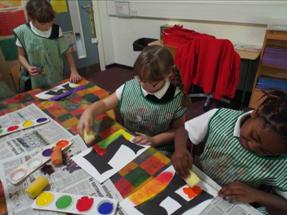 4. Lunchtime Clubs
Mrs Smith, the maths coach who works with some older pupils, is taking a "Level 6 Club" for able mathematicians on Friday. The children are enjoying being challenged. Well done to Liam Bates, Chad Varquez, Jacob Jedrzejczyk, Georgia Piesse-Mills and Laynee Tunnicliffe.
5. Nits
In school we insist that all long hair is tied back to try to combat nits from spreading but regularly checking your child's hair with a nit comb is also recommended! If you discover nits in your child's hair then contact your GP or local pharmacy, some areas will give you free lice treatments over the counter, please follow treatment guidelines carefully. If we discover nits are evident here at school you will receive a text message so that you can begin a thorough check of your child/children.
6. Parents Parking
Unfortunately, there has been another case of a thoughtless parent/carer nearly driving into a parent/carer with a pushchair this week. This follows an incident last term when an ex-parent was injured and had to receive hospital treatment through thoughtless parking and driving. We have lots of hospital workers parking on the roads near us and if the many parents/carers who live nearby walked here the roads would be less congested and safer.
The speed limit is 5MPH on the school site to protect your children. Any parent/carer putting children in danger will be stopped from driving on school premises, as happened a few years ago.
We do a lot of work in school for sustainable travel and the school recently was awarded the Gold Standard by Modeshift Stars for its successful work on road safety, which some Y6 pupils will be receiving for the school later. St John's has been nominated for a National Award for Road Safety and has reduced the number of children using cars by 22%. Very well done to all these safety conscious families. We are putting cones out in Wheatly Avenue following suggestions by parents/carers as it illegal to park there from 8:30am -9:30am and 3:00pm – 4:00pm. The parking enforcement officer is also due a visit here.
7. School Council
The following have been elected by their classes. Very well done to;
Laynee Tunnicliffe and Chad Varquez for 6H
Nicole Steel and Harvey Tams for 5-6W
India Vickers and Zagros Negeem for 4-5M
Evie Beech-Daly and Lennon Gladwin for 4E
Emily Rains and Oliver Woodward for 3M
Tyler Barlow and Amber Louise-Gregory for 3J
Bethan Hill and Landon Coates for 2C
Pia Cousins for 1-2P
The group will be meeting later this week to work on their first project.
8. Attendance
As we look forward to another successful and exciting school year I would like to emphasise the importance of good attendance. If a pupil is not in school they are missing vital learning. All the children with 95% or better have been rewarded with an after school visit, taking place over the next 2 weeks.
90% in a SATs test is very good but for attendance it means missing the equivalent of 20 days a year. This school year the Government is changing the threshold for persistent absence from 85% to 90%. This means that schools will be monitoring pupils who are not achieving an overall attendance of at least 95%. For any pupil whose attendance drops below 90% we are no longer allowed to authorise further absence through illness without the school receiving medical evidence such as a doctor's letter etc.
9. Punctuality
Being late to school can have a considerable impact over a whole year. The information below shows you just how much time can be missed over a year by being 5 minutes late.

5 minutes late every day
= 3 days of school lost a year
10 minutes late every day
= 6.5 days of school lost a year
15 minutes late
= 10 days of school lost a year
20 minutes late
= 13 days of school lost a year
Mornings can be very hectic for families but when a child is late they are missing vital learning and their teaching of reading. Doors open at 8:45am and registration is completed by 9:00am. Children arriving after that are recorded as late. If a child arrives after 9:20am it could impact on their attendance figures as an unauthorised absence.
Lates this week
Friday – 0
Monday – 9
Tuesday – 11
Wednesday – 3
Thursday – 7
10. Pupil Progress
As part of the reforms to the new curriculum introduced in September 2014, the current system of assessment of levels used to report children's attainment and progress is no longer in use. The new KS1 and KS2 tests (Y2 and Y6) in English and Mathematics will be sat during the summer term 2016. To enable us to track progress the school has adopted a new 'Stoke Reads, Stoke Writes and Stoke Counts' assessment system, which as a school we look forward to implementing.
The KS2 tests will be reported to parents/carers on a scaled score rather than the old levels or sub levels. The government has stated that there will be a higher expected standard for pupils roughly equivalent to the old 4B. So, it is more important than ever that parents/carers hear the children read daily, test the children on their tables and check on their homework. Our academic data is on the website from last year and shows wonderful progress and achievements. The Y6 meeting will be arranged shortly when we have all the information.

Texting
You may already have received several texts or messages from school with reminders/messages. If you have not received them it could be because your contact details have changed. So please let the office know and we will try our best to get it sorted for you.

New routines for our smart children
The children have all arrived back looking very smart and have settled into new routines. We welcomed your help in settling the children in at KS1 (Y1 and Y2) but want them to become more independent now and say good bye to you at the doors. Due to our safeguarding priority parents/carers are not allowed into the school building. Early Years families are welcome to come in until 9:00am to help the children start their learning day.

11. Tempest Photography
On Thursday 8th there will be individual/family group photographs taken throughout the day. Families with pre-school aged children who would like them photographed with their older siblings are asked to arrive at school earlier as these photographs will be taken between 8:15am and 8:50am.
Throughout the day those children with siblings in the school will be collected from their classrooms by Miss Burgess and photographed together and then later each child will be photographed individually. All order forms will be sent out with the eldest child.
12.Home School Link Worker Information
Reminder – if your child is ill please remember to call school to let us know why. You select option 1 and leave a message which we pick up and a record is made. If we do not know why your child is absent they receive an unauthorised mark. This means your child's percentage attendance drops and we involve the Education Welfare Officer when necessary.
Thank you to all those who attended the 'World's Biggest Coffee Morning' last Friday. We raised £88.46. A special thank you goes to Hashim Mehmood in 1-2P. It was his birthday on the same day and he donated some of his birthday money. Well done and thank you Hashim!
Stoke Speaks Out gives plenty of help and tips on speech and communication. Please look at their Facebook page (facebook.com/stokespeaksout) to see how you can develop your child's language skills.
13.Dates for your Diary

Friday 2nd October
Awesome Walls Attendance Visit ~ 2:30-5:00pm ~ selected pupils
Thursday 8th October
Tempest Individual/Family Photos ~ ongoing throughout the day (Family groups with pre-school siblings ONLY 8:15am-8:50am)
Thursday 8th October
Awesome Walls Attendance Visit ~ 2:30-5:00pm ~ selected pupils
Tuesday 20th October
Nursery Target Sharing Evening ~ 3:15pm-4:30pm
Thursday 22nd October
Good Behaviour Disco ~ 3:00pm ~ more information will follow
Friday 23rd October
End of Term
Monday 2nd November
Term Starts
Celebration Assembly
Our children/classes who received awards on 25/09/15 were:
All of nursery, Maira Mashonganyika, Jayden Griffiths, Anannya Sinilraj, Oliver Brereton-Lewis, Landon Coates, Oliver Woodward, William Kidd, Ella Curzon and Orlando Heselwood.
Mrs Bloor's Award: Isabelle Westwood
Dusty Bin (tidy classroom): Y6
Smart School Uniform: Ellie Ruane and Orlando Heselwood
Lunchtime Supervisor's Award: 3J
Time for Sport: Y6
Lunch Time Award: Erin Hill and Bethany Morrey
Awards given out for data collected w/b 14/09/15:
Class Attendance: 1-2P and Y6 – 100%
Whole School Attendance: 96.8% (Government target is 95%)
Pupil Attendance Awards: Eleanor Williams and Rihanna Molyneux
Yours sincerely
Mrs P Bloor
Headteacher