Newsletter Autumn Term 5
Dear Parent/Carer
It was lovely for the staff to see so many parents/carers last week and share achievements and targets. All the children have settled into their classes really well and there is a lovely learning atmosphere around school, which you have noted in the questionnaire, the results of which will be cascaded next week.
1.Our Talking Topic
This week we have been thinking about 'Harvest' and have been collecting for the food bank and the St Mark's Homeless Hostel in Stoke. We talked about how we have a rainbow of colour of so many fruits and vegetables that we have and are so good for us. Thank you so much for your contributions.
2.Our Value
This week we have been thinking about 'respect' and how it is a value for life.
Very well done to Joshua Webster, Elliot Pye, Robyn Whieldon, Theodore Pinto, Lina Al Hussein, Maria Xanthopoulou, Casandra Martin and Rubina Mahnoor who have impressed us, especially this week.
3.Class of the Week
Here is Y1-2P working on maths this week.
4.School Swimming
The emphasis on school swimming is primarily learning to swim and there is a high focus on being safe as school staff reinforce learning about the dangers of water. Goggles are only allowed to be worn for a medical reason as children do not regularly go around wearing goggles and sadly, every year there are child deaths in water when they are not being worn. City Swimming are working to phase out their use so Mrs Barrow was told this week.
5.Attendance Rewards Visits
Two were held last week and the last one is today for children who had a whole year of 95% or better attendance. All the visits were thoroughly enjoyed by the children and rewarded parents who have supported.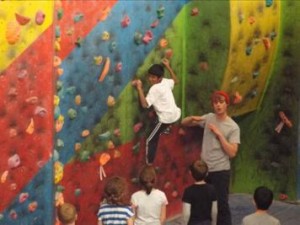 6.Lates this Week
Friday
10
Monday
11
Tuesday
4
Wednesday
14
Thursday
10
We have purchased alarm clocks, if needed, to help families arrive on time. The children who arrive late are missing vital learning and class teachers have complained to me about interruptions and having to waste learning time.
7.Eco Council
The school Eco Council have been selected for this year and are listed below
6H
Charlie Bird and Isabelle Westwood
5-6W
Carley Jones and George Barnett
4-5M
Luke Brian and Carly Bithell
4E
Lily-May Barlow and Ben Morris
3J
Lincoln Cotterill and Eve Tams
3M
Tyler Conway and Isabelle Godwin
2C
Alfie Hambleton and Holly Barnett
1-2P
Alex Ballard-O'Shea and Humaira Shakil
1B
Mason Kidd and Ayse Gurses
8.Outdoor Coats
We like children to go out at lunchtime if at all possible and sometimes in light drizzle if it is still fine enough, but children need coats and some KS2 children just have tracksuit tops at the moment and have to stay in with the little ones as we cannot send children out without a coat. Unfortunately the weather is getting colder so please dust off those winter coats.
9.Parent Demonstration Lessons
We are starting these again which we know are very popular with phonics. This week it will be
Y1-2 from 9:05am – 9:25am, next week it will be Y2 then reception classes and nursery.
10.Homework
Following a staff questionnaire recently, the staff wanted me to remind parents/carers how important homework was and the fact we follow Government guidelines. Please help us to improve your child's learning by ensuring it is done. We do have 20 minutes catch up club at lunch time for homework and lates, but children miss playing out and this does not happen at high school, it is a straight 1 hour detention. There will be reward shortly for those who have these good habits.
11.Childhood Cancer Awareness
Thank you to everybody who supported this cause and purchased various items from
Maria Xanthopoulou, we raised £88.02 so very well done!
12.MacMillan Coffee Morning
Very well done we raised £90, thank you for your support, here are some of our parents/carers enjoying a drink, cake and a chat.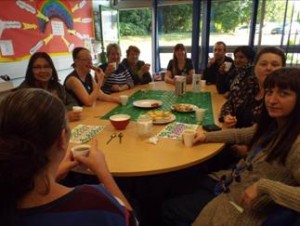 13.Calculation Policies
So you know how maths is taught we are sending out a policy for the next 4 weeks. Enclosed this week is the Addition Policy which we hope you find useful.
14.Cars on Site
Can I remind parents/carers we are the only City School that allow cars on site in the morning to help punctuality – if our school rules are obeyed. Cars have been reported this week driving too fast near to children and a black BMW impatiently and rudely drove across our grass. Let's hope no-one drives across their garden! Please note the registration numbers and report to us so we can stop these thoughtless individuals.
15.Head lice
Unfortunately we have had an outbreak in Y5/6. Please can all parents/carers check their children's hair. This is why we insist all long hair is tied back. One or two children have appeared with shaved/gelled hair, which is against our uniform policy that parents/carers have signed. We do use uniform standards as a criteria to pick children to represent the school and ask for your support here.
16.Summer Writing Competition
Here we have some of our KS1 and KS2 children who took part in the Young Writers' Story Competition, proudly reading their published stories. Well done!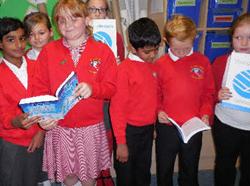 17.I Read At Home Awards
Included with the newsletter is information about our 'I read at home' awards. These awards will take place in school and your help is needed to make a difference to your child's progress. It is very important that you hear your child read and also read books with them.
18.Home School Link Worker Information
On Wednesday 14th October Miss Mazzei will be doing a short demonstration for KS1 parents/carers on how the phonics are taught in school. It will help you to help your child when doing homework and reading. It starts at 9:00am and finishes at 9:25am so please come along.
Harvest Appeal – We are collecting tins, groceries and new men's socks for our appeal this year as mentioned. The collection will continue to take place until Friday 16th October so please do bring along your donations to school.
19.Dates for your Diary
Monday 19th October
Y6 Parent/Carer New SATS Information ~ 3:15pm -3:45pm
Tuesday 20th October
Nursery Target Sharing Evening ~ 3:15pm-4:30pm
Thursday 22nd October
Y5-6W Class Assembly ~ 9:05am ~ all welcome
Thursday 22nd October
Good Behaviour Disco ~ 3:00pm ~ more information will follow
Friday 23rd October
End of Term
Monday 2nd November
Term Starts
Friday 13th November
Y6 Class Assembly ~ 9:05am ~ all welcome
Friday 13th November
Children in Need ~ more information to follow
Thursday 26th November
Y4-5M ~ Class Assembly ~ 9:05am ~ all welcome
Friday 15th January
Y4E ~ Class Assembly ~ 9:05am ~ all welcome
Friday 12th February
Y3J ~ Class Assembly ~ 9:05am ~ all welcome
Friday 11th March
Y3M ~ Class Assembly ~ 9:05am ~ all welcome
Thursday 24th March
Y2C ~ Class Assembly ~ 9:05am ~ all welcome
Thursday 28th April
Y1-2P ~ Class Assembly ~ 9:05am ~ all welcome
Friday 20th May
Y1B ~ Class Assembly ~ 9:05am ~ all welcome
Friday 10th June
R1 and R2 ~ Class Assembly ~ 9:05am ~ all welcome
Celebration Assembly
Our children/classes who received awards on 02/10/15 were:
Enis Kolasinac, Caitlin Martin, Daniel Polhos, Claire Johnson, Kevin Babu, Fareedah Ibrahim, Grace Leese, Ian Qiu, Alan Babu, Samuel Cole and Anthony Evans.
Mrs Bloor's Award: Tobias Connor-Mccormick
Dusty Bin (tidy classroom): 4E
Smart School Uniform: Claudie Polhosova
Lunchtime Supervisor's Award: Michal Chmielewski and Matthew Piesse-Mills
Good to be Green KS1: Hashim Mehmood and Pia Cousins
Good to be Green KS2: Ethan Hill and Joshua Clement
Walk to School: 1-2P
Lunch Time Trophy: R1
Challenge Cup: Anet Yohannan
Awards given out for data collected w/b 21/09/15:
Class Attendance: 3M and 6H – 98.7%
Whole School Attendance: 96.7% (Government target is 95%)
Pupil Attendance Awards: Luke Brian and Amelia Harvey
Yours sincerely
Mrs P Bloor
Headteacher