Newsletter Autumn Term 6
Dear Parent/Carer
We have had a lovely learning week in school and the children have all had a great focus in classrooms. A visitor commented this week how smart they all looked. Thank you so much as it helps with our common identity, and it is down to you all.
1. Our Thinking Topic
This week we have been thinking about 'words' and how to use them. I demonstrated in assembly that sometimes we say things we can't take back and used a tube of toothpaste to show this. In the Bible James said that "just like a tiny spark can cause a forest fire our tongues can cause incredible damage." We talked about the need to use kind words. As Anet in Y5-6W said in their class assembly that I watched "once you have said something you can't put it back."
2. Our Value – Responsibility

We have talked about this crucial lifelong value this week. Very well done to Y5-6W and Y6H who have shown increased responsibility this week. Well done to Y3J who were seen tidying up the cloakroom.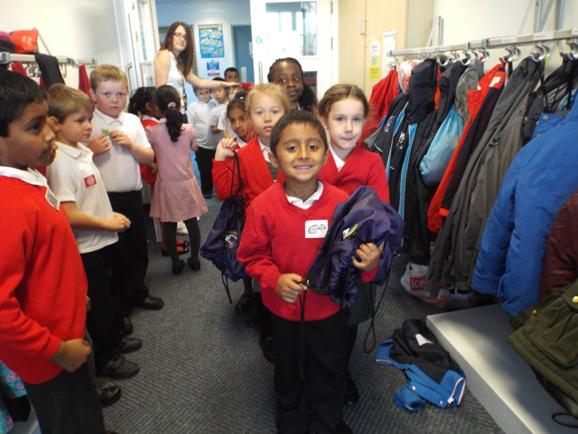 3. Class Of The Week
Here we have R1 busy working on the computers.
4. Lunch Time Clubs

Mrs Barrow has taken a photo this week of the Y2 Golden Mile Club that I take. This is at dinner time, for all those up to date with their work. They complete circuits of the one way system and are working towards their first award. We prioritise ourselves at St John's at encouraging healthy lifestyle choices.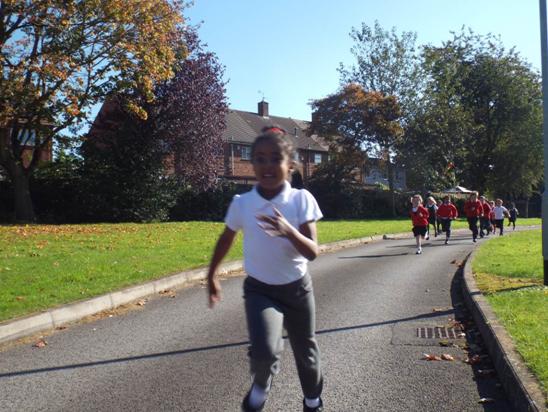 5. Grandparents' Christmas Dinner
We have begun organising our annual Christmas Dinner for grandparents' and pupils and have attached a booking form with all the information on. Please complete and return your forms with payment by Wednesday 4th November. The cost is £3.20 for a dinner, pudding and a drink and for children it is £2.20 for those that have to pay for their school meals so please top up lunch accounts. This is a much looked forward to event for the children.
6.After School Club

This week I looked at Mini-kickers taken by Mr Wood. The children were having a lovely time.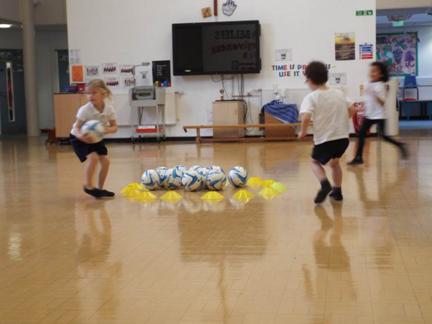 7. Y6 Tests Meeting for Parents/Carers
This is on Monday at 3:10pm-3:25pm, when we will explain the new government tests and show some example papers. I will have a member of staff on hand to look after any younger children in another room to help you.
8. Good Behaviour Reward Disco
This is on Thursday for Y1 to Y6 children. Only those who have received a red card are not invited, so far that is 8 children, the families will be texted to confirm this although they and the children have been told. It is from 3.00pm – 4.15pm. The entry is £2, which includes a drink and bag of crisps. There are some other sweets on sale from 10p to 25p and hopefully the children will have a fun time. All the money raised goes to school budget and is spent on your children.
9. Good News
We have been able to fund a free PE visit for KS2 in December as we did last year and for KS1 in January. Visits are expensive and others will have to have a contribution, although all our subsidised. Reception will have a visit in the New Year as well.
10. Looking After Our Teeth
All the children from Nursery to Y2 will receive a free toothbrush and tooth paste and have had a lesson about its importance. Stoke-on-Trent has one of the worst statistics for teeth decay in children in the country. Please help your child with it! This is one of the reasons we have banned sweets and drinks on school premises except for 'special events' and added it to the home school agreement that you have signed.
Children, I also feel, do not need to be rewarded for going to school and it sets a bad example. In Kenya children would walk miles every day just to get the chance of an education. My staff on duty at night tell me not all families are following this, which is very disappointing, when we do so much at no cost for families to help finances. Children are chosen for extra events according to how they follow school rules and we have a lot coming up and will prioritise children who follow these.
11.Puppet Making Workshop
Next week all classes in KS1 and KS2 will have a puppet making workshop led by an expert we have bought in. The children will enjoy their class session.
12.Attendance/Punctuality
Our attendance last week was 97.7%. Very well done to all our families.
Lates:

Friday – 11
Monday – 6
Tuesday – 2
Wednesday – 4
Thursday – 7
13. Events In School This Week/This Week
Well done to the football team who took part in a National 7 A-Side Tournament last Friday transported by Mrs Oldfield and myself. They lost all 3 games but had some good moments. Thank you to parents/carers who came along to support them. Theo Molyneux was voted by
Miss Pickerill as player of the tournament.
Local Democracy week – Mrs Ramsden took Chad Varquez, Charlie Bird, Laynee Tunnicliffe and Isabelle Westwood to meet the Lord Mayor tour the chambers and learn about how decisions are made.
On Friday we are selling juice and biscuits for 30p to raise money for Guide Dogs for the Blind. Please support this charity event which Y6 are helping at. Our prefects have been busy helping at lunchtimes and are doing their duties brilliantly.
14. Home School Link Worker Information


Well done to Angel Johnson, Oliver Brereton-Lewis, Holly Barnett, Isabelle Godwin, Angelina Abraham, Skye Lea-Shaw, Elliot Craggs, Lily Groves and Kyra-Mae Phillips. They attended a tea party on Tuesday for 100% attendance. These take place throughout the year so if your child's attendance stays at 100% they might well be invited to one too.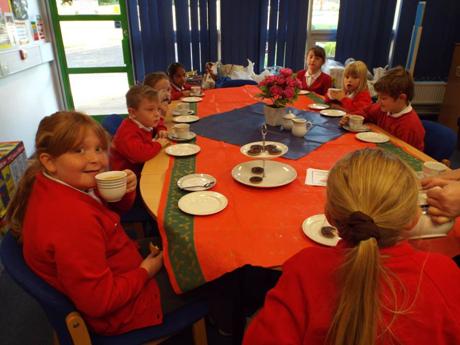 15.Attachments
Living Streets – Walk Once a Week Info
Time for Sport – Holiday Camp and Book Form
Grandparents' Christmas Dinner Booking Form
16.Dates for your Diary
Friday 16th October
Juice/Biscuits for sale ~ Guide Dogs for the Blind
Monday 19th October
Y6 Parent/Carer New SATS Information ~ 3:10pm-3:25pm
Tuesday 20th October
Nursery Target Sharing Evening ~ 3:15pm-4:30pm
Thursday 22nd October
Y5-6W Class Assembly ~ 9:05am ~ all welcome
Thursday 22nd October
Good Behaviour Disco Y1-Y6 ~ 3:00pm–4:15pm ~ £2
Friday 23rd October
End of Term
Monday 2nd November
Term Starts
Friday 13th November
Y6 Class Assembly Children in Need~ 9:05am ~ all welcome
Thursday 26th November
Y4-5M ~ Class Assembly ~ 9:05am ~ all welcome
Friday 4th December
Whole School Pantomime ~ 1:30pm
Friday 11th December
Grandparents' and Pupils Christmas Dinner ~ time TBA
Friday 11th December
Christmas Craft and Gift Fair ~ 3:00pm – 4:30pm
Wednesday 16th December
Christingle Making Day ~ more info will follow
Friday 15th January
Y4E ~ Class Assembly ~ 9:05am ~ all welcome
Friday 12th February
Y3J ~ Class Assembly ~ 9:05am ~ all welcome
Friday 11th March
Y3M ~ Class Assembly ~ 9:05am ~ all welcome
Thursday 24th March
Y2C ~ Class Assembly ~ 9:05am ~ all welcome
Thursday 28th April
Y1-2P ~ Class Assembly ~ 9:05am ~ all welcome
Friday 20th May
Y1B ~ Class Assembly ~ 9:05am ~ all welcome
Friday 10th June
R1 and R2 ~ Class Assembly ~ 9:05am ~ all welcome
17.Celebration Assembly
Our children/classes who received awards on 09/10/15 were:
Morfeas Chatzopoulos, Jessica Chittock, Surra Osman, Georgia Gould, Rubina Mahnoor and Leona Johns.
Mrs Bloor's Award: Grace Hawkins
Dusty Bin (tidy classroom): Y1B
Smart School Uniform: Sahej Bhullar and Matthew Ingram
Lunchtime Supervisor's Award: Humaira Shakil and Alan Sose
Good to be Green KS1: Angel Johnson and Tyler Hodgkinson
Good to be Green KS2: Isabelle Godwin and Liam Davis
Time for Sport: Y2
Walk to School: Y5-6W
Lunch Time Award: Y6
Challenge Award: Berrie Johnson
Awards given out for data collected w/b 28/09/15:
Class Attendance: 2C and 4-5M – 100%
Whole School Attendance: 97.0% (Government target is 95%)
Pupil Attendance Awards: Robin Craggs and Monica Joshua
Yours sincerely
Mrs P Bloor
Headteacher