Newsletter Autumn Term 7
Dear Parent/Carer
As we finish for half term on Friday, we hope you are as pleased as all the staff teams about the great start all the children have had.
The questionnaire results (which were sent out earlier in the week) show wonderful support for our teaching and learning and we thank you all for your great support.
1. Our Talking Topic – 'We Are All Different'
This week we have been looking at how wonderful it is that everyone is unique and has special talents although some children are not sure about this yet. Please talk to your child about this.
2. Our Value – 'Kindness'
This is a value that is to be found in all our pupils at St John's. A special well done to
Oliver Woodward, Emily Rains, Kyra-Mae Phillips, Palveen Dhillon, Carley Jones, Molly Hancox, Elliot Kilvington, Demi-May Baldwin, Evie-Mai Bourne and Hashim Mehmood who have been seen being especially kind.
3. Class Of The Week
Nursery is the class of the week, both the morning and afternoon groups, for the way they have settled in so well this half term. Very well done to everyone in nursery for their super start they have all made to their education.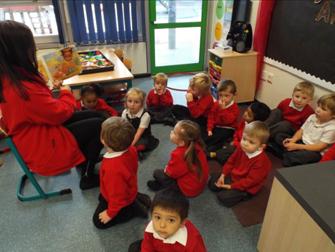 4. School Routines For Our New Parents/Carers
Lunchtimes are very organised and efficient at St John's with nursery and reception starting first. Reception children all have their school dinner in the hall and staff encourage children to try new food, but never force any child to eat. We also teach good table manners, which are so important to be embed at an early age. KS1 arrive for lunch next and then KS2. Packed lunch children have their food in the packed lunch area by KS1, supervised by a member of the TA team. We always make sure children enjoy their lunch and have nice chats. Outside the emphasis is on fun energetic play.
5. Events In School This Week
There has been a Puppet Making Workshop, all children in KS1 and KS2 thoroughly enjoyed the day when they all made a puppet and worked on communication skills.
6. Travel Awards
Last Thursday our Head and Deputy Head Boys and Girls, Holly Chatterton, Jack Eaton, Ismail Saygili and Ilana Steventon went to receive our Modeshift Gold Travel Award. The award is for all the work the school has done on safe travel to school, road safety training, cycle and scooting training and teaching the community about the benefits of sustainable travel to school. We were the only school in the city to receive the top award.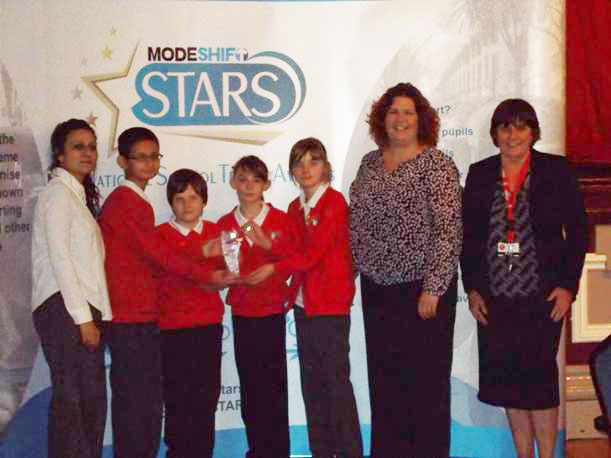 We also received an award for reducing car use to school which has reduced by 21%. The children now come into the classrooms from Y1 to Y6 and put on the computer how they have travelled to school and they can talk openly about the benefits of walking, scooting, parking and striding. Mrs Ramsden checks each class and presents a trophy to the class of the week which the children love.
We were also presented with a trophy for the West Midlands School of the Year, which is a fantastic achievement for all the staff, governors and community of St John's.
However, we still have a lot of work to do to improve safety near our school that parents/carers can help with. There are still, I was told by a parent, families who use the car from Algar Road only 200 metres away!
There are places to park for our families out of catchment near Harpfield Road who could park and stride and there are still drivers who park, drive and act thoughtlessly like the black Mercedes driver 2 weeks ago.
This is the only school in the city that lets cars onto the grounds in the morning in order to help get children to school on time and if our rules are not obeyed the governors could stop this. I worry that we are making it too easy to drive when children today need to be taking so much more exercise, although we have our army of pushchair mums.
A parent said to me recently, why not allow cars on in the afternoon? Well, we are a school whose purpose is your children's education and we need all of our facilities just as the hospital does, so this will never happen. If families choose to travel into us and I am happy they do, they must factor in the journey so they arrive on time and safely. Perhaps more families could come together and walk other children. This would then make it safer for all our children. The school and Eco Council are going to be doing some work on this next half term so we can improve even further.
7. Y6 Meeting About SATS
Information about the new tests was cascaded and the sample tests looked at. The standard has increased this year and children will be well taught in preparation for them. A letter will go out with the information on for all parents/carers and additional information will be cascaded when it arrives.
8. Attendance/Punctuality
We have introduced for after half term another incentive for children and families. This follows another family being fined for non-attendance and the impact of so many children arriving late that are disturbing learning. We have a duty to prepare children for the world of work in which both are not tolerated.
9. Lates

Friday
1
Monday
11
Tuesday
10
Wednesday
3
Thursday
10.Congratulations
Well done to the following for achieving their certificates and awards;

Amelia Harvey
Swimming Beginners Certificate
Michal Chmielewski
Swimming Length certificate
India Vickers
Swimming Elementary Certificate
Alan Babu
Cyclist of the Week
Angelika Szklarska
Scooter of the Week
Oliver Brereton-Lewis
Walker of the Week
Very well done to the Y3 and Y4 cross-country teams, who all competed really well this week in a city competition. A special well done to Oliver Woodward who came 2nd in the boy's race and Emma Brennan who came 10th in the girl's race.
Well done to the football team who had a 4-2 win against Christchurch. They all played brilliantly as a team. A special well done to Jake Bamford our captain, who scored a hat trick making him the player of the match.
11. Good Behaviour Disco
This was offered to KS1 and KS2 children but not if they had received a red card. It is another way the children can have fun.
12. KS1 Books
Tomorrow some phonics workbooks will be given to all the children so they can work on them with you over the holiday. We hope the children enjoy them.
13. PE Kits
All KS1 and KS2 children were given a colour coded PE bag which has helped keep the cloakroom tidy and organised. PE kits are going home for a wash. Please return them on the first day back and check everything is named. The children have been reminded as they have some personal responsibility as well.
14. Flag Pole

We have had a flag pole installed for our Green Flag Award which we will organise shortly. We had to get planning permission which took a long time and had to specify the colours of flag we would use and we have included a few different flags. Whilst waiting, I thought it would be good to put up one of the approved ones, the Stoke flag for good luck!!
15. Bronze Behaviour Awards
These will be given out tomorrow for all those children whose behaviour is excellent, which is the vast majority of the children. Very well done.
16.City Catering Special Menu Days
Wednesday 4th November National Roast Dinner Day

Chicken Fillet and Stuffing Balls
Tuna Bake
Filled Jacket Potato
Baguette of the Day

Roast Potatoes
Garlic Bread

Seasonal Cabbage
Baton Carrots

Apple and Blackberry Crumble & Custard
Yoghurt
Crackers and Cheese
Fresh Fruit
Thursday 5th November Bonfire special

Fish Cakes in a Bun
Hot Dogs with Onions and Tomato Sauce
Cheese Whirl
Jacket Potato with Cheese and Beans or Tuna Mayo

Chipped Potatoes
Baked Beans
Sweetcorn

Rice Krispie Cupcake
Chocolate Pin Wheel
Fresh Fruit
17. Staff News
Congratulations to Mrs Clarke and her family on the arrival of baby Elora Lily who was born this week. We send our warmest wishes to the family.
18.Christmas Craft and Gift Fair Collections
We are asking for various items to be donated for our school Christmas Fair and will start collecting them in from November. Please can you start thinking about what you can send in from the list below, your contributions make a real difference.

Week commencing 2nd November
we will be collecting tins/cans/empty toilet and kitchen towel rolls.
Week commencing 9th November
we will be collecting toiletries.
Week commencing 16th November
we will be collecting bottles (wine/pop etc).
Week commencing 30th November
we will be collecting chocolate and sweets.
Week commencing 7th December
we will be collecting cakes and biscuits.
19. Home School Link Worker Information
Just a reminder – please make sure you know where your children are if they go trick or treating, or why not go with them. Please be safe at all times. Enjoy half term!
20.Dates for your Diary

Friday 23rd October
End of Term
Monday 2nd November
Term Starts
Tuesday 3rd November
Phonics Session ~ Yr2 Parents/Carers ~ 9:00am
Friday 13th November
Y6 Class Assembly Children in Need~ 9:05am ~ all welcome
Friday 20th November
Flu Vaccinations ~ 1:00pm-2:30pm
Thursday 26th November
Y4-5M Class Assembly ~ 9:05am ~ all welcome
Friday 4th December
Whole School Pantomime ~ 1:30pm ~ in school
Thursday 10th December
Christmas in Church ~ KS2 at 9.00am/KS1 at 2:00pm
Friday 11th December
Grandparents' and Pupils Christmas Dinner ~ time TBC
Friday 11th December
Christmas Craft and Gift Fair ~ 3:00pm – 4:30pm
Wednesday 16th December
Christingle Day ~ Service at 2:00pm ~ more info will follow
Thursday 17th December
Party/Santa Day ~ more info will follow
Thursday 17th December
Disco ~ KS1/KS2 ~ 3:00pm-4:15pm
Monday 4th January
Term Starts
Friday 15th January
Y4E ~ Class Assembly ~ 9:05am ~ all welcome
Friday 12th February
Y3J ~ Class Assembly ~ 9:05am ~ all welcome
Friday 11th March
Y3M ~ Class Assembly ~ 9:05am ~ all welcome
Thursday 24th March
Y2C ~ Class Assembly ~ 9:05am ~ all welcome
Thursday 28th April
Y1-2P ~ Class Assembly ~ 9:05am ~ all welcome
Friday 20th May
Y1B ~ Class Assembly ~ 9:05am ~ all welcome
Friday 10th June
R1 and R2 ~ Class Assembly ~ 9:05am ~ all welcome
21. Attachments
Subtraction Policy
Local Swimming Lesson Information
22.Celebration Assembly
Our children/classes who received awards on 16/10/15 were:
Demi-May Baldwin, Deon Johns, Harsha Goru, Anto Yohannan, Ethan Hill, Emily Rains, Dylan Colclough, Declan Matthews and Kian Murphy.
Mrs Bloor's Award: Anet Yohannan and Alfie Bourne
Dusty Bin (tidy classroom): Y4
Y6 Prefects Award: Y1
Smart School Uniform: Luke Brian
Lunchtime Supervisor's Award: Rianne Hodges and Carley Jones
Time for Sport: Y3M
Walk to School: Y3M
Lunch Time Award: Y1
Word Challenge Award: Joda Tagboto
Awards given out for data collected w/b 05/10/15:
Class Attendance: 5-6W and 3M – 99.3%
Whole School Attendance: 97.7% (Government target is 95%)
Pupil Attendance Awards: Alex Ballard-O'Shea and Matthew Piesse-Mills
Yours sincerely
Mrs P Bloor
Headteacher