Newsletter Autumn Term 8
Dear Parent/Carer
As we come back after half term to the darker night and wet leaves, it was lovely to see the children so well wrapped up, keen to start back at school.
1. Our Talking Topic
This week we have been thinking about the topic of 'getting on and falling out' which is our PSHCE topic this half term. The children were told a story about Solomon who had such wisdom and how he used it to settle a quarrel. They were also told how important it is to get along with others throughout life and always to tell the truth. We have had a few children who have been going home telling untruths about things happening at school, when we know they are not. With CCTV and so many staff on duties at breaks and dinner times, we know this to be the case. But we will continue to encourage all our children to be truthful.
2. Our Value
This week it is 'resilience' which means not giving up when things are hard. Very well done to Samuel Cole, George Baldwin, Tyler Conway, Berrie Johnson, Danny Trotter and Vicky Yu who have all been especially resilient.
3. Class Of The Week
R1 were busy completing a writing activity.

4.After School Club
Our Taekwondo Club aimed at Y5 and Y6 pupils is taken by Mr Peter Johnson an expert coach who travels the world for competitions. The children are doing belt grading's and there is a very high standard of behaviour and focus. Very well done children and to all the newcomers to the club who have settled in.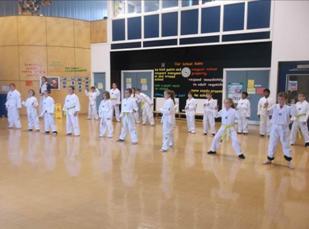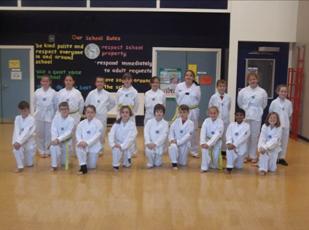 5.Events In School
The Guide Dogs for the Blind juice and biscuits raised £50.
Y5-6 gave us a great class assembly and all spoke and sang beautifully.
The disco raised £311.88 for school funds to pay for our WOW days. The children had a lovely fun time.
Well done to Isabelle Westwood who has been made a Prefect and Tobias Connor for his Length Certificate in swimming.
We have had 2 WOW science days provided by 2 science boffins. On Tuesday the reception classes and KS1 learnt about ice and water.
Puppet workshop – During the final week of last half term, each class enjoyed a session with a visiting puppeteer. Children were treated to a show and given the chance to use a wide selection of hand puppets. The puppeteer taught us how to hold and move our puppets so that they made eye contact with the audience and we learnt how to move the mouth of the puppet so that it looked more realistic when speaking. We thought about how the character might move and tried out different voices. The children were then able to design and make our own puppets! It was a fantastic week and children had a fun time while practising their speaking and listening skills and being creative.
On Wednesday the KS2 classes had a rocket workshop. All the children had great fun and these days are a great way of making learning enjoyable.

6. Pupil Safety
We have had red lines painted across the nursery and reception exit doors as we have in KS1 and KS2. This is for parents/carers to stand behind so staff can see the safe dismissal of all the children. We also have a list in each classroom of who is allowed to collect children and staff always adhere to this. If you have any changes to make to who can collect your child then please complete a form from outside the school office. The safety of your children is paramount at St Johns.
7. P.E Kits
Sadly, a few children in classes have failed to bring their coloured PE bag which the school has provided and their kit for lessons. It is very wasteful of teaching time and children miss their vital exercise that the government tell us we must do to stem childhood obesity. Parents/carers are asked to check PE kit is in school and stays there for each half term. All children need black pumps as this is the only footwear that can be worn in our hall.
Children without kit do have a detention and will do extra exercise at lunchtime. Any child who forgets their swimming kit now and is able to do PE will have a PE lesson taken by a member of staff and join in with the PE class. We have 3 children with broken bones who have a separate risk assessment. Thankfully the majority of our families are organised and their children never miss a lesson. We shall be rewarding these children shortly.
8. Parents/Carers Complaints
We have received complaints about parents/carers using e-cigarettes on school premises which the governors have banned as research suggests young people are beginning to think smoking is cool which it clearly is not. Another complaint has been about foul language, which is never acceptable. Thank you for helping us keeps up our high standards for your children.
9. Y6 French Visit
All but two of the Y6 group are taking advantage of a 3 day residential visit to the Somme region in France in January to learn about WW1. I have completed most of the paper work and risk assessments during the in half term, but was not able to send the collective passport off as planned as 2 families were late with their paperwork. The school is subsidising the cost for each child by £130 as we think it is such a wonderful life experience and educational opportunity. Y6 parents/carers have told me about the costs of other school visits to France which are four times as expensive, but at St John's we like to look after our families which I know you appreciate.
10. Style Mile
We have introduced this as part of our Healthy School's Agenda and each class will do this in addition to PE each week. Y3M absolutely loved it and told me how much better they felt afterwards. You might like to try it at home at the weekends.
11. Reading Tests
We have completed reading tests with all the pupils compared to their age. Children who are more than 6 months behind have had a letter sent home so you can work with your child and hear them read every night to catch up. We have our home reading challenge and so many children will be receiving certificates and prizes at the end of term as they read at home at least three times a week. We have had to order more prizes! Keep it up as it is having an impact with learning.
12. Uniform Reminder
We have updated the Uniform Policy for the school website, please take a look. We will include some more information in next week's newsletter. We want all our children to look smart, be part of the St. John's family and ready for learning. Please note we do not allow any make up or patterned/shaved hair and expect all our children in school shoes. We want our children to stand out for their manners, attitude and learning focus. Weekends are times for dressing up. A visitor to school yesterday complimented the school on how smart the children looked which is a great compliment to all our parents/carers. Thanks for your support.
Lost Property – if anyone in Y1-2P has a black girls coat which is fur lined please can you check whether it is your child's as one has gone missing but we do have a similar blue coat that has fur in school so we think one has been picked up by mistake.
13. Children In Need
Y6 have decided on several ways in which the school can help to raise money for Children in Need this year. On Friday 13th November we are asking for children to donate 50p to wear a decorated headband or bandana, in Pudsey style. Also please bring in copper coins as we plan to re-create a large Pudsey bear on the playground. We will also be having tea/coffee and biscuits before the Y6 assembly for parents/carers for a donation. Please help support this worthy cause.
14.Perfect Attendance and Perfect Punctuality
This starts this week for a term and those with 100% will be put in a prize draw for places on an exciting visit.
15. Reminder – Christmas Craft and Gift Fair Collections
We are asking for various items to be donated for our school Christmas Fair and have started collecting. Please can you send in items from the list below, your contributions make a real difference.

Week commencing 2nd November
we will be collecting tins/cans/empty toilet/kitchen towel rolls
Week commencing 9th November
we will be collecting toiletries
Week commencing 16th November
we will be collecting bottles (wine/pop etc)
Week commencing 30th November
we will be collecting chocolate and sweets
Week commencing 7th December
we will be collecting cakes and biscuits
16.Home School Link Worker Information
On Monday I was at the top gates to let pedestrians and cars in. I was shocked at how fast some of the cars were coming around the bend into Wheatly Avenue and into the school grounds. We have mentioned this before, we ask that you please consider all the children, parents and carers that are around at such a busy time of day and drive considerately and slowly. We do have a 5mph limit in the school grounds, perhaps we can use that limit around the streets around school.
17.Attachments
Style Mile Info
Multiplication Policy
18.Celebration Assembly
Our children/classes who received awards on 22/10/15 were:
Riley Tams, Holly Gaskell, Jack Cahill, Ansh Bhati, Robert Brian, Lina Al Hussein, Tyler Baldwin, all of Y5-6 and Charlie Bird
Mrs Bloor's Award: Megan Proudlove
Smart School Uniform: Anayah Shahzad
Lunchtime Supervisor's Award: Rianne Hodges and Carley Jones
Walk to School: Y4-5M
Attendance Award – Ellie Moreton
19.Dates for your Diary
Tuesday 10th November
R1 Parents/Carer Phonics Session ~ 9:00am-9:20am
Friday 13th November
Y6 Class Assembly Children in Need~ 9:05am ~ all welcome
Friday 20th November
Flu Vaccinations ~ 1:00pm-2:30pm
Thursday 26th November
Y4-5M ~ Class Assembly ~ 9:05am ~ all welcome
Friday 4th December
Whole School Pantomime ~ 1:30pm ~ in school
Thursday 10th December
Christmas in Church ~ KS2 at 9.00am/KS1 at 2:00pm
Friday 11th December
Grandparents' and Pupils Christmas Dinner ~ time TBC
Friday 11th December
Christmas Craft and Gift Fair ~ 3:00pm – 4:30pm
Wednesday 16th December
Christingle Day ~ Service at 2:00pm ~ more info will follow
Thursday 17th December
Party/Santa Day ~ more info will follow
Thursday 17th December
Disco ~ KS1/KS2 ~ 3:00pm-4:15pm
Monday 4th January
Term Starts
Friday 15th January
Y4E ~ Class Assembly ~ 9:05am ~ all welcome
Friday 12th February
Y3J ~ Class Assembly ~ 9:05am ~ all welcome
Friday 11th March
Y3M ~ Class Assembly ~ 9:05am ~ all welcome
Thursday 24th March
Y2C ~ Class Assembly ~ 9:05am ~ all welcome
Thursday 28th April
Y1-2P ~ Class Assembly ~ 9:05am ~ all welcome
Friday 20th May
Y1B ~ Class Assembly ~ 9:05am ~ all welcome
Friday 10th June
R1 and R2 ~ Class Assembly ~ 9:05am ~ all welcome
Yours sincerely
Mrs P Bloor
Headteacher