Newsletter Autumn Term 9
Dear Parent/Carer
As we finish another busy week, we have noticed especially this week the lovely manners of the children. We expect high standards in school and it just shows how the children respond to this high expectation.
1. Our Talking Topic
This week we have been thinking about 'giving' and how you can give in so many ways, not just gifts. We talked about giving help, giving time and even giving a smile. Please talk to your child about this.
2. Our Value
This week we have been having a focus on 'friendship' and how everybody needs to get on with everybody which is an important life skill. Very well done to Sam Cole, Sammi Miah, Holly Barnett, Lucas Conway, Beth Brennan, Evie Beech-Daly, Sedra Osman, Robin Craggs, Robert Brian and Michal Chmielewski who have all been seen being especially kind this week although it is a value all our children demonstrate.
3. Local Authority Inspector Visit
We had this on Monday and Tuesday. Thank you to the parents/carers who attended the coffee morning. The inspector agreed that we are a good school and noted the good education the children have, how happy and healthy they are. Our reading and maths standards are excellent, but our writing which we know, is the area to improve on as Y6 and Y2 did not do as well as normal here. We shall be asking for your help to improve this shortly.
4. Class Of The Week – Y1B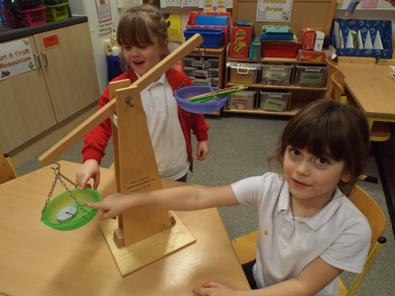 The class have been doing work in maths on weighing and measuring. Please ask the children what they have been learning in maths.
5. After School Club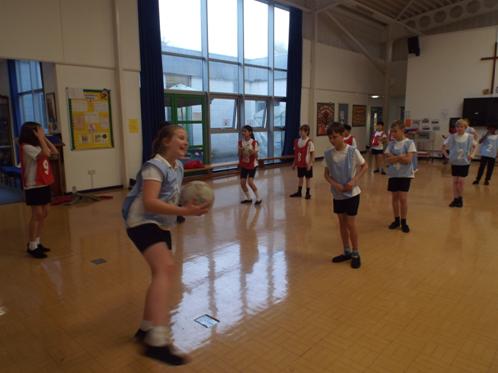 Y4 and Y5 children have been busy perfecting their netball skills and enjoying playing in the club taken this half term by Miss Morris.
6. Events In School Last Week
Last week Reverend Chris Ruston took a Holy Communion service for KS2 children. The children were brilliant and joined in and listened attentively. We plan to have one each term now.
R1 phonics for parents/carers was very well attended and hopefully lots of good ideas were taken from it.
On Wednesday we had the space bus for all our nursery and reception children. They all had two sessions and thoroughly enjoyed the activities.
7. Children In Need
This is on Friday after the Y6 class assembly. Children are asked to support this great charity event organised by Y6 by paying 50p to wear a decorated headband or bandana. Y6 are making a large Pudsey and want children to bring coppers in to fill it.
8. Style Mile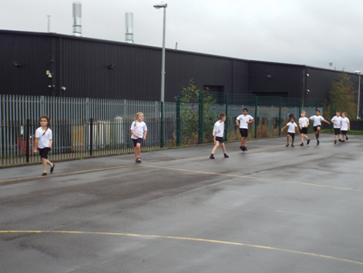 All classes are doing this extra activity once a week and thoroughly enjoying it. Rhihena Miah from Y3M said to me today she enjoyed it "as it is fun and it is good exercise"
9. Cheque Payments
Please be aware that we can no longer take cheques for under £10 due to banking and admin fees.
10.Home Reading
Lots of children are on course for their certificate and prize for reading at home at least 3 times a week. This is super news and is essential if children are going to make progress and aim high for their future in our joint responsibility for your child's education.
One older KS2 pupil told me his mother was busy with the baby and another his Mum and Dad were too busy. This is not acceptable for these children, as parents/carers have rights along with responsibilities. Everyone can find 10 minutes to hear their child read. Why not have the pupil reading to baby and other siblings as well. Good language habits should start young.
11. Christmas Craft and Gift Fair
We are asking for various items to be donated for our school Christmas Fair and have started collecting. Please can you send in items from the list below, your contributions make a real difference.
Week commencing 9th November we will be collecting unused toiletries
Week commencing 16th November we will be collecting bottles (wine/pop etc).
Week commencing 23rd November we will be collecting clothes and toys
Week commencing 30th November we will be collecting chocolate and sweets.
Week commencing 7th December we will be collecting cakes and biscuits
Thank you for your donation so far.
12. Attachments
Uniform Policy School Dress Code
Division Policy
13. Home School Link Worker Information
If your child brings in grapes in their packed lunches could you please cut them in half, length ways.
Christmas will soon be upon us and I am sure you are all buying presents. Please remember, if you are buying Playstation or Xbox games they have age restrictions on for a reason.
14.Dates for your Diary

Friday 13th November
Y6 Class Assembly Children in Need~ 9:05am ~ all welcome
Friday 13th November
Children In Need Fundraising across school
Monday 16th November
Dance Workshop~Y3J~The Wallace Centre ~ 9:00-3:00pm
Friday 20th November
Y6 Manchester War Museum Visit ~ 9:00am-4:00pm
Friday 20th November
Flu Vaccinations ~ 1:00pm-2:30pm ~ in school
Monday 23rd November
Nursery Phonics Visit for Parents/Carers ~ 9:00am
Monday 23rd November
Y5/6 Manchester War Museum Visit ~ 9:00am-4:00pm
Tuesday 24th November
Eye Tests for R1 and R2 ~ 9:30am onwards
Wednesday 25th November
Early Years Open Evening(for new intake) ~3:15pm-4:00pm
Thursday 26th November
Y6 Height/Weight Screening ~ 9:15am-11:30am ~ in school
Thursday 26th November
Y4-5M ~ Class Assembly ~ 9:05am ~ all welcome
Monday 30th November
Y4E Stanley Head Visit ~ 9:00am-
Tuesday 1st December
Y3M Stanley Head Visit ~ 9:00am-
Wednesday 2nd December
Y4-5M Stanley Head Visit ~ 9:00am-
Wednesday 2nd December
Early Years Open Evening(for new intake) ~3:15pm-4:00pm
Wednesday 2nd December
Sportshall Athletics ~ Trentham High ~ 2:30pm-5:45pm
Thursday 3rd December
Y5/6 Stanley Head Visit ~ 9:00am-
Friday 4th December
Y6 Stanley Head Visit ~ 9:00am-
Friday 4th December
Whole School Pantomime ~ 1:30pm
Monday 7th December
Y3J Stanley Head Visit ~ 9:00am
Tuesday 8th December
Crescent Football Festival ~ 12:45pm-3:45pm
Wednesday 9th December
Early Years Christmas Performance ~ 9:15am and 2:15pm
Wednesday 9th December
Crescent Football Festival ~ 12:45pm-3:45pm
Friday 11th December
Grandparents' and Pupils Christmas Dinner ~ time TBC
Friday 11th December
Christmas Craft and Gift Fair ~ 3:00pm – 4:30pm
Monday 14th December
Choir Visit to Cancer Unit ~ 1:15pm-2:45pm
Wednesday 16th December
Christingle Making Day ~ more info will follow
Thursday 17th December
Santa Visit
Friday 18th December
End of Term
Monday 4th January
Term Starts
Friday 15th January
Y4E ~ Class Assembly ~ 9:05am ~ all welcome
Friday 12th February
Y3J ~ Class Assembly ~ 9:05am ~ all welcome
Friday 11th March
Y3M ~ Class Assembly ~ 9:05am ~ all welcome
Thursday 24th March
Y2C ~ Class Assembly ~ 9:05am ~ all welcome
Thursday 28th April
Y1-2P ~ Class Assembly ~ 9:05am ~ all welcome
Friday 20th May
Y1B ~ Class Assembly ~ 9:05am ~ all welcome
Friday 10th June
R1 and R2 ~ Class Assembly ~ 9:05am ~ all welcome
15.Celebration Assembly
Lunchtime Supervisors Award: India Vickers and Oliver Brereton-Lewis
Awards given out for data collected w/b 19/10/15:
Class Attendance: 99.2% – Y4-5M
Whole School Attendance: 97.5% (Government target is 95%)
Pupil Attendance Awards: Palveen Dhillon and Jasmin Dhillon
Attendance Award: Jacob Simpson
Yours sincerely
Mrs P Bloor
Headteacher