Newsletter Spring Term 1
Dear Parent/Carer
On behalf of all the staff at St John's may we wish you all a happy and healthy New Year, hope you had a lovely family time with your children over Christmas and hope 2016 is a great year for us all.
1. Our Talking Topic
This week we have been thinking about "going for gold" and what we want to achieve in the New Year. The children have been asked to think about setting 2 goals at school this term like the 'New Year Resolutions' we have all made. Please talk to your child about this.
2. Our Value
This week we have been thinking about "resilience" not giving up when things seem difficult and to keep trying. This is an important life skill for us all. Very well done to Kian Murphy, Anthony Evans, Zara Khan, Abbi Dunn, Nela Polhosova, Ethan Hill, Aleksi Vrapi, Milly-Mae Grey, Haya Jamil, Holly Bentley, Alan Sose and Christian Smith who have all been seen showing this quality of not giving up in school this week.
3. Christmas Activities
Thank you so much for the support for our concerts, Christmas Fair, Grandparents dinner, Christingle service and Christmas parties. We made sure all the children had a lovely educational experiences and a fun time. We raised £614.80 for school fund for visits from the fair, £269.32 for the Children's Society and £105.06 for Douglas Mcmillan. I think everyone would agree, we celebrate Christmas and think of others. We are so proud that at St. John's all children take part and are fully involved. Thank you for your support.
4. Lost Property
Over the Christmas holidays the cloakrooms were painted. All lost property has been on display all week and will be in the community room until next week. There is not much just lots of odd black pumps. If you have lost anything please ask to come in and check. None of these items are named.
5. After School Clubs
Each term we vary some clubs and try to give a new group of children an opportunity. Children who are behaviour issues, have poor attendance or don't follow our school uniform policy are not offered a club. This term we have a few aimed at younger children. We do have a '2 strikes and out' policy as they are all taken by one member of staff and other children miss out if children are poorly behaved.
6. Contact Numbers
If you have had a new phone please let us know any new numbers. We need to be able to contact all parent/carers in case there is an emergency.
7. Visits
This week all KS2 have had a literacy themed active day at Stanley Head Outdoor Education Centre at no cost to all families. They have been built around the book Mr Creep the Crook and all the children have had a wonderful time. They will be writing about their visits in class.
8. English
All Y5 and Y6 pupils have also had a free visit to the New Vic Theatre to see a wonderful production of Robin Hood. All the children thoroughly enjoyed this visit and the behaviour of the children was excellent. Mrs Spiers, our Chair of Governors, monitored the theatre visit for us and noted we were the best behaved school there, which did not surprise the staff team. We regularly take children out of school and have museum visits and others planned this term and it shows how our children and families value the exciting curriculum we organise at St. John's.
9. Class of the Week
Y2 enjoying the day at Stanley Head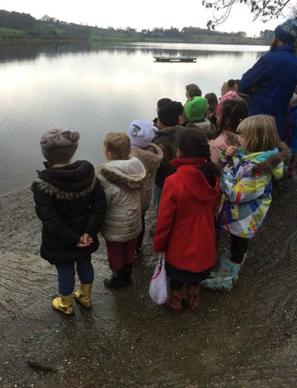 10. PE Kits
This year we purchased a different colour coded PE bag for each class and lots of Pupil Premium children had free PE kit (tops and shorts) given to them. This has helped keep the cloakroom and classes organised and will continue.
However at least 4/5 children in each class this week have failed to bring their PE kit in for PE lessons, this week despite being told their PE day. This is most disappointing as the government tell us we need to be doing 2 hours plus PE a week (which we do) to help reduce obesity levels and lack of fitness in young children. Whilst only a few in each class, teachers are complaining it is disrupting learning. Imagine you have planned your gymnastics lesson and before you can teach you have to sort 4 children with clipboards to write about the lesson and the other 25 are kept waiting. Our policy is that no PE kit equals a detention and extra golden mile at lunch time as we teach personal responsibility as well parental responsibility. Please help us to do our job by ensuring your child is equipped for school.
All children need black pumps as part of their PE kit, these are the only shoes allowed in our hall due to the none marking floor, older children can have trainers for outdoor use but still need pumps for inside use, it is the only thing we ask that you must buy.
11. Book Bags/Homework
Similarly, a few children arrived on Monday with no book bags, with staff ready to hear readers. A book bag is essential part of school uniform and this term we are expecting all children to be heard read at home least 4 times a week. Your child's education is our joint responsibility and parent/carers need to play their part. Thankfully it is only 4/5 in each class. Children who read regularly 4 times a week will be rewarded at the end of term.
12. Behaviour Awards
The vast majority of the children received their Silver Behaviour Award last term. These children are a credit to their families. Very well done to all these children. More behaviour reward visits will be planned this term.
13. Punctuality
Class teachers have complained about the impact of children regularly arriving late once the lesson has started, so this is a focus this term. Any child who arrives late and has missed learning will be in catch up club; KS1 during break and KS2 during lunch time, which means they may miss their class ICT club at lunchtime.38 letters were sent out on Monday to children who had 3 or more lates. There will be reward visits later in the term for perfect punctuality and perfect attendance.
14. Y6 French Residential
This is now fully organised and the children will be going to France from the 27th to the 29th January for 3 days. This visit is heavily subsidised for each pupil by £120 as we know how the experience has such an impact on the children. Parents/Carers know that other schools charge £250 for this and this is another example of how we help all our families .The children are all excited and looking forward to it.
15. Helping Your Child at Home
Parents/Carers often ask us how they can help their child's learning, so we have produced 3 'Working Together to Improve Learning' check lists for you. The first one is about 'Teaching Talking' as this is so crucial to a child's success in school. It states what we do and what we want you to do as our equal partners and is included with this newsletter.
16. City Catering Information
On Thursday 21st January there is a menu change, please see the menu attached.
There are some vacancies for catering assistants to join the school kitchen team. If you are interested in applying then please see Mrs Amison in the kitchen for more details.
17. Lates

Monday
7
Tuesday
8
Wednesday
17
Thursday
20
18. Home School Link Worker Information
Happy new year to you all!
Just a reminder that absences will not be authorised if you do not inform us as to why your child is off from school. Please ring and leave a message on the absence line (01782 238889 Option 1) on the first day of the absence giving information regarding the reason for absence and how long you think they will be off for and then keep us informed.
Reminder – children can come into school with coughs, colds, sore throats and bad heads. If we have concerns about your child school will ring for you to come and collect them.
We are also looking at lates and those that are late in the morning will join catch up club at break (KS1) or dinner (KS2) to catch up on work they missed. Please get your child in school on time-they really do miss so much work when they are late.
19.Dates for your Diary

Monday 11th January
Netball Tournament ~ 12:00pm-3:00pm ~ selected pupils
Wednesday 13th January
Parents/Carers Phonics ~ Y1B and Y1/2P ~ 9:05am-9:35am
Wednesday 13th January
PTFA Meeting ~ 2:00pm
Wednesday 20th January
Family Learning Workshop ~ 9:15am-11:15am ~
Comm Room
Wednesday 27th January
Y6 France Trip Departing
Friday 29th January
Y6 France Trip Returning
Wednesday 3rd February
Wallace Centre Dance Workshop ~ Y4E ~ 9:00am-3:00pm
Thursday 4th February
Potteries Museum Visit ~ Y3M ~ 9.30am-12.30pm
Thursday 4th February
Potteries Museum Visit ~ Y4E ~ 12:30pm-3:00pm
Friday 5th February
Potteries Museum Visit ~ Y3J ~ 12:30pm – 3:00pm
Tuesday 9th February
Family Learning Workshop ~ 9:15am-11:15am ~
Comm Room
Wednesday 10th February
Potteries Museum Visit ~ Y1B ~ 9:30am-12:30pm
Wednesday 10th February
Wallace Centre Dance Workshop ~ 3M ~ 9:00am-3:00pm
Wednesday 10th February
Potteries Museum Visit ~ Y1/2P ~ 12:30pm-3:00pm
Wednesday 10th February
Open Evening ~ 3:15pm-5:15pm
Thursday 11th February
Potteries Museum Visit ~ Y6 and Y2C ~ 9:30am-12:30pm
Friday 12th February
Wallace Centre Dance Workshop ~ Y4/5~10:30am-3:15pm
Friday 12th February
End Of Term
Monday 22nd February
Start Of Term
20.Celebration Assembly Dates

Friday 15th January
Y4E ~ Class Assembly ~ 9:05am ~ all welcome
Friday 12th February
Y3J ~ Class Assembly ~ 9:05am ~ all welcome
Friday 11th March
Y3M ~ Class Assembly ~ 9:05am ~ all welcome
Thursday 24th March
Y2C ~ Class Assembly ~ 9:05am ~ all welcome
Thursday 28th April
Y1-2P ~ Class Assembly ~ 9:05am ~ all welcome
Friday 20th May
Y1B ~ Class Assembly ~ 9:05am ~ all welcome
Friday 10th June
R1 and R2 ~ Class Assembly ~ 9:05am ~ all welcome
Yours sincerely
Mrs P Bloor
Headteacher