Newsletter Spring Term 10
Dear Parent/Carer
As we lead up to Easter it has been lovely to note better weather to cheer everyone up. We have had another lovely week in school and all the children are working so hard on their learning and how they can improve. They are a credit to you all!
1.Our Talking Topic
This week we have been thinking about Easter; why we eat hot cross buns and have eggs at Easter and what the special meanings are. Please talk to your child about this.
2.Out Value; Honesty
This is a value that we teach at St John's and is so important in life. Very well done to all our children who are so honest.
3.Class Of The Week Y5/6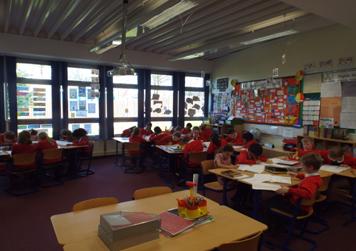 The class were busy planning out the plot of a narrative poem onto a storyboard.
4.School Routines: Lunch Time
Children were busy playing cooperatively this week. Our lunch times are well organised and mostly very successful. However, last week we have had some rough play and one instance of name calling. Children who misbehave at lunchtime will be taken off the yard for a week, so all the children who are having fun can continue to do so.
5.Dance Festival
Y2C took part in the Dance Festival held at the Victoria Hall last Tuesday night. This was an excellent opportunity for children to perform on a stage before a packed house. The children were outstanding and well-practised, they only had one practice at the Victoria Hall the afternoon before the show. The children watched the other 14 schools and were the stars of the show. I think parents/carers who attended would agree with me there! Very well done to Miss Pickerill and Mrs Connelly for all their work on the dance. It was organised and financed by the Open Network which we buy into to increase PE opportunities for our children.
6.Recorder Festival- Picture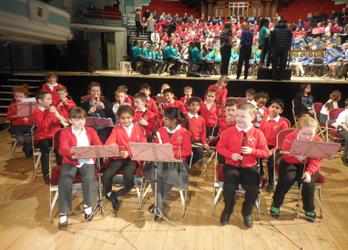 Y3M took part in the Recorder Festival held at the Victoria Hall on Wednesday and thoroughly enjoyed their opportunity to perform in front of another large audience. They had practiced and learnt 10 pieces to play, which is no mean feat under the guidance of Miss Mazzei. Very well dome to all the children.
7.Homework Next Week
As staff are busy marking and assessing children no classes will be setting formal work next week although children can work online on their next steps in their learning. We want all children to go for a long walk instead and enjoy the company of their family.
8.Events In School Last Week
Well done to: Ruby Howard & Sedra Osman who passed their Beginner's Certificate in swimming. Sam Cole, Palveen Dhillon, Anthony Evans, Lily-May Barlow & Skye Lea -Shaw who passed their Length Certificate in swimming.
Ella Curzon who passed her Proficiency Certificate. Carley Jones & Jack Eaton who passed their Bronze Award.
Lots of children have been working very hard in school swimming. Very well done.
Thank you to parent/carers who have supported our Month of March campaign to collect for the food bank. We have proposed families who have received help from the food bank so this is our way of helping families in need.
9.Multi Academy Trust
With approval of the Governing Board and staff, we made an application before Christmas, to join a Multi Academy Trust with 2 schools, St Mary's CE(A) Primary School in Tunstall and Christchurch CE(C) Primary School in Fenton under the umbrella and support of the Lichfield Diocese called the 'Anglican School's Alliance'. We feel the time is right now and as all schools will need to become academies according to the government by 2017 we want to choose who we work with. Many schools who failed an Ofsted inspection were forced to become academies some locally with a sponsor who was involved to make a profit. Any savings made with larger purchasing power and training jointly provided will mean more money to spend on the children.
As an aided school there are land and trust issues, so the Diocese was keen for church schools in Stoke to go down this route. This move is with similar church schools and will be what is called a 'flat mat' with each school retaining its identity and a Governing Board. There would be a Multi Academy Trust Board above this with representatives from the three schools including Reps from the Diocese.
The aim is to work together for the education of all 3 schools (other church schools might apply to join later) and there are no plans to change the name or uniform.
The local authority can no longer support schools as it continues to reduce and schools working alone are isolated and at risk. The future is in working together collaboratively to improve standards and opportunities for the pupils. We see the opportunity to make savings by sharing providers previously provided by the local authority which will help the school budgets of all 3 schools.
We are already in a 'Stoke 6' group containing The Willows, Oakhill, Stoke Minster, Heron Cross and Sandford Hill which has a significant impact in Headteacher leadership training and now subject leader training so leaders from all 6 schools are meeting regularly. This would continue alongside the MAT. It is not expected to be approved until January or possibly September if the Department of education move quickly.
Once the application is approved I will ask for parent/carer views and keep you fully informed.
10.Facebook
We had an example of another parent/carer posting malicious comments about the school last week that were completely inaccurate. Parents/carers have a responsibility to check facts first with us. In this particular case, the child's actions and behaviour were the issue, not other children. I do hope when these children get into trouble for comments they post when they are older, parents/carers remember that children learn what they see.
11.'National Science' Week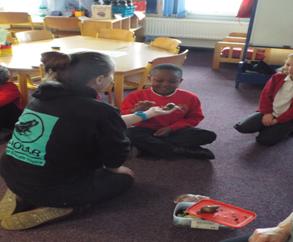 This week we had two science days and activities and learning to promote science. Reception and KS1 had an Animal Habitat Session in their classroom learning about and touching an African land snail, a millipede, a tarantula, an American corn snake and a guinea pig.
KS2 all has a session on Food Webs and saw similar animals and had a scorpion instead of the spider! All the children learnt a lot from these lessons that were paid for from Pupil Premium for the children.
12.Maths Guide
With the newsletter is a guide to how you can help your child with maths at home. Although a strength at St Johns we are constantly being told by the government that British standards are low. Here is your chance to help your child improve in this area with some suggestions to do over Easter.
13.Sport Relief Golden Mile
This is on Friday, Miss Pickerill has arranged the following:
Any child who wants to take part on their own, who brings £1, will do it in the morning at 11am. If parent/carers want to do this charity event with their child, come into school at 1:45pm, collect your child at their normal cloakroom door and have a lovely walk 7 times round the doughnut, which will mean you have walked a mile with a smile! Remember to bring your £1 for each person walking as this is a great charity to support.
14.Next Week's Newsletter.
Next week a short newsletter will go out on Tuesday with a reminder of dates etc.
15.Safety On The School Site
Cars are allowed on the site at the permission of the Governors but must obey safety rules. Our speed limit on the site is 5 MPH. Yesterday a parent/carer complained that a driver of a blue car failed to stop at the zebra crossing. Parents/Carers have a responsibility to keep our children safe. Anyone seen driving dangerously on the school grounds will not be allowed on.
16.100 Reads
Last half term the children at St John's voted for their favourite story books. This information was sent to Stoke Reads who have used data from schools across the region to compile a list of the top 100 books for primary age children. Take a look at the attached list. How many has your child read? Maybe you could use this as a guide to help your child choose a great read for the Easter break!
17. Lates

Friday
3
Monday
4
Tuesday
5
Wednesday
3
Thursday
3
18. Home School Link Worker Information
Reminder – We are only allowed to administer prescribed medication from the doctors that is required 4 times a day. If it is 3 times a day this can be done in the morning before they come to school, as soon as they get home and just before bed. If we do need to administer medication please bring it in a clear bag with an appropriate medicine spoon. Parent/carers then need to collect medication at the end of the day at reception. If medication has not been collected we will not continue to medicate in school time.
Food Bank – Thank you for all of your kind donations for the Food Bank, next Thursday 24th March is the last day to bring in your donations.
19.Celebration Assembly Dates

Thursday 24th March
Y2C ~ Class Assembly ~ 9:05am ~ all welcome
Thursday 28th April
Y1-2P ~ Class Assembly ~ 9:05am ~ all welcome
Friday 20th May
Y1B ~ Class Assembly ~ 9:05am ~ all welcome
Friday 10th June
R1 and R2 ~ Class Assembly ~ 9:05am ~ all welcome
20.Dates For Your Diary

Friday 18th March
Sports Relief Mile ~ 2pm
Thursday 24th March
End of Term
Monday 11TH April
Start of Term
Monday 18th April
Bikeability ~ Y4 ~ Level 1
Monday 2nd May
May Day
Thursday 5th May
Police Elections ~ Training Day
Thursday 12th May
Bikeability ~ Y5 ~ Level 2
Friday 13th May
Bikeability ~ Y5 ~ Level 2
Thursday 19th May
Bikeability ~ Y6 ~ Level 2
Friday 20th May
Bikeability ~ Y6 ~ Level 2
Wednesday 25th May
Class Group Photos
Friday 27th May
End of Term
Monday 6th June
Start of Term
Thursday 23rd June
EU Referendum ~ Training Day
Saturday 2nd July
School Community fair ~ 12:00 – 2:00pm
Friday 22nd July
End of Term
Monday 5th Sept
Start of Term
21.Celebration Assembly
Our children/classes who received awards on 11/03/16 were:
1/2 ~ Harsha Goru
2C ~ Theodore Pinto
3J ~ Tyler Barlow
3M ~ All of 3M
4E ~ Lennon Gladwin
4/5 ~ Amelia Harvey
5/6 ~ Rihanna Molyneux
6H ~ Kyra-Mae Phillips & Maria Xanthopoulou
Mrs Bloor's Award: Rhys Wooliscroft & Keira Whieldon
Lunchtime Supervisor's Award: Ethan Hill & Macey Simpson
Time for Sport: Y1/2
Attendance Awards given out for data collected w/b 29/02/16:
Whole School Attendance: 95.7% (Government target is 95%)
Class Attendance:
1st Place 6H 99.3%
2nd Place 5/6 98.6%
Pupil Attendance Awards:
1, Grace Leese
2, Oliver Woodward
Water World Voucher: Macey Simpson & Ethan Hill
Yours sincerely
Mrs P Bloor
Headteacher