Newsletter Spring Term 11
Dear Parent/Carer
As we finish for Easter on Thursday, just a few bits of information and updates for you. This is always the main teaching term when children seem to really move forward with their progress. This has happened and you must be as delighted with the progress of your child/children as the staff are. A visitor to school commented on the lovely learning atmosphere at St John's and how well-mannered and interested the children were. That is a great credit to our parent/carers.
1.Holiday Dates
Just a reminder to you all that we break up on Thursday 24th March and return to school on Monday 11th April. We are sending PE kits home to wash and would like all children to return with their book bags and PE kits. The children have been told to remind parents/carers, as this is a vital personal responsibility. It would be nice to have no child in detention the first week back, for not bringing their book bag or PE kits into school.
2.Swimming
Well done to Dylan Colclough, Rusne Kaupyte and Evie Beech-Daly who achieved their Length Swimming Award. Well done to Freya Knight for getting her Elementary Award.
Both Y3 and Y4/5 classes are swimming for the summer term and need their PE kits for the first 2 weeks. Letters have been sent out.
3.Know Your Attendance Week
We sent out information about your child's attendance recently. Our whole school attendance so far is 95.7% which is an improvement from last year. Children who attend regularly attain higher standards. A family recently has been given a fixed penalty notice for non- attendance, so please be aware!
4.Event in School Last Week.
Sport Relief – Thank you to parents/carers who supported the Sport Relief Golden Mile. We raised £212.66 for this worthwhile charity. It was lovely to see so many out in the morning with staff and after school with parents/carers.
Y2 Golden mile Club – Very well done to all the children in Y2 and Y1/2 who achieved their 5 mile Golden Mile Certificate this week, after two terms of work towards this. It has been in the news about children's fitness levels, this group are all excellent and have enjoyed the club that I have taken.
Thursday Activities – On Thursday at 9:10am we have the Y2 class assembly. It would be lovely for all the parent/carers to see how confident the class are. Also the whole term attendance awards and certificates will be given out on this day.
At 1: 45pm Early Years (Nursery and Reception classes) have an Easter Parade in the hall. Again it will be lovely to see how much more confident and how happy the children are. We have invited our part time children to stay the whole day as the staff have arranged some exciting activities for them, to make it very special.
5.Staff News
Mrs Halfpenny and Miss Whalley begin their maternity leave on Thursday prior to the arrival of their babies. Mrs Peake returns from her maternity leave to take over Y6. Mr McCartney will be teaching Y5/6. Mrs Brown and Miss Chapman will be sharing the Y1 class next term.
6.Message from Stoke LA. School Holiday Preferences Questionnaire!
Stoke on Trent Local Authority would like to consult with All Staff, Governors and Parents at all Schools across the City, with regard to School Holiday preferences. Please answer the questionnaire, by Wednesday 13 April, as fully as possible to enable us to take account of your thoughts and opinions.
The findings of this questionnaire will be shared during April 2016 and may help to set the holidays for 2017 – 2018. Please go to the webpage below to answer the short questionnaire;
http://webapps.stoke.gov.uk/snapsurveys/schooltermdates/schooltermdates.htm
7.Y6 Table Tennis Competition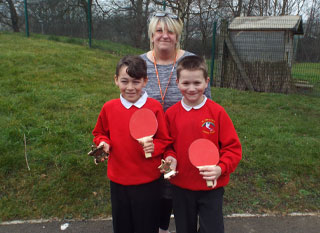 This has been held over the past 2 weeks and involved some super games. In the final Theo Molyneux narrowly triumphed over Jacob Simpson. They are seen being presented with their trophies by Mrs Spiers the Chair of Governors. Very well done to all the children that took part.
8. Unsafe Parking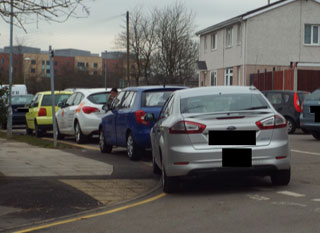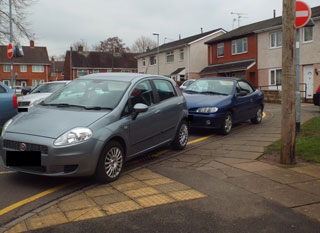 There are still parents/carers parking illegally. The enforcement officer is due and anyone seen parking illegally could be fined.
9.SATs Tests
Very well done to Y6 who completed practice tests last week and showed the progress they are making. They were rewarded with juice and biscuits on Monday. They have 2 packs of homework that must be handed in on the first day back. The maths has explanations but if you are struggling to help it can be completed at catch up club.
Y6 SATs are from the 9-12th May. Y2 tests on the 3rd 4th 6th 16th May and Y1 phonics test are 13-15th June. Writing assessments will be in June. As you can see it is a busy term and it is vital that children are in school unless there are ill.
10.Easter Eggs
We shall be giving all the children a small egg on Friday to celebrate Easter. On behalf of the staff we all wish you a happy and safe Easter break.
11.Reminder Of School Meal Charges
School meal charges will increase after the Easter break. The cost of meals for Reception to Y6 will increase from £2.20 to £2.30 per day (£11.50 per week) these meals are still subsidised by 7p a day each. Nursery will remain at £2.00 per day (£10 per week) as these are not subsidised. This increase will take place from Monday 11th April 2016.
12. Home School Link Worker Information
We hope you have a lovely Easter break and that the weather is on our side. Please be safe at all times.
13.Dates for your Diary

Thursday 24th March
End of Term
Monday 11TH April
Start of Term
Monday 18th April
Bikeability ~ Y4 ~ Level 1
Monday 2nd May
May Day
Thursday 5th May
Police Elections ~ Training Day
Thursday 12th May
Bikeability ~ Y5 ~ Level 2
Friday 13th May
Bikeability ~ Y5 ~ Level 2
Thursday 19th May
Bikeability ~ Y6 ~ Level 2
Friday 20th May
Bikeability ~ Y6 ~ Level 2
Wednesday 25th May
Class Group Photos
Friday 27th May
End of Term
Monday 6th June
Start of Term
Thursday 23rd June
EU Referendum ~ Training Day
Saturday 2nd July
School Community fair ~ 12:00 – 2:00pm
Friday 22nd July
End of Term
Monday 5th Sept
Start of Term
14.Celebration Assembly Dates

Thursday 24th
March Y2C ~ Class Assembly ~ 9:05am ~ all welcome
Thursday 28th
April Y1-2P ~ Class Assembly ~ 9:05am ~ all welcome
Friday 20th May
Y1B ~ Class Assembly ~ 9:05am ~ all welcome
Friday 10th June
R1 and R2 ~ Class Assembly ~ 9:05am ~ all welcome
15.Lates

Friday
4
Monday
5
16.Celebration Assembly
Our children/classes who received awards on 18/03/16 were:
1B ~ Jacques Theron
1/2 ~ Jack Cahill
2C ~ Charlie-Anne Hindmarsh
3J ~ Samuel Kuruvilla
3M ~ Isabelle Godwin
4E ~ Aiden Johnson
4/5 ~ Elliot Craggs
5/6 ~ Megan Proudlove
6H ~ Jacob Simpson
Mrs Bloor's Award: Palveen Dhillon
Dusty Bin (tidy classroom): R1
Y6 Prefects Award: Y1
Smart School Uniform: Harsha Sai Goru
Lunchtime Supervisor's Award: Paige Adlington & Sarayu Baddam
Time for Sport: Y4/5
Walk to School: Y2
Lunch Time Award: Y4/5
Word Challenge Award: Michal Chmielewski
Attendance Awards given out for data collected w/b 18/03/16:
Whole School Attendance: 94.8% (Government target is 95%)
Class Attendance:
1st Place Y1/2 ~100%
2nd Place 3J ~ 98.5%
Pupil Attendance Awards:
1, Angelika Szklarska
2, Thomas Hilditch
Water World Voucher: Anashe Mutize
Yours sincerely
Mrs P Bloor
Headteacher