Newsletter Spring Term 2
Dear Parent/Carer
We had a lovely learning atmosphere in school last week and it has continued this week. Your children all want to do their best and are very polite and helpful and I hope you are as proud of them as we are.
1.Our talking topic
This week we have been thinking about friendship and how it is important as Jesus said that we should love our neighbours. The children were told about the importance of caring for people that we may not be naturally attracted to and to make an effort this week to look for something good about them. If only everyone did this we would have no conflict in our community. Please talk to your child about this.
2.Our Value
Our value this week has been kindness which is one we have in abundance here at St. Johns. Very well done to Sam Cole, Aaron Marshall, Kyra-Mae Phillips, Palveen Dhillon Y6, Nicole Steele Y5/6, Beth Brennan Charlie Simpson Evie Beech-Daly Y4, Erin Hill Y4/5, Elliot Pye,
Daniel Polhos who have all been seen noted as showing kindness this week.
3.Class of the week Year 6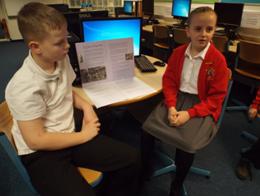 4.Staff news
New members of staff joined the learning team last week and we extend a warm welcome to them. Teacher Support Assistants, Miss Cruxton, Mr Wright and Miss Fryer.
In the office Mrs Bailey has begun her maternity leave and is replaced by Mrs Harley (please be patient while she learns the routines). All colleagues have commented what a happy team there is at St Johns and how caring we are.
Miss Lovatt is undertaking her civic duty the next 2 weeks and is on jury service so we have a supply teacher in R1.
5.Events in school last week/this week
The 3 KS1 classes all had a day at Stanley Head Outdoor Education Centre and all thoroughly enjoyed it and have been keen to tell of their adventures which I expect parent/carers have heard! They were all complimented on their behaviour very well done to the children in Y1 and Y2, we are proud of you.
Girls in Y5 competed in a 'High 5' netball tournament at Fenton Manor Sport's Centre this week who had been part of a netball club last term. In a tough group they had 1 win 2 draws and 2 loses but improved throughout the tournament according to Miss Edwards. Brodie Sinclaire was the star player for defensive skills and Stephanie Muyakha was the star player for attacking play. Very well done to all the team.
6.France Visit
This is all organised as a 3 day 2 night residential visit for 30 Y6.The visit has taken hours of organisation by the team. They are thoroughly looking forward to the visit which will look at the battlefields of the Somme in the 100th anniversary year when so many gave their lives for their country. They will also be learning about French culture and the language. Going on past groups it will be one of their memorable educational experiences that they will remember for life. Before Christmas an ex-parent saw me shopping and said her daughter, now at college, still thinks it was the best experience she ever had. 3 children have withdrawn last week and as a result we will not be organising a London visit for Y6 as we have lost money on this visit.
7. National presentation
As the West Midlands School of the Year for the Modeshift Travel 5 Y6 children have been invited to London to do a presentation at the Houses of Parliament in March. This is a fantastic achievement and will be a great learning opportunity. Who knows one of them might end up being an MP?
8. Spring Term
This, as I tell the staff, is the main teaching term when we see most progress from the children. Please help up to achieve this by hearing your child read every day and not making appointments (unless an emergency) in school time. In May and June Y1 children will have the statutory phonics test and Y2 and Y6 SATS tests. We do not authorise any holiday in term time.
9. Y6 tests
In preparation for the forthcoming tests in may which are all new this year we have given the children a study book in maths in case you are not sure what the concept is. The children are also having booster lessons in English and Maths in preparation. They have been split into 3 groups and will have specialist teaching by Mrs Halfpenny myself Mrs Wolfe and Mrs Bayley. I have an extra teaching assistant until May to help here.
It will be group teaching and some 1 to 1 teaching aimed at giving all the children the best possible chance of making maximum educational progress and enhancing self-confidence and independent learning skills. This has always been both very successful and enjoyed by the children. As I have a teaching commitment this term, I am still very happy to meet with parent/carers but it will need to fit in with this.
10.Target Sharing Open Evenings
These are on Tuesday 9th February and Wednesday 10th February. Please put these dates in your diary so we can share your child's next steps with you in our joint responsibility in your child's education.
Attachment: Target Sharing Evening for Families.
11.Clubs
We have allocated places for our clubs this term and all are full, we do try to offer clubs to different children each term. We have had siblings waiting for someone in a club but we cannot have children unattended. If you your child is not able to attend a club as it makes picking up difficult please let us know and we can give the place to someone else.
Breakfast Club is now full, similarly we have no capacity to look after children in the morning. Staff are very busy preparing for learning in the classrooms
12.Reading at Home.
Last term we started a new awards scheme to reward children for practising their reading skills outside of school. At St John's we believe that reading is absolutely vital for children to be able to get the most out of their education and also strive to develop a love of books for both learning and pleasure. Your child is heard read individually at school a minimum of three times a week, with some children reading daily to an adult. Reading happens in all lessons and we read stories or poems as a class every day. However, for children's skills to develop, they need to be reading regularly at home as well. As the "I Read At Home" scheme is starting to have a positive impact, we ask that you take just 10mins a day, a minimum of 4 times a week to read with your child and write in their reading diary.
Many children were awarded books as prizes last half term for reaching the top of their Reading Rockets or travelling the furthest with their Passport to Reading. Several children, however, did not read at home often enough and some did not even make it onto the Reading Rocket display or manage to travel from the starting point on their class map. Please help your child to improve this term and see what certificates and prizes they can bring home in February.
Well done to Key Stage 2 winners last term:
Cassandra Martin and Jenson Nguyen Jerome Juguilon and Declan Matthews
Raul Miah and Sneha Miah.
13.Lates
This number is still too high and very disruptive to learning. Our learning day starts at 8:50
I accept that sometimes there is an issue with our out of catchment families if there is an accident for example but we regularly have the same families late and send all late children to catch up clubs as they have missed vital learning. We will be having Perfect Punctuality and Perfect Attendance reward visits in a prize draw later in the term.
Attachment: Example of how being late adds up over time.
14. Lates

Friday
12
Monday
8
Tuesday
19
Wednesday
18
Thursday
13
15. Home School Link Worker Information
St. John's Church
A Group of children attended St. John's Church on Sunday to take part in the service. They were complemented on how well they did by the congregation. It was nice to see some of the parents/carers stopped too. Thank you to Orlando Heselwood, Anthony and Angel Evans, Declan Matthews, Rhianna Molyneux, Nicole Steele, Eleanor Williams and India Vickers. They read and sung beautifully!
16.Dates for your Diary

Wednesday 20th January
Family Learning Workshop ~ 9:15am-11:15am ~ Comm Room
Wednesday 27th January
Y6 France Trip Departing
Friday 29th January
Y6 France Trip Returning
Wednesday 3rd February
Wallace Centre Dance Workshop ~ Y4E ~ 9:00am-3:00pm
Thursday 4th February
Potteries Museum Visit ~ Y3M ~ 9.30am-12.30pm
Thursday 4th February
Potteries Museum Visit ~ Y4E ~ 12:30pm-3:00pm
Friday 5th February
Potteries Museum Visit ~ Y3J ~ 12:30pm – 3:00pm
Tuesday 9th February
Family Learning Workshop ~ 9:15am-11:15am ~ Comm Room
Wednesday 10th February
Potteries Museum Visit ~ Y1B ~ 9:30am-12:30pm
Wednesday 10th February
Wallace Centre Dance Workshop ~ 3M ~ 9:00am-3:00pm
Wednesday 10th February
Potteries Museum Visit ~ Y1/2P ~ 12:30pm-3:00pm
Tuesday 9th February
Open Evening ~ 3:15pm-5:15pm
Wednesday 10th February
Open Evening ~ 3:15pm-5:15pm
Thursday 11th February
Potteries Museum Visit ~ Y6 and Y2C ~ 9:30am-12:30pm
Friday 12th February
Wallace Centre Dance Workshop ~ Y4/5~10:30am-3:15pm
Friday 12th February
End Of Term
Monday 22nd February
Start Of Term
17.Celebration Assembly Dates

Friday 15th January
Y4E ~ Class Assembly ~ 9:05am ~ all welcome
Friday 12th February
Y3J ~ Class Assembly ~ 9:05am ~ all welcome
Friday 11th March
Y3M ~ Class Assembly ~ 9:05am ~ all welcome
Thursday 24th March
Y2C ~ Class Assembly ~ 9:05am ~ all welcome
Thursday 28th April
Y1-2P ~ Class Assembly ~ 9:05am ~ all welcome
Friday 20th May
Y1B ~ Class Assembly ~ 9:05am ~ all welcome
Friday 10th June
R1 and R2 ~ Class Assembly ~ 9:05am ~ all welcome
18.Celebration Assembly
Awards given out for data collected w/b 14/12/15
Whole School Attendance – 95.8%
Class Attendance 1st Place – 3M 99.3%
Class Attendance 2nd Place – 4/5 98.4%
Pupil Attendance Awwards – Abbey Filcock and Theo Lovall.
Awards given out for w/b 4/1/16
Mrs Bloor's Award: Ethan Kidd
Dusty Bin (tidy classroom): Year 4
Year 6 Prefects Award: Year 2
Smart School Uniform: Georgia Gold, Haira Hashonqanyika
Lunchtime Supervisor's Award: Bethan Hill and Robert Brian
Time for Sport: 1-2
Walk to school Trophy: Year 6
Lunch Time Award: year 1
Attendance Award: Theo, Abbey Wilcocks
Awards given out for data collected w/b 14/12/15:
Class Attendance: Y3M – 99.3%
Whole School Attendance: 95.8% (Government target is 95%)
Pupil Attendance Awards: Abbey Filcock and Theo Lovell
Yours sincerely
Mrs P Bloor
Headteacher