Newsletter Spring Term 3
Dear Parent/Carer
As we encounter colder, snowy, but seasonal weather, it has been lovely to see the children so well wrapped up. We have had a lovely learning week.
1. Our thinking topic
This week we have been thinking about our responsibility for keeping healthy and how to enjoy ourselves at the same time. The children were given a quiz to see if they knew about the importance of regular exercise, which they did and how we should do activities and sports that we enjoy and get the whole body moving every day. We are, and have been for a long time a school that promotes exercise and physical wellbeing. Our 2 hours of PE plus indoor active breaks, active lunchtimes and our encouragement of walking to school, mean our children are very knowledgeable. Please talk to your child about this.
2. Outdoor playgrounds
Linked to this theme, we have added an outdoor hut on the early year's playground, an activity panel on KS1 and have extended out trim trail (not yet finished) on the top playground which I know is very popular with the KS2 children. We like our children to be active and busy at break and lunch times and they enjoy this too.
3. Staff news
We sadly say good bye on Friday to Mrs Barrow, who has been at St Johns since it opened in 2006. She has been an immense member of staff, whose support and work in classrooms; going that extra mile for the children and special educational needs work have been outstanding. For quite a while now, she has had responsibility for taking photos of school events and Mrs Barrow is leaving to follow her passion to be a school photographer, in which she will be a great success. Her commitment to the children is such that she has delayed her start, so she can accompany Y6 on the French visit next week looking after children 24 hours a day! I know you would want to send your grateful thanks and very best wishes for the future to Mrs Barrow.
4. Y4 class assembly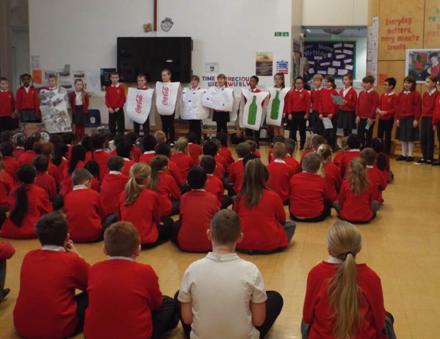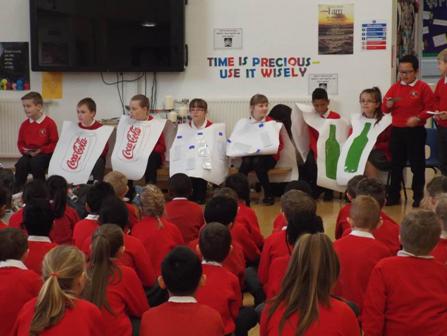 Thank you to all the parent/carers that attended the assembly on Friday. They gave us all a key message that we all have a responsibility to recycle to save our planet. A parent commented to me how wonderful it is that all children in a class are involved and speak. It is one of the many ways that we encourage self-esteem and confidence.
5. Bad weather
We gritted our paths last week, when it was obvious local roads had not been. Part of our policy is that when necessary for health and safety our sport's ground is closed for all cars. Therefore, we ask parent/carers to be especially careful on the drop off zone if you come into school. Wheatly Avenue is on a bank and has water running down it from the spaces that hospital staff park in opposite the school. I have contacted Jackie Barnes, the local councillor, about this issue.
We do ask parent/carers to take their time and consider, as some of my staff did, parking on Harpfield's Road and walking in. Children who live near should walk in and be careful. We never allow any snowballing on site and leave that to family time when you can take responsibility for wet clothing.
To help we keep our register open later and have space in the cloakroom to take off the essential wellingtons. Very well done to Y4 and Y5/6 who on the day we had snow arrived promptly (except 2) for their swimming lesson. They were given juice and biscuits as a reward.
6. PE reminder
All children need black pumps for indoor games as per our policy. We do gymnastics with apparatus barefoot. Children for health and safety reasons cannot be in bare foot in games lessons, in case someone steps and injures them. We do not want any accidents. All parent carers have agreed to support our uniform policy and we do so many free visits for families, it is a small request to make.
They were also so useful last week when a group of Y6 arrived with shoes and socks drenched. The children put them on whilst we put their socks on the radiator and dried their shoes. As Mrs Beech–Daly one of our teaching assistants who has a pupil in the school, said this week she got 2 pairs, one for PE and one in case of poor weather, as they were only £2.50 (less than the cost of a packet of cigarettes)
7. Stoke City tea-party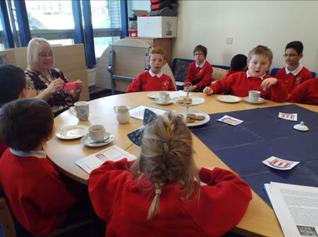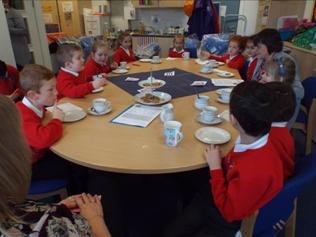 This was held last week to get children to write questions, as writing is our key issue to improve standards in this year. The children were made a cup of tea, passed round biscuits and their questions were answered. They all enjoyed it and a special well done to William Kidd, Oliver Woodward Y3 and Landon Coates Y2 who knew enough to be on Mastermind! They all enjoyed the event and Mrs Varley who attended, as a big fan, commented on how well the children spoke when they were learning something that interests them.
8. Child safety Online
Included with the newsletter is some information for parent/carers to understand the risks that social media can bring. We think it is clear and succinct and hope you find it useful.
9. Museum visits
This term all classes from reception to Y6 have a visit to the wonderful Potteries Museum, with a taught session by museum staff to do with the class topic. The cost of each workshop is £4.50 a child and there is a cost of the coach as well. So far all the letters have gone out, but replies and the small contribution of £3 we have asked for are, have about 50% returned for each class. Please help us not to waste valuable office time by sending the slips and money in as soon as possible; otherwise we will think you do not want your child to go on exciting visits.
10. Home School Link Worker Information
On Wednesday we had an African Crafts Workshop. This is run by Family Learning and is totally free for you. We do hold different ones throughout the year. We are told that the workshops are for 10 parents/carers and we do stick to this. Some of the workshops are very popular. Unfortunately, some parent/carers did not turn up on Wednesday and I did have a waiting list for those that did want to attend. If you are given a place but then circumstances change and you can't make it, please let me know in good time so I can give the place to someone else. (All this is stated on the letter that I send out)
All schools now need medical evidence if your child is off school for more than 3 days. Other schools do expect a doctor's note which can cost up to £25. I will accept a prescription, doctor's appointment card or the medicine bottle that has been prescribed as evidence. If I see medical evidence of your child's absence it will then be authorised.
11. Dates for your Diary

Wednesday 27th January
Y6 France Trip Departing
Friday 29th January
Y6 France Trip Returning
Wednesday 3rd February
Wallace Centre Dance Workshop ~ Y4E ~ 9:00am-3:00pm
Thursday 4th February
Potteries Museum Visit ~ Y3M ~ 9.30am-12.30pm
Thursday 4th February
Potteries Museum Visit ~ Y4E ~ 12:30pm-3:00pm
Friday 5th February
Potteries Museum Visit ~ Y3J ~ 12:30pm – 3:00pm
Tuesday 9th February
Family Learning Workshop ~ 9:15am-11:15am ~ Comm Room
Wednesday 10th February
Potteries Museum Visit ~ Y1B ~ 9:30am-12:30pm
Wednesday 10th February
Wallace Centre Dance Workshop ~ 3M ~ 9:00am-3:00pm
Wednesday 10th February
Potteries Museum Visit ~ Y1/2P ~ 12:30pm-3:00pm
Tuesday 9th February
Open Evening ~ 3:15pm-5:15pm
Wednesday 10th February
Open Evening ~ 3:15pm-5:15pm
Thursday 11th February
Potteries Museum Visit ~ Y6 and Y2C ~ 9:30am-12:30pm
Friday 12th February
Wallace Centre Dance Workshop ~ Y4/5~10:30am-3:15pm
Friday 12th February
End Of Term
Monday 22nd February
Start Of Term
Wednesday 24th February
Potteries Museum Visit ~ Y5/6 ~ 9:30-12:15
Wednesday 24th February
Potteries Museum Visit ~ Y4/5 ~ 12:30-3:15
Monday 29th February
Potteries Museum Visit ~ R1 ~ 9:30 – 12:15
Monday 29th February
Potteries Museum Visit ~ R2 ~ 12:15- 3:15
12. Celebration Assembly Dates

Friday 12th February
Y3J ~ Class Assembly ~ 9:05am ~ all welcome
Friday 11th March
Y3M ~ Class Assembly ~ 9:05am ~ all welcome
Thursday 24th March
Y2C ~ Class Assembly ~ 9:05am ~ all welcome
Thursday 28th April
Y1-2P ~ Class Assembly ~ 9:05am ~ all welcome
Friday 20th May
Y1B ~ Class Assembly ~ 9:05am ~ all welcome
Friday 10th June
R1 and R2 ~ Class Assembly ~ 9:05am ~ all welcome
Saturday 2nd July
School Community Fair
13. Celebration Assembly
Our children/classes who received awards on 15/01/16 were:
Mrs Bloor's Award: Kieran Tonks
Dusty Bin (tidy classroom): Year 4
Smart School Uniform: Arahbela Arvesu, Ruby Howard, Y4
Lunchtime Supervisor's Award: Jacques Theron, Vihara De Alwis
Time for Sport: 3M
Teachers Award: Stephanie Mayakka.
14. Awards given out for data collected w/b 04/01/16:
Class Attendance:
1st Place: 1/2, 100%
2nd Place: Y6, 99.3%
Whole School Attendance: 96.2% (Government target is 95%)
Pupil Attendance Awards:
1, Jack Cahill
2, Robyn Whieldon
15. Special Mentions Awards
For 15/01/16
1-2P: Paige Adlington
2C: Lucas Conway Kendal
3J: Aaron Sajan
3M: Rita Qui, Liam Davies, Grace Hawkins
4E: Whole Class
4-5M: Kasendra Martin
5-6W: Nicole Steele
6H: Raul Miah
Water world Voucher: Esme Clarke
Yours sincerely
Mrs P Bloor
Headteacher