Newsletter Spring Term 4
Dear Parent/Carer
As we finish another very busy week, there has been a great learning focus in school, particularly with writing, where we are trying to improve all the children's work. Many parent/carers have been doing extra writing at home which is great. Please carry on helping your child to read and do their homework as we all want the best possible progress for all children.
1. Our Talking Topic
This week we have been thinking about aiming high and giving our best. The children were told the story of Cain and Abel from the bible and how Cain did not give God his best gift. Whilst we don't offer crops or animals these days we should always give our very best in everything we do. Please talk to your child about this.
2. Our Value: Kindness
This is something that our children are great at and show so many acts of kindness each day. We are really proud that we have so many thoughtful pupils at St Johns. Well done to all the children for being so kind.
3. School Routines
At lunchtime KS2 pupils on a rota are allowed to use the Computing suite at lunchtime. (Any child late or in detention misses this treat) the children are supervised by Mrs Bayley who monitors what they are playing. The children love this lunchtime club.
4. After School Club Fruit and Vegetable Extravaganza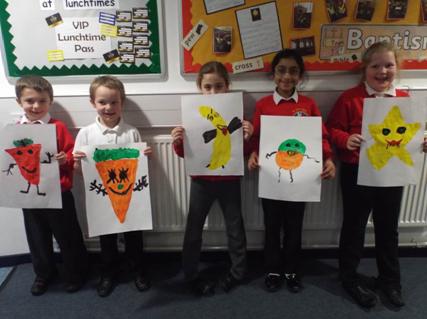 This club is learning about where our food comes from and how to eat healthily. Miss Pickerill has some tasty treats planned for them to make.
5. Y6 in France
The children arrived safely and are all having a wonderful time in this residential visit to the First World War battlefields. I am sure parent/carers of Y5 pupils are hoping this WOW visit goes ahead for their children next year.
6. Litter on the School Site
Mr Cox reports his job of tidying up is so much easier now we do not allow children to eat or drink after school for health reasons. Thank you so much for your help and support with this.
7. Barrier for Disabled Drivers
Next week the in barrier and the first disabled bay will out of use due to repairs. Please use the out barrier to come both in and out.
8. Lates

Friday
9
Monday
1
Tuesday
6
Wednesday
17
Thursday
11
9. Home School Link Worker Information
Sugary drinks can put you at greater risk of developing dangerous levels of fat around your vital organs, as researchers have discovered. The experts found that those who drank them every day put on 30% more fat than those that did not drink fizzy drinks every day. The fat occurs naturally within the body and is stored around major internal organs such as the liver, pancreas and intestines. So, why not try and reduce the amount of fizzy drinks you consume for a month and see how you feel.
10. Dates for your Diary

Friday 29th January
Y6 France Trip Returning (approx. 10:30pm)
Wednesday 3rd February
Wallace Centre Dance Workshop ~ Y4E ~ 9:00am-3:00pm
Thursday 4th February
Potteries Museum Visit ~ Y3M ~ 9.30am-12.30pm
Thursday 4th February
Potteries Museum Visit ~ Y4E ~ 12:30pm-3:00pm
Thursday 4th February
Citizens Advice Benefits Adviser ~ 4:00pm
Friday 5th February
Potteries Museum Visit ~ Y3J ~ 12:30pm – 3:00pm
Tuesday 9th February
Family Learning Workshop ~ 9:15am-11:15am ~ Comm Room
Wednesday 10th February
Potteries Museum Visit ~ Y1B ~ 9:30am-12:30pm
Wednesday 10th February
Wallace Centre Dance Workshop ~ 3M ~ 9:00am-3:00pm
Wednesday 10th February
Potteries Museum Visit ~ Y1/2P ~ 12:30pm-3:00pm
Tuesday 9th February
Open Evening ~ 3:15pm-5:15pm
Wednesday 10th February
Open Evening ~ 3:15pm-5:15pm
Thursday 11th February
Universal Credit Advice ~ 4:00pm
Thursday 11th February
Potteries Museum Visit ~ Y6 and Y2C ~ 9:30am-12:30pm
Friday 12th February
Wallace Centre Dance Workshop ~ Y4/5~10:30am-3:15pm
Friday 12th February
End Of Term
Monday 15th February
Time 4 Sport ~ Y1 & Y2 ~ 9:00 – 3:00pm (Invited pupils)
Tuesday 16th February
Time 4 Sport ~ Y3, Y4 & Y5 ~ 9:00 – 3:00pm (Invited only)
Monday 22nd February
Start Of Term
Wednesday 24th February
Potteries Museum Visit ~ Y5/6 ~ 9:30-12:15
Wednesday 24th February
Potteries Museum Visit ~ Y4/5 ~ 12:30-3:15
Monday 29th February
Potteries Museum Visit ~ R1 ~ 9:30 – 12:15
Monday 29th February
Potteries Museum Visit ~ R2 ~ 12:15- 3:15
Saturday 2nd July
School Community fair ~ 12:00 – 2:00pm
11. Celebration Assembly Dates

Friday 12th February
Y3J ~ Class Assembly ~ 9:05am ~ all welcome
Friday 11th March
Y3M ~ Class Assembly ~ 9:05am ~ all welcome
Thursday 24th March
Y2C ~ Class Assembly ~ 9:05am ~ all welcome
Thursday 28th April
Y1-2P ~ Class Assembly ~ 9:05am ~ all welcome
Friday 20th May
Y1B ~ Class Assembly ~ 9:05am ~ all welcome
Friday 10th June
R1 and R2 ~ Class Assembly ~ 9:05am ~ all welcome
12. Celebration Assembly
Our children/classes who received awards on 22/01/16 were:
1B ~ Deon Johns
1/2 ~ Alex Bollard-O Shea
2C ~ Lola Howard
3J ~ Adithya Sanil
3M ~ Alyssa Stanley
4E ~ Joel Sheldon
4/5 ~ Cary Bithell
5/6 ~ Stephanie Mayakka
6H ~ Tobais Connor
Mrs Bloor's Award: Tobias Connor
Dusty Bin (tidy classroom): Year 1
Smart School Uniform: Grace Eaton
Lunchtime Supervisor's Award: Thomas Hilditch & Amin Miah
Good to be Green Ks1: Abby Amara
Good to be Green Ks1: Ranudi Premadasa & Kira Reilly
Time for Sport: 3M
Walk to School: 3M
World Challenge Award: Anopa Mutize
13. Awards given out for data collected w/b 11/01/16:
Class Attendance:
1ST Place: 3J 99.2%
2nd Place: 4E 98.1%
Whole School Attendance: 95.8% (Government target is 95%)
Pupil Attendance Awards:
1, Angel Johnson
2, Evie-Mai Bourne
Water World Voucher: ~ Rian Webster
14. Attachments:
Benefit Changes/meetings
Stoke OSC Activities
Time 4 Sport Holiday Camp
Yours sincerely
Mrs P Bloor
Headteacher