Newsletter Spring Term 5
Dear Parent/Carer
As we begin a cold weather spell, let's hope it kills all the germs and at least the children are getting wear from their warm winter clothing.
1. Our Talking Topic
This week we have been thinking about climate change and how god wants us to look after our precious world. We talked about caring for pets and keeping our environment tidy. The children all knew we have to recycle more by applying 'Reduce Reuse, Recycle' and are good at this. They promised to help you do this at home!
2. Our Value: Respect
This is a value we talk about a lot at St Johns and we have a saying 'Give Respect-Get Respect' which is a very good one. Very well done to William Cooper & Jacob Simpson Y6, Kira Reilly & Rusne Kaupyte Y5/6, India Vickers Y4/5, Anopa Mutize & Ricardo Gordan Y4, Hao Yu & Eve Tams Y3J, Josha Webster R2, Alex Ballard-O'Shea Y1/2, Francesca Zander & Delarni Fox Y1 who have been seen being extra respectful this week.
3. Events in School This Week
Thank you to nursery parent/carers who came in for tips on writing. This is an area we want to improve standards and like reading good habits start at a young age.
Y4 dance workshop: This took place on Wednesday and was thoroughly enjoyed by the children.
4. Target Sharing Evening
During the Target Sharing Evening catering will be there with samples of food available for you to try, cooked by our catering team.
5. School Routines – Trimtrail
At break all the children go outside to play and have fun. The top 2 classes go to the sport's ground and really enjoy playing on the new extended trim trail. Key stage 2 class has an indoor active playtime and other classes go onto the playgrounds. All areas are fully staffed and the children enjoy this.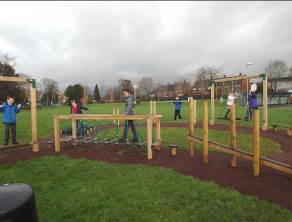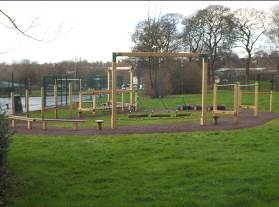 6. Walk on Wednesdays
As part of our travel plan we encourage children and families to walk to school. Our new campaign is to 'Walk on a Wednesday' if you are not able to do other days. Why not try it from next week?
7. Y6 Residential Visit to France
The children arrived back just before midnight on Friday after a delayed crossing but all having had a wonderful time. They learnt about the history of the First World War and visited the trenches and museums in the Somme region. The Battle of the Somme took place nearly 100 years ago in June 1916 and had 55, 000 casualties on the first day alone! These were our brave forefathers from the United Kingdom and British Commonwealth countries like India, Canada and Australia who gave up their lives for our freedom. We passed many cemeteries and noted how young the soldiers were. As William Cooper in Y6 commented "they were so brave" The children also learnt how to work in different teams, get on with each other and how to organise themselves. I am so proud that my team of Miss Pickerill, Mrs Barrow and Mrs Stevenson were so committed to the visit which involved very long staff hours.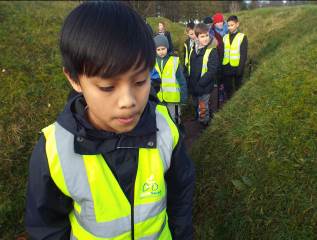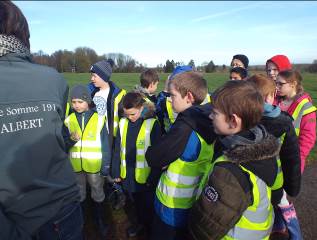 8. Lates

Friday
9
Monday
6
Tuesday
11
Wednesday
16
Thursday
12
9. Class Assembly Dates

Friday 12th February
Y3J ~ Class Assembly ~ 9:05am ~ all welcome
Friday 11th March
Y3M ~ Class Assembly ~ 9:05am ~ all welcome
Thursday 24th March
Y2C ~ Class Assembly ~ 9:05am ~ all welcome
Thursday 28th April
Y1-2P ~ Class Assembly ~ 9:05am ~ all welcome
Friday 20th May
Y1B ~ Class Assembly ~ 9:05am ~ all welcome
Friday 10th June
R1 and R2 ~ Class Assembly ~ 9:05am ~ all welcome
10. Reminders
Parents/carers information evening 4th & 11th February, changes in benefits. See dates for your diary.
11. Dates for your Diary

Thursday 4th February
Citizens Advice Benefits Adviser ~ 4:00pm
Friday 5th February
Potteries Museum Visit ~ Y3J ~ 12:30pm – 3:00pm
Tuesday 9th February
Family Learning Workshop ~ 9:15am-11:15am ~ Comm Room
Wednesday 10th February
Potteries Museum Visit ~ Y1B ~ 9:30am-12:30pm
Wednesday 10th February
Wallace Centre Dance Workshop ~ 3M ~ 9:00am-3:00pm
Wednesday 10th February
Potteries Museum Visit ~ Y1/2P ~ 12:30pm-3:00pm
Tuesday 9th February
Open Evening ~ 3:15pm-5:15pm
Wednesday 10th February
Open Evening ~ 3:15pm-5:15pm
Thursday 11th February
Universal Credit Advice ~ 4:00pm
Thursday 11th February
Potteries Museum Visit ~ Y6 and Y2C ~ 9:30am-12:30pm
Friday 12th February
Wallace Centre Dance Workshop ~ Y4/5~10:30am-3:15pm
Friday 12th February
End Of Term
Monday 15th February
Time 4 Sport ~ Y1 & Y2 ~ 9:00 – 3:00pm (Invited pupils)
Tuesday 16th February
Time 4 Sport ~ Y3, Y4 & Y5 ~ 9:00 – 3:00pm (Invited only)
Monday 22nd February
Start Of Term
Wednesday 24th February
Potteries Museum Visit ~ Y5/6 ~ 9:30-12:15
Wednesday 24th February
Potteries Museum Visit ~ Y4/5 ~ 12:30-3:15
Monday 29th February
Potteries Museum Visit ~ R1 ~ 9:30 – 12:15
Monday 29th February
Potteries Museum Visit ~ R2 ~ 12:15- 3:15
Saturday 2nd July
School Community fair ~ 12:00 – 2:00pm
12. Celebration Assembly
Our children/classes who received awards on // were: 29/01/16
1B ~ Jagoda Kulic
1/2 ~ Peter Ashley-Williamson
3J ~ Georgia Gould & Christion Smith
3M ~ Lina Al Hussein
4E ~ Jessica Cotterill
4/5 ~ Zagros Nageem
5/6 ~ Yashbir Bhullar
Mrs Bloor's Award: Dylan Wright
Smart School Uniform: Ayre Gurses
Lunchtime Supervisor's Award: Aiden Johnson & Angel Johnson
Time 4 Sport: 3J
Attendance Awards given out for data collected w/b: 18/01/16
Whole School Attendance: 96.8% (Government target is 95%)
Class Attendance: 1st Place 3m 99.3%, 2nd Place 99.2%
Pupil Attendance Awards: 1, Rihanna Molyneux, 2, Freya Knight
Water World Voucher: Jamie Paredes
Yours sincerely
Mrs P Bloor
Headteacher