Newsletter Spring Term 6
Dear Parent/Carer
As we finish for half term, in what is traditionally the term in which pupils make most progress, we hope you are pleased with your child's progress and look forward to continuing a very successful term after the half term break. There is a lovely learning atmosphere at St John's.
1.Our Talking Topic
This week we have been thinking about Lent and the 40 days and nights Jesus spent in the wilderness, where he was tempted. Also, how he refused to be tempted as he knew he wanted to do good in the world. Many people give up something for Lent to remember this time. The children were told to be strong when tempted, to do the right things and live good lives caring for others, which is a great lesson for life.
2.Our Value: Responsibility
This is a value we teach, especially as the children get older and need to be responsible for their own learning. Very well done to Georgia Priesse-Mills, Liam Bates & Maria Xanthopoulou Y6, Kiera Whieldon & Harvey Tams Y5/6, Amelia Harvey, Keneth Bautista, Dylan Wright & Claire Johnson Y1/2, Surra Osman & Lucas Conway-Kendall Y2, who have all been noticed for being extra responsible this week.
3.Target Sharing Open Evenings
Staff enjoyed the opportunity this week to share progress and the next steps with parent/carers in our joint responsibility for your child's education. It is always lovely to share good news and parent/carers were very complimentary about the staff. Hopefully you also know the next steps of how you can help your child at home.
4.Class Of The Week
The nursery class were busy writing and recognising numbers.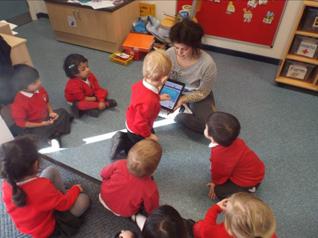 5.School Clubs
Our after school Y5/6 Taekwondo club are practising for a new grading under the coach Mr Peter Johnson. They are all doing really well and enjoy this club.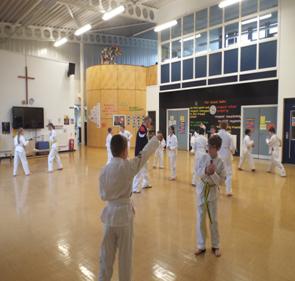 6.PE Kits/Book Bags
PE kits will be sent home for a wash on Thursday or Friday. Please make sure they come back on Monday 22nd February for lessons. We do put children without kit in detention as they need to learn personal responsibility. Book bags and reading books need to be in school as well for all pupils as you know we have a real focus on reading.
7.Events in School
On Friday the school council are organising their half term fund raiser for their chosen charity, the RSPCA. Children can bring 30p for juice and biscuits which they are selling. Y6 and Y5/6 can bring 50p for crisps and juice (left over from the French visit) Please support their efforts.
Four School Council reps India Vickers, Zagros Negeem, Chad Varquez and Laynee Tunnicliffe visited the Willows School council last Friday and will host their school council after half term.
8.School Uniform
Our children always look lovely and smart in their school uniform. I notice some children are in trainers, which are not good for growing feet but I know they will be replaced by school shoes over half term. We use school uniform adherence as one of the criteria for additional learning opportunities. Miss Pickerill is taking 8 Y2 children to take part in a Fitzy-Fox competition shortly. So many could have been chosen for this, so she whittled down the number using this as one of the criteria. High schools send children home who wear trainers or boots. We don't allow children in the ball cage who come to school in trainers.
9.Y6
Very well done to all of Y6 who are working so hard for their tests in May. Many are doing additional study at home, which will be great preparation and a good learning habit for high school.
10.Walk on Wednesdays
Well done to all the parent/carers who walked or who completed 'park and stride' on Wednesday. The council are creating more parking spaces in Harpfield Road by combining the cycle track with pedestrians so there are plenty of places to park and stride.
A few parents complained to me on open night about the behaviour of a small minority of parents parking outside the school gates and being rude to each other in front of children, when there is no space at the end of the day. My answer was that parents know the area is used for hospital parking and why are they parking? If they live near; they should be walking, to help with the growing rise of obesity in children, and if from further away set out 5 minutes earlier and walk from Harpfield Road!
11. Lates

Friday
1
Monday
10
Tuesday
13
Wednesday
1
Thursday
1
12. Home School Link Worker Information
It has been in the news this week that most children do not have privacy settings on their Facebook and Instagram accounts. This means that anyone can see their account and some people can get a lot of information about you and your children. Please make sure over half term that these settings are private. It is stated that children under 13 should not have Facebook or Instagram!
13.500 Words For 2016
Can you write an amazing story using no more than 500 words? Do you want to be a superstar live on the Radio? If so please see the 500 word challenge at the end of the newsletter. Entries must be typed and sent to the child's school email address by Monday 22nd February.
14.Reminder! Universal Credit Advice
Parents/carers information evening 11th February, changes in benefits. See dates for your diary.
15.Dates for your Diary

Thursday 11th February
Universal Credit Advice ~ 4:00pm
Thursday 11th February
Potteries Museum Visit ~ Y6 and Y2C ~ 9:30am-12:30pm
Friday 12th February
Wallace Centre Dance Workshop ~ Y4/5~10:30am-3:15pm
Friday 12th February
End Of Term
Monday 15th February
Time 4 Sport ~ Y1 & Y2 ~ 9:00 – 3:00pm (Invited pupils)
Tuesday 16th February
Time 4 Sport ~ Y3, Y4 & Y5 ~ 9:00 – 3:00pm (Invited only)
Monday 22nd February
Start Of Term
Wednesday 24th February
Potteries Museum Visit ~ Y5/6 ~ 9:30-12:15
Wednesday 24th February
Potteries Museum Visit ~ Y4/5 ~ 12:30-3:15
Monday 29th February
Potteries Museum Visit ~ R1 ~ 9:30 – 12:15
Monday 29th February
Potteries Museum Visit ~ R2 ~ 12:15- 3:15
Thursday 3rd March
Modeshift Awards ~ London
Friday 4th March
Spacebus ~ Early Years
Sunday 6th March
Church Service St Johns ~ Invited Children
Tuesday 8th March
Dance Festival ~ Victoria Hall ~ 6:00 – 8:00pm
Wednesday 9th March
Recorder Festival
Tuesday 15th March
Zoolab KS1 ~ National Space Week
Wednesday 16th March
Zoolab KS2 ~ National Space Week
Friday 18th March
Sports Relief Mile ~ 2pm
Saturday 2nd July
School Community fair ~ 12:00 – 2:00pm
16.Celebration Assembly Dates

Friday 12th February
Y3J ~ Class Assembly ~ 9:05am ~ all welcome
Friday 11th March
Y3M ~ Class Assembly ~ 9:05am ~ all welcome
Thursday 24th March
Y2C ~ Class Assembly ~ 9:05am ~ all welcome
Thursday 28th April
Y1-2P ~ Class Assembly ~ 9:05am ~ all welcome
Friday 20th May
Y1B ~ Class Assembly ~ 9:05am ~ all welcome
Friday 10th June
R1 and R2 ~ Class Assembly ~ 9:05am ~ all welcome
17.Celebration Assembly
Our children/classes who received awards on 05/02.16 were:
1B ~ Ryan Webster
1/2 ~ Sasha-Jade Steele
2C ~ Bethany Hill
3J ~ Ethan Hill
3M ~ Rhihena Mia
4E ~ Ruby Howard
4/5 ~ Alexander Morrey
5/6 ~ Alan Babu
6H ~ Jack Eaton
Mrs Bloor's Award: Holly Chatterton, Kieran Tonks & Jacob Simpson
Dusty Bin (tidy classroom): 6H
Smart School Uniform: Sofian Mohammed
Y6 Prefects Award: 4/5
Lunchtime Supervisor's Award: Holly Gaskel & Amelia Harvey
Good to be Green KS1: Jessica Chittock
Good to be Green KS2: Isabelle Oliver
Time for Sport: 3J
Walk to School: 4/5
Maths Challenge Award: Kane Samuel, Eve Tams & Silvester Kuruvilla
Attendance Awards given out for data collected w/b //: 25/01/16
Whole School Attendance: 96% (Government target is 95%)
Class Attendance:
1st Place: 2C 100%
2nd Place: 3M 100% (3 lates)
Pupil Attendance Awards:
1, Tobias Connor
2, Kyra-Mae Phillips
Water World Voucher: Jake Bramford
Yours sincerely
Mrs P Bloor
Headteacher