Newsletter Spring Term 7
Dear Parent/Carer
As we start the second half term it has been lovely to note the lighter mornings and nights. Spring will definitely be with us soon and we look forward to the cheerfulness this time brings.
1.Our Talking Topic
We have been thinking this week about how it is 'Good to be Me' and how we are all unique and special. This is one of our core values at St. John's. Please talk to your child about this.
2.Our Value; Co-operation
This is a crucial value for all communities and something all the children at St. John's are very good at. Very well done to Raul Miah & Palveen Dhillon Y6, Freyah Knight, Oliver Williams & Eleanor Williams Y5/6, Ben Morris & Ruby Howard Y4, Jade Filcock & Oscar Woodward Nursery, who have shown great co-operation this week.
3.School Clubs
Events in school last week/this week
Thank you to parent/carers who attended Y3J's class assembly on the Chinese New Year. It is always lovely to see families supporting their children and they all did brilliantly although they were nervous beforehand. Thank you to Mrs Qiu who gave all the children a Chinese fortune cookie to add to the celebrations.
Y6 and Y2 enjoyed their museum sessions on life cycles and clay pot animals.
Y4/5 had a lovely energetic Dance Workshop at the Wallace Centre.
Well done to the School Council who raised £44.62 for their chosen charity the RSPCA before half term.
A group of Eco Warriors visited the King's Hall for an Eco School's Show Case. They completed a presentation on Our Eco Achievements and were complimented on their outstanding behaviour. St Johns won a runner- up award for having the most active learners. Very well done to the group, Miss Edwards was very proud of them.
4.End Of The Day
It is very disruptive to staff and pupils learning if parents/carers have to collect children before the end of the day, unless an emergency. It also disrupts the work of the office team. Please only do this if a real emergency and make routine appointments for after school. Our policy is that we need written notification sent in for the class teacher as office staff are not all full time and sometimes this causes problems for both staff and yourselves.
5.Swimming Awards
Very well done to Lily Groves Y5/6 who passed her Bronze Survival Award.
Length award: Ella Whitehurst
Beginners' award: Stephanie Muyakha, Evie Beech-Daly, Ella Whitehurst, Anopa Mutize, Aiden Johnson & Jasmine Dhillon.
The beginner's award is the most important and means the children are on the way to becoming swimmers. At St John's we prioritise swimming by buying in 3 sessions a week from our school budget, as it is a vital life skill. The Government expect all children to leave primary school with at least a length. We give the older classes more time so they can achieve the higher awards, as so few high schools do any swimming these days.
6.School Clubs
Children having fun reading at the Reception Book Club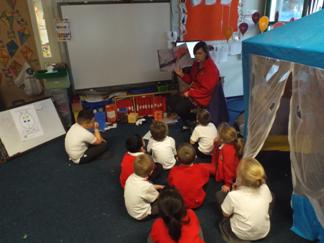 7.European City of Sport 2016
Stoke-on-Trent has been given the status this year and lots of things will be going on in the city. We will also do some extra activities. Anything that encourages children and adults to be healthy is great news for our city.
The pictures shows a Y4 hockey skills lesson as an example of some of the great sport at St. John's.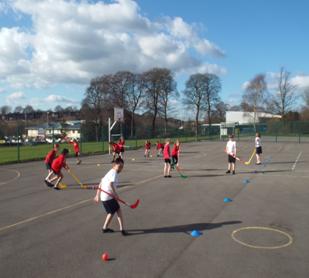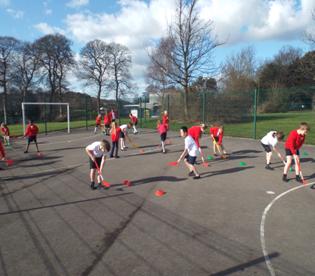 8.Reading
Reading at home is vital to children's educational success. We have some families whose children are at the early stages of English and it is especially important they read every day. We are happy to give children 2 reading books if this helps. Please just write a note in the diary. We sent a letter out before half term to families who are not helping their children at home in spite of its importance and it is a parental responsibility. Mrs Bentley tells me she loves sitting and hearing her daughter read every day and it is one of the joys of being a parent/carer.
9.Behaviour Awards
Very well done to all the KS1 and KS2 children who received their Gold Behaviour Award and ruler for exemplary behaviour before half term. It was the majority of children which is a great credit to parent/carers. We are so proud of these children. Some children who are new received earlier awards and a small group who are having to work on their behaviour received a different certificate if it was due.
10.Information
Universal Credit as well as other helpful financial information has been put onto the school website for you to view (click here to go the information).
11.The City Potteries' Museum Alien Encounters Competition
Congratulations to Georgia Piesse-Mills, 6H, whose creative writng and drawing gained her Runner Up for The City Potteries' Museum Alien Encounters Competition. Her work, and those of other pupils from KS2, was on display at the museum over the Half Term holidays. These included; Anet Yohannan 5/6W, Molly Hancox 5/6W, Casandra Martin 4/5M, Lily-May Barlow 4E and Sanjay Akrokiaswamy 3M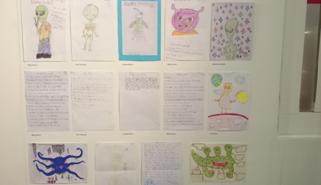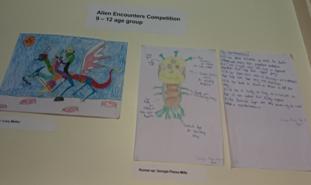 12.France
Included in the newsletter is what was written on a thank you card to me, after the residential visit by Sam Cole Y6. I think it succinctly sums up the value of such visits.
At the back of the newsletter is a piece of writing by Chad Varquez Y6 about life in the trenches (page 1, page 2). This is high quality piece of writing and sums up what the children learnt about World War 1.
To Mrs Bloor
Thank you for taking me to France and for making it something I will never forget and for looking after us like you did. I had great fun and loved it all! I've never liked staying away from home so I wouldn't but I really enjoyed France with my friends. Now I know I can do it, so telling me I would enjoy it when I didn't want to go helped, I know I can do it and I am staying at a friend's house this weekend as I know I will be okay.
Sam Cole.
13. Lates

Friday
5
Monday
3
Tuesday
12
Wednesday
9
Thursday
5
14.Dates for your Diary

Monday 29th February
Potteries Museum Visit ~ R1 ~ 9:30 – 12:15
Monday 29th February
Potteries Museum Visit ~ R2 ~ 12:15- 3:15
Thursday 3rd
March Modeshift Awards ~ London
Friday 4th
March Spacebus ~ Early Years
Sunday 6th
March Church Service St Johns ~ Invited Children
Tuesday 8th
March Dance Festival ~ Victoria Hall ~ 6:00 – 8:00pm
Wednesday 9th
March Recorder Festival
Tuesday 15th
March Zoolab KS1 ~ National Space Week
Wednesday 16th
March Zoolab KS2 ~ National Space Week
Friday 18th
March Sports Relief Mile ~ 2pm
Saturday 2nd J
uly School Community fair ~ 12:00 – 2:00pm
15.Celebration Assembly Dates

Friday 11th March
Y3M ~ Class Assembly ~ 9:05am ~ all welcome
Thursday 24th March
Y2C ~ Class Assembly ~ 9:05am ~ all welcome
Thursday 28th April
Y1-2P ~ Class Assembly ~ 9:05am ~ all welcome
Friday 20th May
Y1B ~ Class Assembly ~ 9:05am ~ all welcome
Friday 10th June
R1 and R2 ~ Class Assembly ~ 9:05am ~ all welcome
16.Celebration Assembly
Our children/classes who received awards on 12/02/16 were:
1/2 ~ Leah-Rose Walker
2C ~ Anashe Mutize
3J ~ All of year 3 & Dania Mousa
3M ~ Joshua Clement & Berrie Johnson
4E ~ Evie Beech-Daly
4/5 ~ Ryan Davis
5/6 ~ Claudie Polhosova
6H ~ Laynee Tunnicliffe & Sneah Miah
Mrs Bloor's Award: Kyra-Mae Phillips
Smart School Uniform: Adithya Sanil
Lunchtime Supervisor's Award: Delin Negeem & Holly Barnett
Time for Sport: 3J
Attendance Awards given out for data collected w/b 01/02/16:
Whole School Attendance: 95.2% (Government target is 95%)
Class Attendance:
1st Place 3M 99.3%
2nd Place 4/5 99.2%
Pupil Attendance Awards:
1, Nela Polhosova
2, Erin Hill
Water World Voucher: Zagros Negeem
Yours sincerely
Mrs P Bloor
Headteacher