Newsletter Spring Term 9
Dear Parent/Carer
This has been another busy week at St Johns with everyone fully involved in their learning and having fun doing so.
1.Our Talking Topic
This week we have been thinking about Easter and how lights are often used for celebrations and to show us the way. We talked about how Jesus showed us the right path to walk along through life and how we should all make the right choices.
2.Our Value; Friendship
This is something that our pupils are really good at especially with the new children we have recently admitted. Very well done to Theodore Pinto & Thomas Hilditch Y2, Humaira Shakil, Oliver Brereton-Lewis, Angel Johnson & Isaac Williams Y1, Delin Negeem & Rhys Wooliscroft Y3M, Charlie Simpson & Lily-May Barlow Y4, George Barnett & Eleanor Williams Y5/6 who have all been spotted being extra kind this week.
3.Class Of The Week Y4

During a maths lesson working hard on learning their tables; competing in a times table challenge.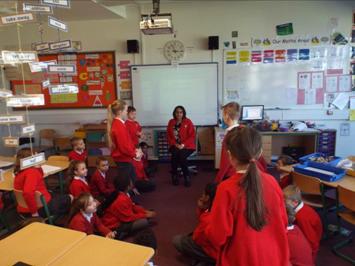 4.Lunchtime/After School Clubs
This week the taekwondo club coached by Mr Peter Johnson had a competitive fight organised as part of the next grading, Parent/carers joined us for the competition. The entire group took part and thoroughly enjoyed the competitive part. Mr Johnson regularly competes competitively himself and won gold in a veteran's competition recently in Montreal, Canada. He also coaches a disabled athlete who is the European champion. We are lucky to have such a quality coach teaching the children.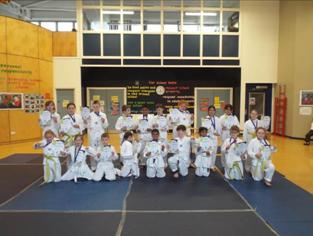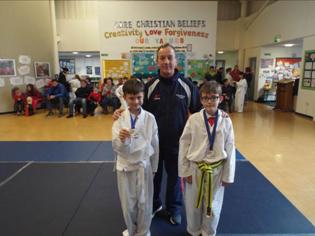 5. National Travel Awards Presentation
On Thursday 5 Y6 children, Mrs Ramsden and I went to Portcullis House near Big Ben in London for the national awards. Although we did not win we were representing the west midlands and were in the top 6 schools in the country for work done on promoting sustainable travel.
We recently were awarded our gold award and an award for reducing car travel to school by 23%. As a school we do a lot to promote safe travel, cycling and scooter training, walking to school, healthy lifestyles, reducing carbon footprints and walk and striding. We all have a responsibility for looking after the planet for future generations.
Sam Cole, Holly Chatterton, Kyra Mae Phillips, Jack Eaton & Tobias Connor brilliantly completed a presentation to adults including M.Ps and the under-secretary of state Lord Ahmed. Afterwards they had a tour of London in a vintage red bus and were taken to the BSkyB studios to make a film about cycling with the other children representing other regions. Other staff came up to us telling me how good and sociable our group was. This is a great compliment to St Johns, but also to Stoke on Trent as we all know how friendly and kind Stokies are!
The Sentinel came on Friday to do an article and picture. However, we will be carrying on this good work and aiming to reduce car travel further as we know that children walking to school are healthier and car travel reduces the chance for daily exercise. Please help us here.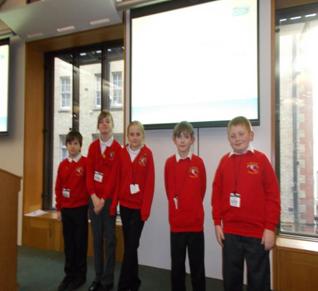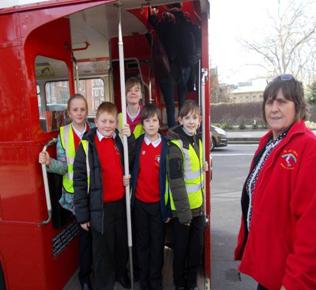 6.Events In School Last Week
Early Years had the space bus in on Friday and all thoroughly enjoyed 2 energetic sessions in it. It is a lovely language opportunity and they thoroughly enjoyed this.
All the school had an eco-healthy eating focus lesson and the children were given a sugar information leaflet to take home. This is a new government focus to reduce the amount eaten to help with healthy lifestyles and children were taught that they should not have more than 6 cubes a day. The sugar app is really interesting and I advise all families to download it. The amount of sugar in fizzy drinks is unbelievable; a can of coke has 9 sugar cubes in it!
World Book Day-We had a focus on reading with KS1 making book boxes. All the classes and staff/governor teams made a video clip of everyone reading a chosen book that we will put on the website once completed. Everyone was really enthusiastic about sharing the books they had chosen.
Early Years had a pyjama day and the children bought in their favourite book and every half hour the children had stories read to them. Our actions all had an impact on promoting reading, which we hope you continue at home. Many schools use this day just to dress up which does not really impact, but hits family budgets. The children really enjoyed the day and are keen to earn more rewards through our reading at home scheme. Please support your child in this. Thank you for your help.
Swimming award-well done to Georgia Piesse-Mills for her length certificate last week.

Chess competition-Some of Y5 & Y6 took part in a chess competition during lunch times. Chess is an excellent strategy game and has great links with maths, the children all enjoyed competing.
7.Church Visit
Miss Mazzei took 6 Y3 children to be part of the Mothering Sunday service at St John's church on Sunday. The children were all brilliant as they spoke and played the recorders to a large audience. As one of the parents commented, it also helps with the children's self-confidence and self-esteem. Very well done to Oscar Dix, Lina Al Hussain, Berrie Johnson, Jeff Joseph, Emily Rains and Alyssa Stanley.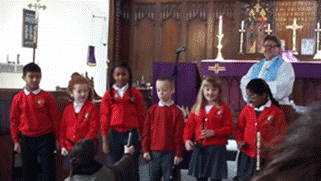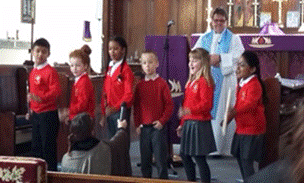 8.Writing Example
Enclosed with the newsletter is a piece of excellent writing completed by Y3J on the story writing afternoon of World Book Day. The class worked in groups to create humorous stories. Very well done to Hao, Emma, Kane, Vithakshi, George and Samuel.
9.Sport's Relief
We do try to support charities to help children know about kindness and care for those who have less. So on Friday 18th March at 14:00 we are organising a Sporting 'Golden Mile 'and asking children to pay £1 to take part. We would love parent/carers to join us as well. The children will walk around the Golden Mile circuit. Only children who bring in the £1 will be doing this. Please support this event.
10. Lates

Friday
5
Monday
7
Tuesday
0
Wednesday
11
Thursday
0
11. Home School Link Worker Information
Wednesday 9th March is National No Smoking day. Why not use the day to give up and save money! It is also on our Walk to School Wednesday.
Our attendance is improving and we are planning reward visits. Holidays in term time will not be authorised. If your child's attendance is poor and you go away we will inform the EWO.
A reminder that we are still collecting for the food bank. Please bring your items and either leave them in the box in the reception area, or give to Mrs Ramsden.
Thank you for your support.
12.Dates for your Diary

Tuesday 15th March
Zoolab KS1 ~ National Space Week
Wednesday 16th March
Zoolab KS2 ~ National Space Week
Friday 18th March
Sports Relief Mile ~ 2pm
Thursday 24th March
End of Term
Monday 11TH April
Start of Term
Monday 18th April
Bikeability ~ Y4 ~ Level 1
Monday 2nd May
May Day
Thursday 5th May
Police Elections ~ Training Day
Thursday 12th May
Bikeability ~ Y5 ~ Level 2
Friday 13th May
Bikeability ~ Y5 ~ Level 2
Thursday 19th May
Bikeability ~ Y6 ~ Level 2
Friday 20th May
Bikeability ~ Y6 ~ Level 2
Wednesday 25th May
Class Group Photos
Friday 27th May
End of Term
Monday 6th June
Start of Term
Thursday 23rd June
EU Referendum ~ Training Day
Saturday 2nd July
School Community fair ~ 12:00 – 2:00pm
Friday 22nd July
End of Term
Monday 5th Sept
Start of Term
13.Celebration Assembly Dates

Friday 11th March
Y3M ~ Class Assembly ~ 9:05am ~ all welcome
Thursday 24th March
Y2C ~ Class Assembly ~ 9:05am ~ all welcome
Thursday 28th April
Y1-2P ~ Class Assembly ~ 9:05am ~ all welcome
Friday 20th May
Y1B ~ Class Assembly ~ 9:05am ~ all welcome
Friday 10th June
R1 and R2 ~ Class Assembly ~ 9:05am ~ all welcome
14.Celebration Assembly
Our children/classes who received awards on 04/03/16 were:
R2 ~ Shane Limos
1B ~ Jagoda Kulik & Ashton Barnett
1/2 ~ Izza Fatima
2C ~ Davis Kurian
3J ~ Whole Class for writing
4E ~ Jackie Li
4/5 ~ Jenson Nguyen
5/6 ~ Freya Knight
Mrs Bloor's Award: Ilana Steventon
Dusty Bin (tidy classroom): Y4/5
Y6 Prefects Award: Y2
Smart School Uniform: Dania Mousa
Lunchtime Supervisor's Award: Anet Yohannan & Harsha Goru
Good to be Green KS1: Izza Fatima & Pia Cousins
Good to be Green KS2: Ella Curzon
Time for Sport: 3J
Lunch Time Award: Y1
Attendance Awards given out for data collected w/b 22/02/16:
Whole School Attendance: 96.1% (Government target is 95%)
Class Attendance:
1st Place: 4/5 100%
2nd Place: 2C 99.6%
Pupil Attendance Awards:
1, George Baldwin
2, Joseph Machin
Water World Voucher: Amber Gregory
Yours sincerely
Mrs P Bloor
Headteacher