Newsletter Summer Term 1
Dear Parent/Carer
As we start the Summer Term, which is always a very busy one; it has been lovely to welcome all of the children back to school, for what we know will be another successful, fun learning term at St John's.
1.Our Talking Topic
We have been thinking about relationships this week and how important it is to get along with different types of people. Even though the children might think as members of the same school they would be similar, in truth they are all unique and different. This makes for an interesting school because all of the differences put together make a strong team, as long as they all get along with each other. Please talk to your child about this.
2.Our Value This Week; Respect
This is important in school and life. We have a 'Give Respect- Get Respect" banner in the hall and the children all know this. Very well done to Georgia Piesse-Mills & Chad Varquez Y6, Kenzi Shepherd-Moss & Jerome Juguilon Y5/6, Ethan Kidd & Chanelle Tooth Y4/5, Dylan Colclough & Haya Jamil Y4, Christian Smith & Amber Gregory Y3J, Grace Hawkins & Alan Sose Y3M, Charlie Anne Hindmarsh Y2, Freyja Kristof Y1/2, Deon Johns Y1, Joshua Webster R2 and Caleb-Dalton Williams R1 who showed examples of great respect in school this week.
3.Behaviour Awards
Before Easter all the children in KS1 and KS2 whose behaviour is exemplary and the best it can be were awarded their Platinum Behaviour award and a pencil sharpener. It was the majority of the children as behaviour is very good at St John's. We are so proud of this group as you will be. Very well done to this group of our 'always' children.
Some children who are further behind received their next award, we hope that this will encourage them towards their potential future award. A few children are a long way behind and have additional consequences, like not being allowed to the top sports ground at lunch time until their behaviour comes up to the high standard of other children. We have sent a few children in the past to Inspire Behaviour Unit, attached to Watermill Special School, which we have the right to do, if other children's learning is disrupted. Sadly, a few of these have now been permanently excluded from their first secondary school. I know other parent/carers would not want their child's learning and their future affected in any way.
4.Attendance Awards
Many children received their Whole Term Attendance Award which is a great achievement. We have some more rewards visits this term for excellent attendance and have the Perfect Punctuality and Perfect Attendance reward visit to organise as well.
5. Events In School Last Week
Swimming Awards – well done to the following children Theo Molyneux, Palveen Dhillon and Rusne Kaupyte – Length Certificate. Kyra Phillips – Elementary Award, Jake Bamford – Proficiency Award, Jack Eaton – Bronze Award.
Y2 Multi skills competition – Well done to Grace Wain, Bethan Hill, Surra Osman, Landon Coates, Adam Guenane and Theo Lovell who Miss Pickerill reported competed brilliantly and were a credit to the school.
Well done to the Y4 and Y5 group of school council reps who showed some reps from Willows Primary around the school.
Very well done to Y2 for their Class Assembly which we hope parents/carers enjoyed as well. These are great events which help the children's confidence.
Early Years children had a lovely Easter Parade and assembly which I know parents/carers thoroughly enjoyed
6.Y5 Level 2 Cycle Training This Week- pictures
We have other cycle training planned and are hoping to access scooter training this term for the children.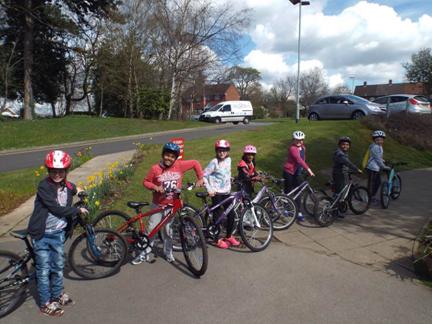 7.Election Dates
Just a reminder that the school has training days on Thursday 5th May for the police Commissioner Election and now on Thursday 23rd June for the Europe Referendum. I did try not to agree to these but the council have the right to use the school as there are no alternative venues.
8.Teaching Writing
With the newsletter is a sheet for parents/carers about how you can help us to improve the children's standard of writing which is our key area to improve this year.
9.Food Bank
For the month of March we collected for the food bank and donated 31.2 kg of food. Thank you so much for your support and generosity for those in need.
10.Attachments
• Blind and cord Safety Leaflet
• Queen Elizabeth Birthday celebrations. Please ensure you top up your child's account if your child wishes to have a meal from our special menu.
11.Parking Near The School
We have had some unsavoury incidents caused by arguments around parking near the school. I have also had a resident complain about his car being scratched twice recently. We have an additional issue re hospital parking and it is everyone's responsibility to keep the roads and your children safe. If everyone who could would walk and those who live further away parked nearby say, Harpfield's Road there would not be a problem. Parents/carers using foul language and arguing on site is never acceptable and I do have the right to ban them from the school site. As you all know if children live with hostility they learn that is accepted behaviour.
12.Class Of The Week
Y3M using a compass to create the inner earth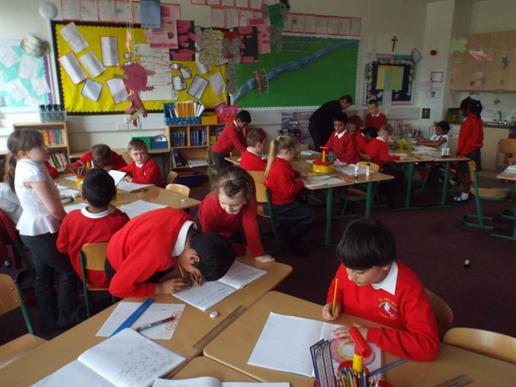 13. Lates

Monday
10
Tuesday
4
Wednesday
11
Thursday
8
14. Home School Link Worker Information
Window or door blind cords and chains can pose a real risk for babies and children. Four young children have already tragically died in Staffordshire as a result of blind cord strangulation and many more children have died or been seriously injured across the UK.
Looped blind cords and chains are dangerous. They can strangle a child, and have led to the deaths of children. Act now to ensure that all cords and chains are kept securely out of the reach of babies and children. For further safety advice in our area please contact: Staffordshire Trading Standards on 03001118045 or Stoke-on-Trent Trading Standards on 01782 232065.
15.Dates for your Diary

Monday 18th April
Bikeability ~ Y4 ~ Level 1
Monday 18th April
R1 ~ Book Start ~ Parents Invited ~ 2:15pm
Wednesday 20th April
R2 ~ Book Start~ Parents Invited ~ 2:15pm
Monday 2nd May
May Day
Thursday 5th May
Police Elections ~ Training Day
Monday 9th May – Thursday 12th May
KS2 SATS
16.Celebration Assembly Dates

Thursday 28th April
Y1-2P ~ Class Assembly ~ 9:05am ~ all welcome
Friday 20th May
Y1B ~ Class Assembly ~ 9:05am ~ all welcome
Friday 10th June
R1 and R2 ~ Class Assembly ~ 9:05am ~ all welcome
17.Celebration Assembly
Our children/classes who received awards on 24/03/16 were:
1B ~ Charlie Hambleton
1/2 ~ Freya Kristof
2C ~ All of Year 2C
3J ~ Madison Steadman
3M ~ Hashemi Sayyad
4E ~ Matthew Ingram
4/5 ~ Chanelle Tooth
5/6 ~ All of Year 5/6
6H ~ All of Year 6
Mrs Bloor's Award: Isabelle Westwood & Holly Barnett
Yours sincerely
Mrs P Bloor
Headteacher