Newsletter Summer Term 10
Dear Parent/Carer
We finish another very busy learning week at St John's with lots of additional learning events coming thick and fast. A regular visitor to school this week said "there is always lots going on at St John's", and they are right; we are always looking to provide extra opportunities for your children.
1. Tests
Recently in school, all the Y1 children took the statutory phonics test, along with the children in Y2 who failed it last year. 69% of the cohort passed, those who did not will have additional learning to help catch up (this will show on the reports sent out tomorrow). Miss Mazzei tells me that the group of children in Y2 whose parents/carers attended the catch up phonics sessions and took home extra work, did better than those who did not attend. The school was checked by the local authority during the tests and was found to be administering the tests correctly according to regulations. We are testing all children for maths this week so that we can identify their next steps. End of KS2 results will be sent home when we receive the results.
2. Attendance Reward Visit
Y2C had a lovely time at Awesome Walls in Longton as a reward for the class with the best attendance. As it was so successful with the children and families, further reward visits are planned and will include punctuality, as we have a nucleus of families who are regularly late and missing vital learning. Luckily, the vast majority arrive ready for learning at 8:50am so they can be heard read and start the day's learning, children arriving late have to do this at lunch time. Very well done to Y2!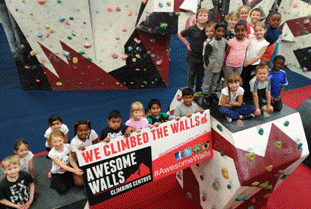 Our expectation is that all children have attendance of 95% or higher. The recent High Court judgement that revoked a parent's fine in the Isle of Wight was based on their areas acceptance that 90% was good attendance. The Government are reviewing this but 90% is not good attendance; over five years this would mean the equivalent of half a school year is missed, not to mention the impact on other pupils; staff having to spend time with them going over missed work that can never be replicated adequately. At St Johns we do not authorise any holiday in term time. Your child's future and life chances are so important to us.
3. Eating at the end of the school day
We have a school rule that children do not eat or drink on school premises. We are a healthy school, actively encourage fitness and children in Stoke generally have poorer teeth than many others. As I say to the children, 'treats are lovely occasionally but not every day' as they are not as special then. We teach them that hard work has its own reward. Children could also choke and are on our premises, so we have a responsibility. Thank you for your support here!
4. Sport's Day

Thank you to parent/carers who attended this event that we managed to get on the third choice day. There were some wonderful performances from your children. We managed 4 out of the 6 events for KS2 before the rain came; it was a case of now or never with our unpredictable British weather. Two schools that my staff member's children attend only allocate 1 day, we allocate 4 days and give you notice of these aiming to help working families. KS2 will complete their events in PE lessons as they are covering athletics this term. I have also promised Y6 that I will do the tug of war with them before the end of term. All the children were fantastic and who can forget the nursery children running so brilliantly. To help families, we allowed parents/carers to collect their children early, as it would have meant them waiting in the rain. However, we are not allowed to release other people's children early to anyone other than a person with parental responsibility as they are in our care until the end of the school day.
5. Swimming awards
Well done to Hao Yu, Joda Tagbota, and Osman Hashemi, who passed their beginner's certificate after lots of work at school swimming. Also Ryan Davis, Emma Brennan, Oliver Woodward, Vithakshi Wickramatunga, Alyssa Stanley, Grace Leese, Isabelle Godwin, Sanjay Arokiaswamy, Lina Al Hussein and Jazsadaphorn Babickas who have all gained their Length Award.
Not many schools buy in as much swimming as we do; we feel it is so important that children learn to swim which is an essential safety and life skill.
6. School Council
A group of pupils attended a School Council learning opportunity at St Mary's and Christchurch Primary recently with Mrs Ramsden. India Vickers, Kira Reilly, Zagros Negeem, Yashbir Bhullar, and Anet Yohannan. Anet reported that the other 2 schools were "very impressed with us because we had organised 6 fund raising events for charities and had a great time discussing things". With the newsletter is the latest School council questionnaire about healthy Lifestyles. The children's favourite vegetables/foods might give you some ideas! It is lovely to see how the children love all the sporting activities and opportunities to be active at lunch times.
7. Gifted and Talented Winner
Very well done to Alan Babu whose design in the 'gifted and talented challenge' that Mrs Wolfe runs most weeks was awarded a special award during a prize giving ceremony recently.
8. Issues in School
We have had a few instances recently of parents/carers following up issues they perceive to have taken place within school with other parents/carers. In most cases what they think happened, turned out to be incorrect. When I investigate any issue I always speak to all the children concerned and write down exactly what they say in their own words. The children always tell me the truth. In most cases it is not quite as it seems and one or two actions taken by staff can sort it out.
9. Value Champions Visit
This took place recently and 2 children chosen by their class teacher were taken to the Regent Theatre to see a play 'The Hare and the Tortoise' as a reward for displaying our values; honesty, kindness, resilience, co-operation, respect. Very well done to Paige Adlington, Jake Bamford, Landon Coates, Liam Davis, Ryan Davis, Grace Eaton, Isabelle Godwin, Sai Harsha Goru,
Erin Hill, Ruby Howard, William Kidd, Natalia Kulik, Lekshmi Manesh, Surra Osman,
Megan Proudlove, Charlie Simpson, Isaac Williams and Oliver Williams.
10. KS1/KS2 school concert: 'A Night at the Musicals'
Children are busy practising for this for you all and are really enjoying it. Letters regarding costumes have gone out and we thank you for your help here. The children love doing this and it helps to build self-esteem and confidence. We do 3 performances (one at night for our working families) and unlike many schools do not charge for tickets. Letters have gone out regarding the ordering of tickets. Please note the start times as we do not open the doors once it has started as the office staff help out which leaves the gates unmanned.
11. School Community Summer Fair
This is this Saturday from 12pm until 2pm and will help to raise schools, this helps to subsidise the many school visits that your children go on. Please support this annual event that all children will benefit from. Also it's not too late to donate a raffle prize to add to some of the fabulous ones already donated; family passes to Water World, 4 x tickets to Alton Towers, 2 x Morrison's gift vouchers, afternoon tea voucher from Emma Bridgwater, a George Foreman Grill kindly donated by Tesco, food hampers, toiletry vouchers and many more. We look forward to seeing you there!
12. Y6 My World project
The graduation for this event is now at school as the Fire Station has seating restrictions. It is on Thursday 7th July starting promptly at 9:30am. We feed into 8 different high schools none of whom let us know when their transition days are, so despite us doing our diary in September this has meant that some of Y6 are missing for some performances.
13. Reports
These are given out on Friday and children have been told they should not be opened on school premises, better to wait until they get home. They reflect a lot of successful learning at St John's this year which we want to tell you about and reflect upon with your child when you have time to sit together and discuss.
14. Stanley Head Day Visits
We have organised a day visit to Stanley head outdoor education centre for Y1 to Y5/6 classes at a heavily subsidised cost of £3 per child. They will be focussing on physical activity and team building. We have had a lot of visits lately, all at a very cheap cost to all families and not anywhere near the price of the visit. However, although we are happy to wait if necessary, many families have not paid the contribution. If parent/carers want these to continue, this money has to be paid. We are outstanding quite alot and have already had to cancel a visit. Legally it has to say voluntary contribution but from now on if we do not get the money in, visits may have to be cancelled. I personally think these visits have an educational impact and would like them to continue, but we cannot afford to do so unless all families support us.
15. Celebration disco
This is on Thursday 7th July at 3:00-4:30pm for Y1 to Y6 children only. It will cost £2 and that includes a drink and packet of crisps. There will be other items, treats and small gifts that the children can buy.
16. Diary Dates

Friday 1st July
Y4 Afternoon Visit to Park hall
Saturday 2nd July
School Community Summer fair 12pm-2pm
Tuesday 5th July
1:30pm & 6:00pm Concert Performances
Wednesday 6th July
9:15am Concert Performance
Thursday 7th July
9:30am Y6 My World Graduation
Monday 11th July
Y4 Stanley Head Visit
Monday 11th July
4:00pm Town Girl's rounder's competition
Tuesday 12th July
Y4/5 Stanley Head Visit
Tuesday 12th July
6:00pm Y6 Leaver's Presentation
Wednesday 13th July
Y3J Stanley Head visit
Wednesday 13th
4:00 Town Mixed Rounder's competition
Thursday 14th July
Y3M Stanley Head Visit
Friday 15th July
Monday 18th July Y5/6 Stanley Head Visit
Tuesday 19th July
Y1/2 Stanley Head Visit
Tuesday 19th July
Y5 in Y4/5 Class
Tuesday 19th July
Level 2 cycling course and Wednesday 20th
Wednesday 20th July
Y2 Stanley Head Visit – Reception Graduation in School Hall at 9:30am
Thursday 21st July
Y6 Selling Ice Cream to Fund Raise
Friday 22nd July
School Closes at 2:00pm to get classrooms ready for painting
17. Attachments
School Council Questionnaire June 2016
Yours sincerely
Mrs P Bloor
Headteacher