Newsletter Summer Term 11
Dear Parent/Carer
The highlight of this week has been our Annual Summer Concert, which our pupils love and we hope you all enjoyed. I am sure you will all agree it was a stunning performance. Our Annual Summer Concert is wonderful for all the children's confidence and self-esteem and makes for wonderful memories for you all.
1.School Community Summer Fair
This was on Saturday and a great success. Thank you to all the families that supported this fund raising activity. It raised about £1000 for the school fund to spend on your children. A special thank you goes to Miss Steele and Mrs Cole who organised some fabulous raffle prizes which were won.
We would like to thank especially the following shops and businesses and hope you also support them in return for their generosity:
Post office for a hamper
Alton Towers for raffle tickets
B&M for a mirror
Tesco for a grill
Pets at Home for a voucher
Sainsbury's for a voucher
Bargain Booze for wine
Cherry tree for wine
Waterworld for a family ticket
Card and gift shop in Stoke for a money bank, bath bombs, and teddies
Mrs Cole for candle holder sets
Miss Steele for wine glasses
2.Town Athletics At Northwood
38 children went to compete in the Town Athletics Competition who were the best in their year group. We had an excellent day, with some marvellous performances from all the children. They were once again the best behaved school there, as the parents/carers who came would testify. 8 children have been picked to represent Stoke this week at the City.
Sadly, at the end of the day the coach could not get into school as parents/carers had blocked the road. As the coach driver said, not only is it illegal, it is thoroughly thoughtless and selfish. Some seemed reluctant even to move for us. As a result we were late, could not get the special tops back to wash and caused myself and the team who had looked after the children all day further work. I shall be speaking to the Governor's Health and Safety Committee this week to talk about this problem. Ironically, on the way back I counted over 30 places on Harpfield's Road that could have been used safely and parents walk in. Why parents/carers choose not to use this safer option baffles me!
3.Swimming Awards
Well done to Amelia Harvey for getting her Beginner's certificate. Well done to George Baldwin, Kane Silvester, Elliot Craggs, Angel Evans, Kira Reilly, Zagros Negeem, and Amber-Louise Gregory who have passed their Length Certificate.
4.Events In School Last Week
Y4 visited Parkhall Country Park for pond dipping and science work. They had a most interesting time and learnt a lot. Many thanks to Mrs Curzon and Mrs Morris who helped staff the visit.
Sadly we had to cancel the Town Cricket and Girl's Football Tournament due to rain.
We had a lovely Holy Communion in school taken by Reverend Chris Ruston on Thursday when the new equipment was blessed.
Y5 parents/carers had a meeting about the forthcoming French visit, we talked about the First World War battlefields of the Somme, and this has been on the news this week as it was the 100th Anniversary. Further information will be sent out nearer the time. The only thing parents have to do now is pay the second payment by the end of term. We have to pay a small group charge as not all the children want to go. I could still add to the number by September if anyone changes their mind, as we will not now be able to organise a London visit as the visit requires a greater subsidy for the Y6 group.
5.Home School Link Worker Information
On Monday 11th July at 9:15 am we are holding a coffee morning for Linda Davis who works closely with Councillor Barnes.
She is interested on starting a Residents Association Group, but will also listen to any issues or concerns you have with the local area. Come along for free coffee, tea, and toast and voice your concerns.
6.Dates for your Diary

Monday 11th July
Y4 Stanley Head Visit
Monday 11th July
4:00pm ~ Town Girl's rounder's competition
Tuesday 12th July
Y4/5 Stanley Head Visit
Tuesday 12th July
Y6 Leaver's Presentation ~ 6:00pm
Wednesday 13th July
Y3J Stanley Head visit
Wednesday 13th July
Town Mixed Rounder's competition ~ 4:00
Thursday 14th July
Y3M Stanley Head Visit
Friday 15th July
July Y5/6 Stanley Head Visit
Friday 15th July
1B Stanley Head Visit
Monday 18th July
Y5/6 Stanley Head Visit
Tuesday 19th July
Y1/2 Stanley Head Visit
Tuesday 19th July
Y5 in Y4/5 Class
Tuesday 19th July
Level 2 Cycling Course
Wednesday 20th July
Y2 Stanley Head Visit
Wednesday 20th July
Reception Graduation in School Hall ~ 9:30am
Wednesday 20th July
Y6 Selling Ice Cream to Fund Raise
Friday 22nd July
School Closes at 2:00pm to get classrooms ready for painting
Saturday 30th & Sunday 31st July
Model Railway Exhibition ~ 10am – 5pm
7.Reminder
Monday Girls Town Rounders' 3:30pm and Wednesday Mixed Town Rounders' 3:30pm.
8.Attachments
Angelina's Tea & Cake – 20% off until September when you show this poster.

Brownies Monday's 6:15pm – 7:30pm St Johns Church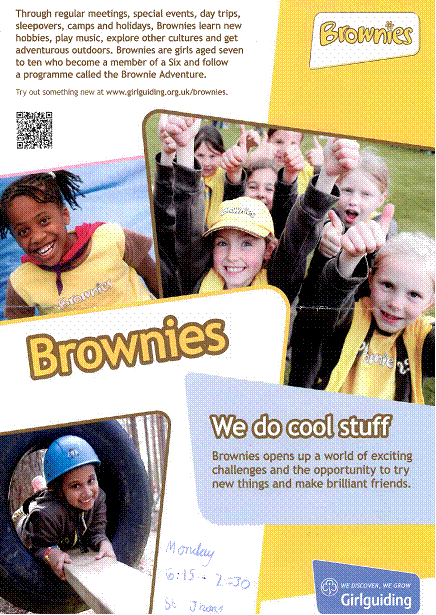 Stoke Soccer coaching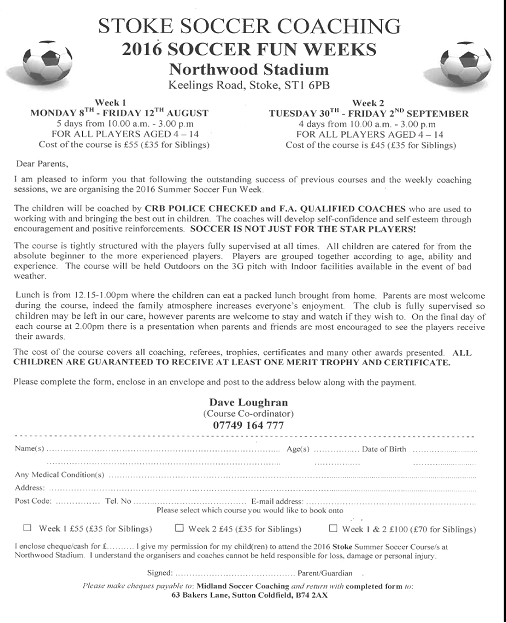 Yours sincerely
Mrs P Bloor
Headteacher