Newsletter Summer Term 12
Dear Parent/Carer
Thank you for your great support as we continue with our busy last weeks of the term.
1. Y6 My World Graduation
This is a new venture this year and has been supported so well by families who have enjoyed seeing how the children had progressed during this project. The project looked at the world of work and qualities that are important to children. Who can forget seeing them all in their gowns and mortar boards? A memory for life!
2. Y6 Leaver's Celebration and Presentation
This took place on Tuesday and had many parent/carers upset as they joined in the celebration that marked the end of primary education for this group of children. All children were presented with a bible or faith book by Mrs Rushton, one of our school governors. The following children were awarded special awards by Mrs Spiers our chair of governors:


Headteacher's Award: Eleanor Williams, William Cooper
Academic Award: Chad Varquez, Laynee Tunnicliffe
Effort Award: Kyra-Mae Phillips, Lawrence Hilditch
Progress Award: Carley Jones, Charlie Bird, Aaron Marshall
Overall Contribution to School Life: Isabelle Westwood
For Participation in the Life of the Church: Sam Cole
Sports Award: Jake Bamford, Ilana Steventon
Head Boy: Jack Eaton
Head Girl: Holly Chatterton
3. City Athletics
We had 8 children chosen to represent Stoke in the 'City Athtetics' at Northwood Stadium. Very well done to Kian Murphy, Anopa Mutize and Molly Hancox who took part in the javelin. Also, to Ricardo Gordon, Oliver Woodward, Jenson Nguyen, Lily-May Barlow and Anet Yohannan who were at the track events. Everyone competed brilliantly and were complimented on their behaviour. A special well done to Anet who was 'City Champion' in Sack, Oliver in the 'City Champion Relay Team' and broke a record and Anopa who came 2nd in the Javelin. They were great performances!
4. PE Kit – This Year
A reminder to all parent/carers that PE kits are needed in school. We are having a 'Health and Well Being Week' which includes retesting all the children's fitness. There will also be class competitions for Skipping, Hula Hooping and the Style Mile etc. There will be inputs on: keeping safe, drugs, looking after our teeth and healthy eating. It promises to be an interesting and informative week for all the children.
5. Reports
We have had a lot of very positive feedback about the children's reports. Thank you so much!
6. E Safety Day
It has come to our attention that some children in Y6 are videoing themselves and uploading them onto Youtube. Some of these images are in their school uniform and with home backgrounds fully displayed. User names are in some cases of their first names and it is our understanding that anyone can see things placed on youtube, and that strangers can subscribe to their Youtube channel. I'm sure you will agree that this could be a danger for the safety of our children. We all have to be so careful what is put online as in many cases it is permanent and a cause for concern in the difficult times we live in. Please talk to your children about this and monitor their online activity.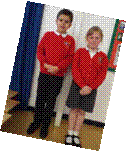 7. School Uniform
We have ordered a red jumper/cardigan for all our pupil premium children which will hopefully help these families. The children have been measured and these can be collected on the two training days before the school re-opens. We are expecting all the children to have proper school shoes, no trainers, throughout the whole school. Aldi and Asda are advertising a full school uniform for £5.00, it's never been cheaper!

8. PE Kit – Next Year
Next year we have decided to give all of our pupils a white PE shirt and black shorts in September. Our children have never looked smarter and this will help with family budgets. Parents/carers must get black pumps and Y4 upwards will need trainers (named) as well. These will be given out on the first day back.
9. PE bags – Next Year
We have colour coded our PE bags and purchased better quality ones from Smart Uniform. Parent/Carers are asked to buy the correct colour, which can stay with the child for their whole time at St John's. Giving each year group a separate colour has helped us keep track of kit when children misplace it. These are available now from the school office at £3.50, the colours are as follows:

Nursery
sky blue
Reception
purple
Y1
red
Y2
lime green
Y3
sky blue
Y4
purple
Y5
red
Y6
lime green
As the PE kit is being provided free of charge I think it is very fair to ask parents/carers to buy these. Book bags are also available from the school office at £3.50. We will not be allowing toys, key rings, etc. to be attached to book bags from September. These are vital for reading books, homework and school letters and need to sit under the desks neatly.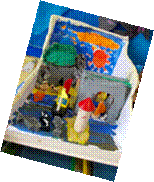 10. Homework
Very well done to Y1, Y1/2 & Y2 for their lovely seaside models, well done to all the artistic children. We gave out some prizes for the best ones.
11. SATs Results
Our SATs results, as I informed Y6 parent/carers this week, are above City standards and in all but writing, exceed national standards. This does not happen without outstanding teaching from an excellent team at St. John's. We do however have 4 appeals, so they are not yet confirmed, but reading is 70%, Grammar and maths is 81%; making us a high attaining primary school.
The new curriculum has much harder standards, it is vital that parents/carers do their bit by making sure children read regularly at home and attend school regularly and punctually. I have taken over Y5/6 until the end of term so that we can save money for a great new Maths scheme. I can see the impact of children having a holiday in term time and missing vital learning, disrupting other children's learning as they catch up. Education is a joint responsibility and we all must play their part.
12. Classes for September
The class structure is as follows

Y6
Mrs Peake
Y5/6
Miss Mazzei
Y4/5
Miss Morris
Y4
Miss Whalley (Mr Meir cover)
Y3/4
Miss Edwards
Y3
Miss Jackson
Y2
Mrs Connelly
Y1/2
Mrs Halfpenny (Miss Wood cover)
Y1
Mrs Brown/Miss Chapman
R2
Miss Lovatt
R1
Mrs Carke
Nursery
Mrs Mills-Farmer
We have different numbers in each year group which dictates classes as we can only have so many children in each class. The children have been told today and they are having a bump up morning on the last Thursday. This will be a lovely opportunity to meet their new class teacher. Looking at our SATs results parents/carers can see the school is focussed on high achievement for all pupils and our track record is excellent.
13. Health and Well-Being Week
This will be so interesting for all the children. It starts off with two PE and activity days so children need to come in kit on Monday and Tuesday. A top tracksuit/joggers and trainers are fine. We have some lovely activities planned! On Wednesday all children need their PE kit as we are making a film about fitness and sport that you will be able to see, so we want everyone looking smart. On Wednesday and Thursday we have some important assemblies, behaviour awards and need children to be in full uniform the rest of the week. It promises to be a very busy and exciting week.
14. sQuid
From Thursday 21st July there will be a new updated sQuid payment system. The new system will enable parents/carers to pay for dinners, uniform items, trips and wraparound much more easily. There will be an app available from the same date that is not only very user friendly but also allows parents/carers to have one account for multiple children, something previously requested by many of our parents/carers. Please see next week's newsletter for a full set up guide. The schools aim is go cashless sometime soon, so setting up this new system now will make things less stressful. I'm sure you'll love the new updated features!
15. Academy Update
It has been decided by St Marys C of E, not to pursue the application with us and Christchurch as they are proceeding alone. As a 'Good' school we do not feel that we need to make any immediate decisions at present in relation to Academisation.
16. Home School Link Worker Information
Attendance this year has slightly improved which is great to see. As a school we are continually informed about taking time off in term time. Therefore, no holidays at all will be authorised starting in September, if parents/carers wish to take unauthorised absence a 'Leave of Absence from' will still need to be completed. Our aim is to see our whole school attendance rise even more next year. Thank you for your continued support.
17. Reminders
On Monday Y5/6 are going to Stanley Head and on Tuesday Y1/2 and Wednesday Y2. We will then have had 7 successful PE activity visits which the children have thoroughly enjoyed and have all been subsided for you. The focus has been on sport and PE, I went with Y4/5 and they had an archery lesson challenge, climbing activity and orienteering, it was a super day for the children. On Thursday Y6 will be selling ice-creams, traditionally they do a fund raiser to buy something for the youngest children. They have chosen to buy them some small world equipment which is lovely. You will be text again beforehand as a reminder and children will need to bring in the £1 so one can be ordered. We have 2 special assemblies on Thursday and Friday for the children, one will be for behaviour awards. We finish at 2pm on Friday 22nd as we have 4 rooms to clear for painting and all the classrooms to be stripped.
18. Dates for your Diary

Monday 18th July
Y5/6 Stanley Head Visit
Tuesday 19th July
Y1/2 Stanley Head Visit
Tuesday 19th & Wednesday 20th July
Level 2 Cycling Course (Y5's from Y4/5 Class)
Wednesday 20th July
Y2 Stanley Head Visit
Wednesday 20th July
Reception Graduation in School Hall ~ 9:30am
Thursday 21st July
Y6 Selling Ice Cream to Fund Raise
Friday 22nd July
School Closes at 2:00pm
Saturday 30th & Sunday 31st July
Model Railway Exhibition ~ 10am – 5pm
Monday 5th September
School Re-Opens
Thank you for your support at St Johns.
Yours sincerely
Mrs P Bloor
Headteacher